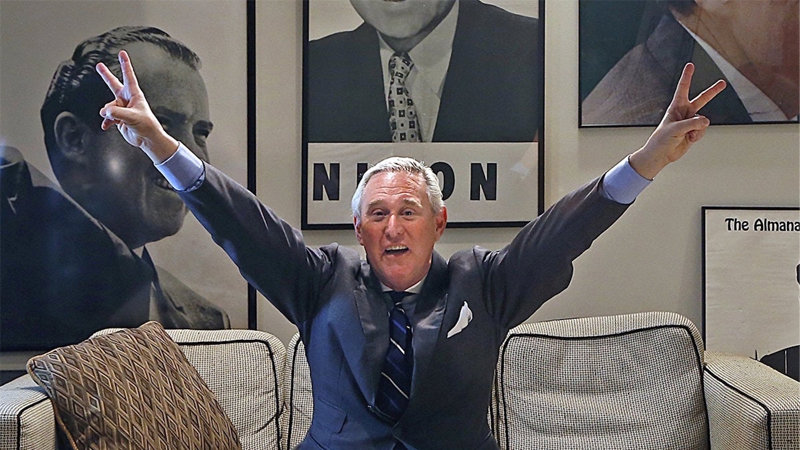 This submission is currently being researched & evaluated!
You can help confirm this entry by contributing facts, media, and other evidence of notability and mutation.
About
Roger Stone is an American political operative, strategist, lobbyist and conspiracy theorist. During his five decades in American politics, he has worked for political campaign and helped normalize and popularize lobbying as a part of the political system. In 2019, he was indicted on charges related to his suspected participation in the Russian interference in the 2016 United States presidential election.
History
Stone began working in American in politics for the Richard Nixon re-election campaign in 1972. Following Nixon's win, he worked in the Office of Economic Opportunity, before working for Ronal Regan's 1976 presidential campaign.[1]
Throughout the 1980s, Stone worked as a lobbyist for his company Black, Manafort & Stone (BMS). Along with co-owner Paul Manafort, BMS became one of the biggest lobbying firm in Washington, D.C.[2]
Over the next two decades, Stone worked for and with various Republican politicians and businessman, including Bob Dole and Donald Trump. In 2000, he took credit for the "Brooks Brothers riot," a political demonstration in Florida at a polling station, meant to disrupt the 2000 presidential election vote recount.[3]
Relationship with the Trump Campaign
In 2015, Stone began working for the Donald Trump presidential campaign, providing the strategy for Trump's debates. He worked for the campaign as an advisor throughout 2016, often times utilizing conspiracy theory and rumor to his candidate's advantage. For example, in 2016, he provided a quote in a National Enquirer article that accused Senator Ted Cruz, who was running against Trump at the time, of having an extra-marital relationship with five women. Cruz said of Stone, "He is pulling the strings on Donald Trump. He planned the Trump campaign, and he is Trump's henchman and dirty trickster. And this pattern, Donald keeps associating himself with people who encourage violence."
Involvement in Russiagate
On March 19th, 2016, Roger Stone reported that he had been in contact with Guccifer 2.0, the hacker believed to be tied to Russia and claimed responsibility for the Russian hacks.[4] In the past, Stone has also claimed to be in contact with Julian Assange. It is also believed that he had knowledge of the October 2017 email dumping before it took place, tweeting "Wednesday@HillaryClinton is done. #Wikileaks" several days before the leak began.[5]

Arrest
On January 25th, 2019, the FBI arrested Stone for his involvement with WikiLeaks and the 2016 Democratic National Comittee email leak. He charged on seven counts, which included obstruction of an official proceeding, making false statements and witness tampering, according to the special counsel's office.[7][8]
That morning, CNN published a video of the FBI's arrival at Stone's Ft. Lauderdale, Florida home (shown below). According to the New York Times, "F.B.I. agents were also seen carting hard drives and other evidence from Mr. Stone's apartment in Harlem."
Stone's lawyer Grant Smith said[10] of the charges:
Roger Stone is absolutely innocent of any charges that he colluded with the Russians. The special counsel's office would have charged that could they have charged it but instead they looked for something to charge him with, which was due to a lack of remembering and was completely immaterial to the investigation. Roger intends to fight the charges as this is nothing more than going after him for 40 years after Watergate and being a friend to the president.
In the indictment, there are numerous references to the type of language that would be used in mafia films, such as The Godfather, including "stoolie" and "rat." Online, the xenith of this behavior came in a direct reference to the film series. The document reads:
On multiple occasions, including on or about December 1, 2017, STONE told Person 2 that Person 2 should do a "Frank Pentangeli" before HPSCI in order to avoid contradicting STONE's testimony. Frank Pentangeli is a character in the film The Godfather: Part II, which both STONE and Person 2 had discussed, who testifies before a congressional committee and in that testimony claims not to know critical information that he does in fact know.
Twitter user @pattymo tweeted the Big Enough video and the caption "Reading about Roger Stone thinking his life is a Godfather movie." The tweet received more than 115 retweets and 1,000 likes in 24 hours (shown below).
Reading about Roger Stone thinking his life is a Godfather movie pic.twitter.com/7×2acFREcA

— Patrick Monahan (@pattymo) January 25, 2019
That morning, Chad "Ocho Cinco" Johnson tweeted,[12] "FBI arrested my neighbor Roger before my morning jog, I've only seen shit like that in movies, crazy to start to my Friday." The tweet received more than 17,000 retweets and 80,000 likes in 24 hours (shown below, left).
Following his arrest, "Roger Stone" and the hashtag "#IndictmentFriday" became trending topics around the world.[11][13] Using the hashtag, on Twitter people mocked Stone and his alleged involvement in the Russia investigation (examples below, center and right).



Social Media Ban
On February 21st, 2019, US District Judge Amy Berman Jackson barred Stone from discussing his case in public after he posted a photograph of Judge Jackson on Instagram next to an image of a cross-hairs (shown below, left). According to BuzzFeed,[14] "Jackson barred Stone from speaking publicly about his case, the investigation against him, and any participants in that investigation -- a category that would include Mueller and his office." This was done despite Stone issuing a notice of apology on February 18th (shown below, right).


Months later, the same Judge determined that Stone had violated the terms of the gag order and barred Stone from posting anything " Instagram, Facebook, or Twitter," writes BuzzFeed.[15] However, despite the banning from social media, the judge declined to hold Stone in contempt of court. The order would also allow Stone to continue to fundraise for his defense and proclaim his innocence.
Despite the new order, some saw Stone as looking for ways around the ban. BuzzFeed reporter Zoe Tillman tweeted, "Two hours after the judge barred Roger Stone from posting on Instagram, his wife posted a photo of the two of them after the hearing -- the judge placed limits on what family members/surrogates could say on his behalf, but there's a bit more gray area" (shown below, left).
Some reacted negatively to the news. Twitter[16] user @itsJeffTiedrich tweeted, "it's a really good thing that Roger Stone is just a wealthy white man repeatedly and flagrantly ignoring a judge's court orders, and not, say, a black man selling loose cigarettes on a street corner, because there are serious consequences for that." The tweet received more than 5,000 likes and 1,900 retweets in 24 hours (shown below, right).


Conviction
On November 15th, 2019, a federal court found Stone guilty of lying to Congress, witness tampering and obstruction of justice. The trial was related to his connections to WikiLeaks and the 2016 Trump campaign. Particularly the court found him guilty of attempting to cover up his communications with to WikiLeaks by deceiving congress.[18][19]
Online, people shared the opinions of Stone and the conviction. View host Meghan McCain tweeted,[20] "Rot in Hell, Roger Stone." The post received more than 10,000 likes and 820 retweets in less than 24 hours (shown below, e. It is a response to Stone tweet after McCain's father death "Karma about to get you, @SenJohnMcCain and you will burn in hell for all eternity."[21]
Twitter user @RVAwonk tweeted,[22] "It's worth reflecting on the significance of Roger Stone's conviction. He was found guilty of committing multiple federal crimes to cover up the Trump campaign's efforts to manipulate American voters by weaponizing documents stolen by Russian intelligence agents." The tweet received more than 9,300 likes and 3,700 retweets in less than 24 hours (shown below, center).
President Trump tweeted,[23] "So they now convict Roger Stone of lying and want to jail him for many years to come. Well, what about Crooked Hillary, Comey, Strzok, Page, McCabe, Brennan, Clapper, Shifty Schiff, Ohr & Nellie, Steele & all of the others, including even Mueller himself? Didn't they lie?….A double standard like never seen before in the history of our Country?" The tweet received more than 51,000 likes and 14,000 retweets in less than 24 hours (shown below, right).
<br.



Criticism
Stone is known as an immoral and difficult political operative, who has been called a "dirty trickster." He is also willing to use conspiracy theories, lies and anything at his disposal for the benefit of his clients or his political favorites.[9] In 2018, Politico[6] wrote:
Several times in a typical week, the flamboyant self-described GOP dirty trickster vehemently denies being a 2016 middleman between WikiLeaks founder Julian Assange and the Trump campaign -- a subject Mueller's team is carefully examining. Along the way, he cheerfully insults Mueller, denounces the "Deep State," attacks the media and ridicules such enemies as "Dumb-Fatman (Steve Bannon)."
In 2017, the documentary Get Me Roger Stone featured numerous political insiders and analysts who criticized Stone's behavior, essentially blaming him for the last 40 years of political corruption.
Reputation
Stone has a reputation as being a flamboyant showman, known for his eccentric dress and lifestyle. He calls himself an "agent provocateur." President Trump has praise Stone numerous times. On December 3rd, 2018, Trump tweeted, "'I will never testify against Trump.' This statement was recently made by Roger Stone, essentially stating that he will not be forced by a rogue and out of control prosecutor to make up lies and stories about 'President Trump.' Nice to know that some people still have 'guts!'" The tweet received more than 24,000 retweets and 99,000 likes in two months (shown below).

Search Interest
Related Memes
Russiagate
Russiagate refers to the ongoing political scandal surrounding a series of allegations regarding President Donald Trump's ties to the Russian government, including speculation of collusion between the Trump Presidential campaign and the Russian hack of the DNC email server.
Seth Rich's Death
Seth Rich's Death refers to the fatal shooting of Democratic National Committee (DNC) staffer Seth Rich, who was murdered while walking home in Washington D.C. in July 2016. Due to the timing of his death, many conspiracy theories circulated online speculating that Rich had been killed for being the anonymous source behind the 2016 DNC Email Leak, though no evidence linking the shooting has surfaced.
External References