About
Random Chimp Event refers to a series of memes that contain grim warnings about an incoming "random chimp event." The warnings usually imply that an organized attack by a group of chimpanzees will happen at an unidentified point in the near future. The trend started from the eponymous Instagram account, with memes about the event being spread by major meme accounts in early February 2020.
Origin
On January 28th, 2020, Instagram account randomchimpevent[1] was created, posting an image[2] of a chimpanzee captioned "Where will you be during random chimp event" on the same day (shown below). The image received over 1,400 likes in two weeks and has been widely circulated on Instagram in the following days. A February 6th, 2020, Tumblr[9] repost of the image accumulated over 4,000 likes and reblogs.

Spread
Starting on January 29th, 2020, randomchimpevent[3][4] posted more memes which warned users about the "random chimp event" and implied that the event is an organized attack by a group of chimpanzees. Starting at that time, multiple Instagram meme accounts joined in on the meme, reposting the images and posting similar memes. Multiple examples of the meme were posted by Instagram accounts justanothermemer.1151,[5] potatolord_117[6] and others (examples shown below).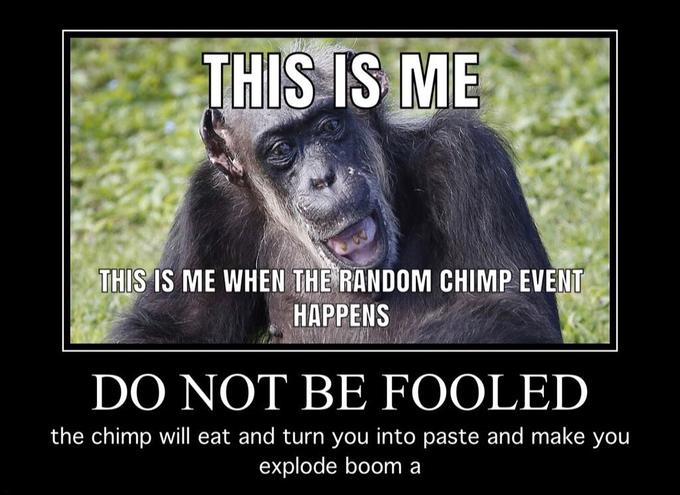 In February 2020, popular meme accounts such as cringey.meme and igotzucc reposted the images and videos created by randomchimp events and other accounts, with the format gaining recognition on the platform. For example, a February 12th, 2020, repost by igotzucc[7] received over 11,000 likes. A February 13th, 2020, repost of another meme by cringey.meme[8] received over 16,200 likes.
As of February 14th, 2020, randomchimpevent page amassed over 6,700 followers on Instagram.
Various Examples



Search Interest
External References