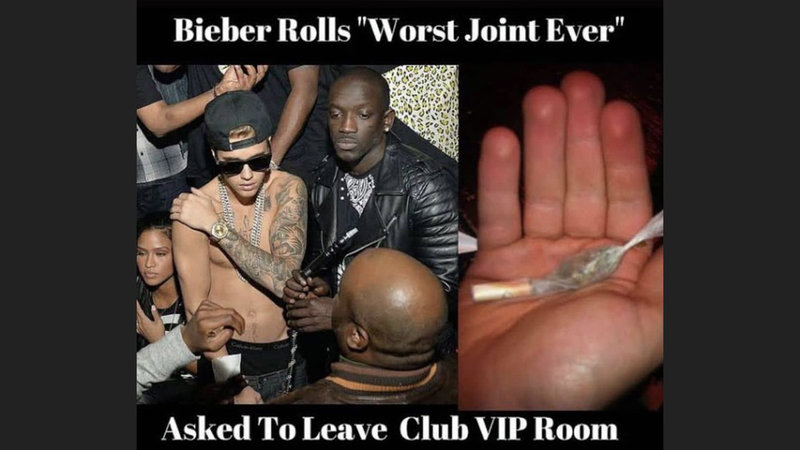 About
Rolls "Worst Joint Ever" refers to an exploitable template that follows the phrasal template, "X Rolls 'Worst Joint Ever' / Asked To Leave X." The original meme was a faked news headline about Justin Bieber getting kicked out of the VIP room. It was first posted to Tumblr in mid-2016.
Origin
On March 25th, 2016, Tumblr[1] user ellieinblack posted the image (shown below) that is a faked news headline detailing a gossip story about Justin Bieber being kicked out of a VIP room for rolling a "terrible joint." The Tumblr post received roughly 61,100 notes over the course of five years.

Also on March 25th, 2016, another image macro (shown below) featuring a different version of the same headline was posted to iFunny [2] by user @DuxItAll_2016. It received 13 smiles and later became the exploited template in the years following.

Spread
The image macro was referenced on platforms like Twitter[3] going into 2020. However, it wasn't until mid-2021 that the image macro became a template to be exploited. The first known instance of this was a meme posted by Instagram[4] account @jessica4mayor on March 24th, 2021. The meme (shown below) replaced Justin Biber with Moe from The Simpsons. It received 142 likes over nine months' time.

On September 17th, 2021, Instagrammer[5] @neem_official posted a new version of the template (shown below) that replaced Bieber with Ayumu Kasuga. The post gained roughly 1,000 likes over three months.

The template continued to be remixed on platforms like Instagram and Facebook going into December 2021, where meme creators added in new characters who roll terrible joints like Shinji, [6] for example.
Various Examples






Template

Search Interest
Unavailable.
External References
Recent Videos
There are no videos currently available.