Ryan Drummond and Emi Jones Sex Rumors
This submission is currently being researched & evaluated!
You can help confirm this entry by contributing facts, media, and other evidence of notability and mutation.
About
Ryan Drummond and Emi Jones Sex Rumors, also known as the Sonic Voice Actors Sex Rumor, refers to an internet rumor that Ryan Drummond, the original voice actor for the Sonic the Hedgehog video game, had sex with Emi Jones (also known as Emily Jones), a fan-voice actress who has voiced the character Tails in various fan projects such as Sonic and Tails R. The rumor included the detail that Ryan Drummond "used the voice" during the act. The rumor was purported on Twitter in both October 2020 and February 2023, coinciding with tweets supposedly posted by Emi Jones on her private Twitter account (@tailsprowergirl). The rumors came to a head in February 2023, wrapping in other Sonic voice actors like Doryan Nelson.
Origin
On September 29th, 2020, Twitter[1] user @xxx543214 started a thread (since deleted) that included multiple screenshots that showed tweets from a purported account called @tailsprowergirl, which was, according to @xxx543214, the private Twitter account of Sonic the Hedgehog (2020 film) voice actress Emi Jones. Twitter[1] user @xxx543214 added three tweets to the thread with varying screenshots (shown below).



The primary tweet in the thread included one particular screenshot showing three consecutive tweets from the @tailsprowergirl account. One of the tweets read, "The Voice. Was Used." The screenshot would later become the primary screenshot perpetuated in the ongoing rumor.

I miss him so much. Guys.
Guys. I got fucked by Sonic.
The voice. Was used.
Got my massage. It was amazing as hell. Gonna see his show in a few hours.
Spread
On October 11th, 2020, Twitter[2] user @LizzyHedgehog quote retweeted @xxx543214's thread of screenshots, writing:
Well … it's out. Ryan Drummond has been having an affair with Emily Jones, it has been covered up by many of you out there in the sonic community. I'm pretty sure SEGABits, Tailschannel, Sonic Revolution were in the know…
Although the QT only received over 160 likes in three years, it spread awareness of the screenshots to 4chan soon after. On the same day, October 11th, 2020, a 4chan user posted the "The voice. Was used" screenshot to /v/[3] who wrote, "lol the old sonic voice actor has been boinkin a fangirl on the side," and linked @LizzyHedgehog's tweet (shown below).

February 2023 Resurgence
On February 10th, 2023, Twitter[10] user @TheChaosSpirit started a thread that included a link[11] to a long-form Google document of theirs that relayed the history of their purported "experience with Doryan Nelson and Emi Jones" over Discord and elsewhere. The document culminated in @TheChaosSpirit's bad experience with Doryan Nelson on a romantic level almost allegedly falling into sexual harassment/abuse territory despite @TheChaosSpirit's specifically stating, "This is not sexual assault and I have never referred to this as sexual assault."[11] The primary tweet in the thread gained roughly 1,500 likes in four days (shown below).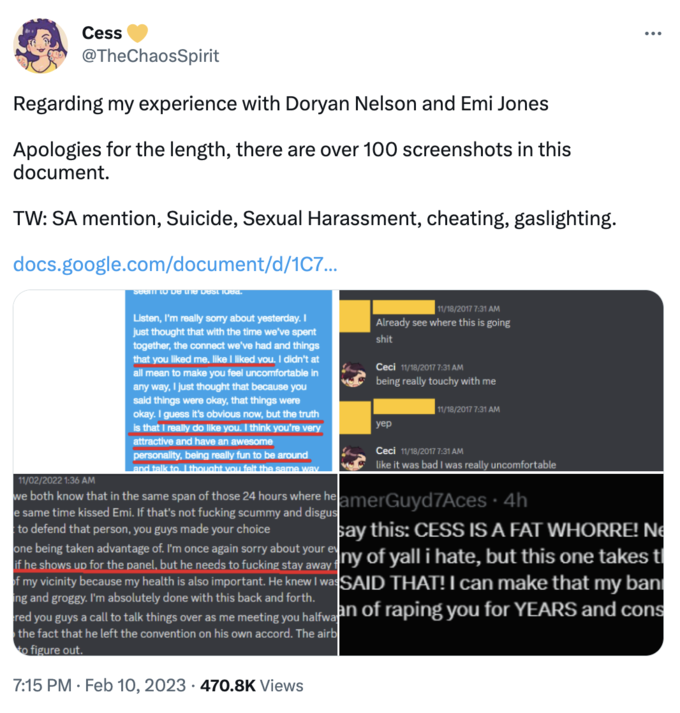 On February 12th, 2023, Twitter[4] user @TheStarmanMars started a thread that quote retweeted Twitter[2] user @LizzyHedgehog's 2020 tweet and claimed that, "So, it turns out Lizzy Hedgehog was telling the truth. EmuEmi was sleeping with Ryan Drummond at one point." The tweet received over 620 likes in two days (shown below, left). Twitter[4] user @TheStarmanMars' thread continued. One tweet[5] stated that the "The Voice. Was Used" screenshot was faked but then later backtracked on the statement in a tweet[6] that claimed it was, in fact, real (shown below, right).


Twitter user @TheStarmanMars also highlighted screenshots from Twitter[10] user @TheChaosSpirit's Google doc[11] that gave purported details about Emi Jones being in a secret relationship with a "public figure" and that Jones was supposedly invested in shipping Sontails (Sonic X Tails) and had purportedly commissioned Rule 34 art about the imagined scenario/fantasy in the past. The screenshots (shown below) aided the sex rumor speculations as internet users (like Twitter's @TheStarmanMars) likened the "public figure" to Ryan Drummond and the Sontails fan art as validation of Jones' rumored fantasies about Drummond.


On February 13th, 2023, the discourse amplified in the Sonic Twitter community when Twitter[7] user @BrickboiCarti tweeted, "Oh boy new Sonic drama I'm sure it'll be fuckin stupid and won't matter in a week-- RYAN DRUMMOND FUCKED EMI JONES WITH THE SONIC VOICE!??!?!?!" earning roughly 4,000 likes in less than 24 hours (shown below).

Multiple reactions and memes surfaced about the sex rumors in mid-February 2023. For instance, on February 13th, 2023, Twitter[8] user @PownicMania5000 tweeted, "Ryan Drummond when he accidentally misfires his sperm," earning roughly 2,600 likes in less than a day (shown below, left). On February 14th, Twitter[9] user @_Velvet64 posted a tweet about the rumors with a Childhood Ruined sentiment, earning roughly 1,200 likes in less than a day (shown below, right).


Various Examples



Ryan Drummond after going into emi Jones room pic.twitter.com/0BEKwwgTFH

— That dude (@dude_jayce) February 14, 2023
ryan drummond in the bedroom: pic.twitter.com/IR1Gh2vrTV

— 𝗥 𝗼 𝗸 𝗮 𝗻 🐭 Mouse VTuber (@RokanVoid) February 14, 2023
Search Interest
Unavailable.
External References
Recent Videos
There are no videos currently available.