About
h3h3productions is a YouTube channel run by the married couple Ethan and Hila Klein, which typically feature videos reacting to content uploaded by pranksters and hip hop artists (specifically producer DJ Khaled) on the video sharing platform.
History
On April 29th, 2011, the h3h3productions YouTube[1] channel was launched. On March 13th, 2013, the first video was uploaded to the channel, which discussed the different methods for wiping after defecation (shown below).
On May 12th, the channel uploaded a YouTube poop video titled "warm it up exe That's a 10!," which gathered upwards of 3.7 million views and 1,600 comments within three years (shown below, left). On November 20th, 2014, the channel posted a reaction video to a news story about a woman who dropped out of college after accidentally purchasing a computer with the Linux Ubuntu operating system (shown below, right). Over the next year, the video garnered more than 800,000 views and 3,400 comments.
On December 3rd, h3h3productions uploaded a video criticizing "kissing prank": videos on YouTube, which received over 4.1 million views and 3,900 comments within one year (shown below, left). On July 22nd, 2015, the channel posted a video reacting to the Tai Lopez "Here in My Garage" advertisement (shown below, right).
On October 5th, h3h3productions posted a video examining prank videos targeting homeless people, which guest starred YouTuber Filthy Frank (shown below). Within two months, the video gained more than a million views and 6,400 comments. As of December 2015, the YouTube channel has upwards of 440,000 subscribers and 54 million video views and the couple's Patreon[8] page has more than 1,200 patrons. Later, on January 22nd, the pair released a 2nd video, titled Ravioli Hungry Gold Digger Prank, in which Frank and Ethan play out a fake prank involving a gold digger women chasing after a man with ravioli.
Online Presence
On Spetember 13, 2013, the h3h3productions Facebook[7] page was created, gathering over 51,000 likes within three years. On August 19th, 2014, the /r/h3h3productions[6] subreddit was launched for discussions about the YouTube channel. On November 24, 2015, the h3h3 Wiki[9] was created.
Fandom
Fans often publish posts related to the channel on Tumblr under the tag "h3h3".[2] On YouTube, a variety of mashups and remixes featuring content from the channel's videos have been uploaded.[4] On September 17th, 2014, YouTuber alex richards uploaded a remix of Ethan coughing to create the h3h3 theme song (shown below, left). On April 20th, 2015, YouTuber Ollie White uploaded a dubstep compilation featuring the cough clip (shown below, right).
Additionally, various remixes have been uploaded to Soundcloud[5], including at mashup featuring music by Death Grips (shown below).
Fanart
On DeviantArt there are several pieces of artwork featuring Ethan Klein tagged under "h3h3productions".[3]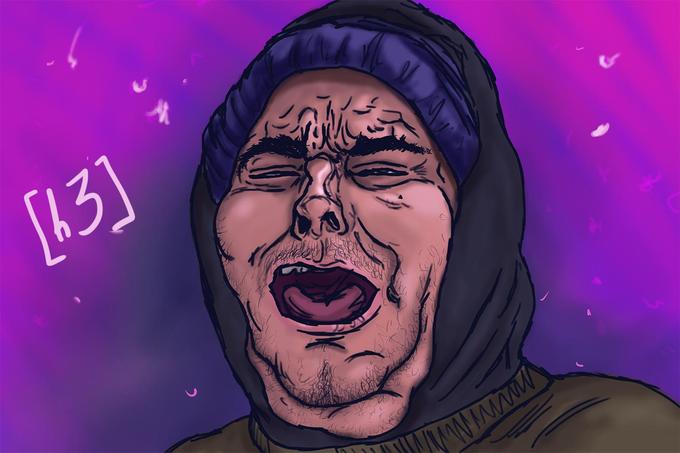 Controversies
Fullscreen Copyright Controversy
In late July 2015, the video company Fullscreen flagged h3h3production's most popular video, which was subsequently removed for copyright infringement. On August 4th, Klein posted a video to his Ethan and Hila channel reacting to the take down, which claimed his video qualified as "fair use" (shown below). The same day Ethan uploaded his response, YouTuber and game critic, Jontron tweeted a link to the video. Within four months, the video gathered upwards of 520,000 views and 2,100 comments. Following the backlash, Fullscreen removed their copyright claim.
#MemeGate
On March 19th, 2016, LeafyIsHere uploaded a reaction video criticizing and mocking the physical appearance and on-camera persona of fellow YouTube vlogger TommyNC2010. The video garnered over 460,000 views in less than 24 hours, though it was removed from his channel shortly thereafter. The same day, TommyNC2010 uploaded a response video in which the vlogger revealed that he has been living with autism and as a result of Leafy's commentary, he has received death threats from his fans. That day, Klein posted a video title "The Leafy Rant," which accused LeafyIsHere of being a bully and picking solely on people who are incapable of defending themselves (shown below). The video ignited a feud between Leafy and Klein that was subsequently referred to as #MemeGate.
Bold Guy Copyright Lawsuit
On May 24th, 2016, Ethan and Hila Klein of h3h3productions uploaded a video revealing that their channel was being sued by YouTuber Matt Hosseinzadeh (a.k.a. MattHossZone or "Bold Guy") for copyright infringement (shown below). In the video, Klein explains the brief history of legal threats they had received from Hosseinzadeh over the course of several months and accuses Hosseinzadeh of filing a frivolous lawsuit based on a reaction video commentary that they had published about Hosseinzadeh's video "Bold Guy Picks Up Girl During Parkour."[12] Additionally, Klein claims that the lawsuit will cost $100,000 in legal defense costs. That day, the video reached the front page of the /r/videos[10] and /r/h3h3productions[11] subreddits.
The following day, YouTuber Philip DeFranco posted a video about the lawsuit (shown below) and launched a GoFundMe[13] page titled "Help for H3h3," asking fans to donate money to help pay for Klein's legal costs. In 24 hours, the campaign raised upwards of $114,000 of its $100,000 goal, with several large contributions from various YouTubers, including DeFranco, Markiplier, Michael Green, Keemstar, PewDiePie and JackSepticEye. Additionally, Minecraft creator Markus Persson provided the largest donation of $8,179.
On August 23, 2017 Ethan tweeted out "We won the lawsuit. Video coming soon. Huge victory for fair use on YouTube."(shown below)[14]

Hila Klein that same day tweeted "No better way to wake up than to a text from your lawyer saying WE WON!!!"(shown below)[15]

Later that day, H3H3Productions released a video thanking those that supported them and celebrating their victory(shown below).
Search Interest
External References