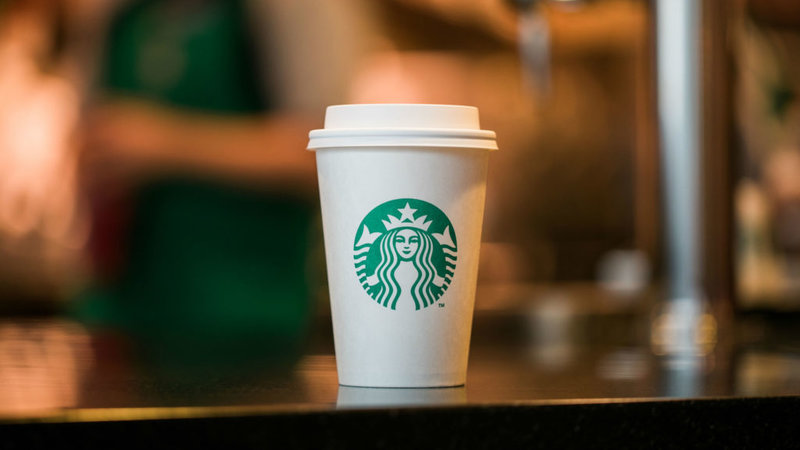 This submission is currently being researched & evaluated!
You can help confirm this entry by contributing facts, media, and other evidence of notability and mutation.
About
Starbucks is an extremely popular coffeeshop chain. Since starting in Seattle in the late 1970s, Starbucks has opened over 24,000 locations globally as of 2016, becoming one of the most recognizable fast food chain restaurants around the world. Their headquarters are located in Seattle, Washington.
History and Impact
The first Starbucks was opened on March 31st, 1971[1] in Seattle, Washington by Jerry Baldwin, Zev Siegl, and Gordon Bowker. The company's name is taken from the chief mate of Moby Dick, Starbuck. The company was sold to Howard Schultz in 1987, who served as the company's CEO from 1987-2000, and again from 2008-2017, before stepping down as Ken Johnson assumed the role. During Schultz' tenure, the company widely expanded, with its first store outside of the United States opening in Tokyo, Japan in 1996. Its logo is a twin-tailed mermaid, or "siren."
Notable Products
Pumpkin Spice Latte
Pumpkin Spice Latte is an espresso coffee drink made with a variety of traditional fall spice flavors (usually cinnamon, nutmeg and clove), pumpkin pie spice and steamed milk. Since its introduction by the American global coffeehouse chain Starbucks in 2003 as a seasonal special product for the last quarter of each year, the coffee drink and other pumpkin spice-flavored products have enjoyed commercial success for over a decade. Online, it is often mocked as a stereotypical drink consumed by "basic" white women.
On August 4th, 2014 the "Pumpkin Spice Latte" Twitter feed was launched, which posts tweets written from the perspective of the coffee drink. Within two months, the feed gained over 93,500 followers. On August 8th, the "The Real PSL" Tumblr blog was launched, which highlights notable Pumpkin Spice Latte-related images. On August 25th, the food blog Food Babe published an article and infographic denouncing the ingredients used in the coffee drink.

On September 4th, BuzzFeed published a listicle titled "25 Things All Basic White Girls Do During The Fall," which included "Get on that Pumpkin Spice Latte grind" as #1 on the list.

Unicorn Frappucino
Starbucks' Unicorn Frappuccino refers to a popular, limited time-only beverage item sold at Starbucks Coffee. Online, the Unicorn Frappuccino has generated a range of reactions, from praise to outrage, particularly from Starbucks baristas.
The earliest mentions of the Unicorn Frappuccino began about a week before its release, when baristas began posting about it on various websites. On April 11th, 2017, Instagram user @super_hiro_pope posted a picture of the Unicorn Frappaccuino with the caption, "If you don't believe in Unicorns, it's ok, cause the #unicornfrappuccino is coming to a #Starbucks near you. Launching 4/19-4/23!!!"

On April 12th, Reddit user outside_the_madness posted a bag of "Pink Powder" (shown below, left) to the /r/starbucks subreddit. The next day, Reddit user Hellabummed posted a photo (shown below, right) of a blue powered labeled "Unicorn Dust" to the thread "Unicorn frapp topping." Cosmopolitan reported that Starbucks would be releasing the Unicorn Frappuccino.


On April 19th, Starbucks released the Unicorn Frappuccino, a caffeine-free, bright pink and blue beverage that would only be available until April 23rd. Easter describes it as:
"A crème Frappuccino blended with pink powder and mango syrup. It's got a sour blue topping and pink powder dusted whipped cream on top. The inside of the drink has a purple hue at first, but as you mix all the stuff together it turns pink."
By April 20th, baristas began posting on the /r/subreddit their problems with making the drink. One Redditor, zeph_yr their problems in the thread "Day 1 of Unicorn Frappuccino and I wanna die." They write:
We're almost out of the blue mucus. Our cold bar counter is bright purple. One of our blenders shattered while making a unicorn with extra unicorn shit. One of my partners is screaming.
Edit 5:30 pm: Out of blue unicorn mucus. Putting in extra blue unicorn dandruff instead. As one customer said, "as long as it looks the same!"
Edit 7:35pm: The unicorn is dead. RIP unicorn. People are rioting outside.
On April 20th, Kotaku posted an article "Starbucks Workers Unprepared For Unicorn Frappuccino Armageddon." The article outlined the complaints baristas waged on Reddit, collecting the following complaints.

Controversies
Dumb Starbucks
Dumb Starbucks Coffee is the name of a coffee shop that opened in Los Feliz, California as a parody of the American global coffeehouse chain Starbucks. Upon its opening in February 2014, the store gained much notoriety online after photographs of the storefront began circulating on various social media sites. As part of the store's promotional event for its grand opening, all drinks were served to customers free of charge. In addition, the store offered a "frequently asked questions" sheet, which cited the fair use law as legal protection for parodying the Starbucks coffee chain stores.

On February 10th, comedian Nathan Fielder, known for his "If you think you gave an STD" and "2 grams for $40" Twitter pranks, made an announcement in front of the store revealing that he had orchestrated the Dumb Starbucks store claimed that he was not worried about legal action since the coffee house was an art project and that he planned to open a second location in Brooklyn, New York. The same day, the Dumb Starbucks YouTube channel uploaded a video in which Fielder explains that Dumb Starbucks is a "real business I plan to get rich from" (shown below). The stunt later appeared in an episode of his show, Nathan For You.
Red Holiday Cup Controversy
Starbucks Red Holiday Cup Controversy refers to the backlash directed toward the Starbucks coffee company for their 2015 red holiday cup design, which some Christians found offensive and part of The War On Christmas for not including traditional Christmas imagery. On November 1st, 2015, Starbucks unveiled their new solid red holiday cup design (shown below).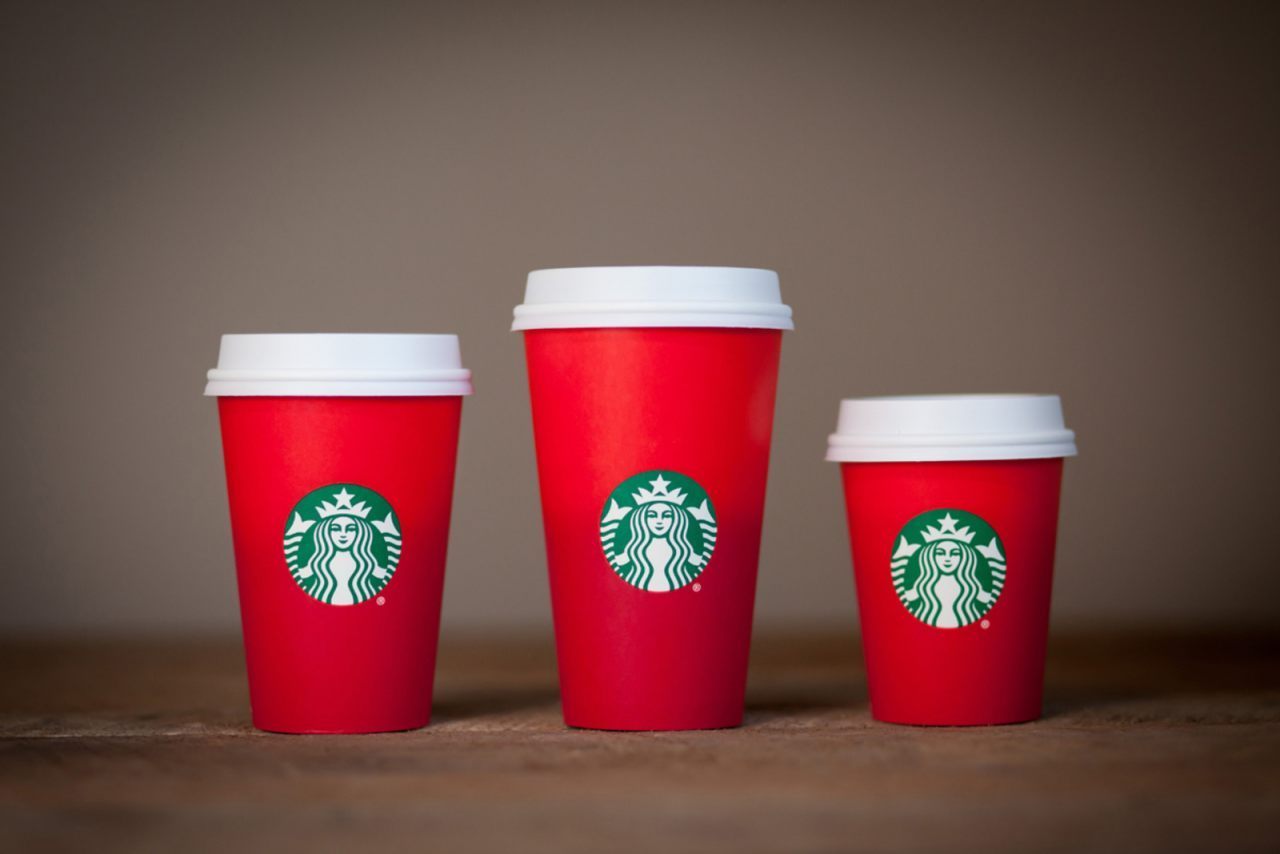 On November 5th, Christian vlogger Joshua Feuerstein posted a video to Facebook asking viewers to provide the name "Merry Christmas" to Starbucks baristas and to post the results online with the hashtag "#MerryChristmasStarbucks" (shown below). Within five days, the video gained over 500,000 shares, 178,000 likes and 51,900 comments. The same day, the conservative news site Breitbart published an article titled "War on Christmas: Starbucks Red Cups Are Emblematic of the Christian Cleansing of the West."
Starbucks REMOVED CHRISTMAS from their cups because they hate Jesus … SO I PRANKED THEM … and they HATE IT!!!! #shareUse #MERRYCHRISTMASSTARBUCKSFollow --> Joshua Feuerstein

Posted by Joshua Feuerstein on Thursday, November 5, 2015
#RaceTogether
#RaceTogether is a promotional Twitter hashtag launched by the American global coffeehouse chain Starbucks to encourage its customers to engage in conversations about the state of race relations in the United States. Upon its launch in March 2015, the campaign immediately became a target of criticisms and mockeries online for its provocative nature.
On March 16th, 2015, Starbucks, in partnership with USA Today, announced a new co-op initiative called "Race Together," which aims to tackle the issue of race in the United States by encouraging its employees at 12,000 locations to "spark customer conversation on the topic of race." According to the USA Today's article, Starbucks baristas at participating locations will serve drinks in cups bearing the hashtag #RaceTogether, along with a "Race Together" pamphlet co-written by the coffeehouse chain and the daily newspaper.

On the morning of March 17th, dozens of Starbucks customers took their reactions to the #RaceTogether campaign on Twitter, with many poking fun at the company's less than subtle attempt at incorporating the ongoing racial tension into their latest PR campaign, while others jeered that the company should instead focus on getting the customers' names right. According to Topsy, the Twitter hashtag garnered more than 67,000 mentions within the first 48 hours of the campaign launch.






Operation #TrumpCup
Operation #TrumpCup is an activist campaign encouraging supporters of Donald Trump to ask Starbucks baristas to label their coffee cups with the United States President-elect's name. In April 2016, actor Scott Baio posted a photograph of a Starbucks cup with the name "Trump" printed on it in a tweet claiming that the barista "refused to call out" the name (shown below). Within seven months, the tweet garnered more than 2,800 likes and 1,800 retweets.

On November 18th, 2016, Twitter user @bakedalaska tweeted a picture of himself holding a Starbucks cup with the name "Trump" written on it, along with instructions for followers to go to a Starbucks location and give the barista the name Trump (shown below, left). Within 24 hours, the tweeted received more than 9,700 likes and 6,200 retweets. The same day, @bakedalaska tweeted an open letter to Starbucks, announcing that #TrumpCup was "not a 'protest'" (shown below, right).


That day, the hashtag #TrumpCup began trending in the United States on Twitter, leading some to mock the campaign (shown below). Meanwhile, Snopes published an article about the #TrumpCup posts, noting that while the campaign was widely being reported as a "protest," those participating in the hashtag did not seem "to indicate they were objecting to anything.

Starbucks Dreamer Day Hoax
Starbucks Dreamer Day Hoax refers to a plot orchestrated by users on 4chan's /pol/ board to circulate false rumors on social media that the coffee chain Starbucks would grant discounts to undocumented immigrants as part of a "#BorderFreeCoffee" promotion. The plot was hatched on August 2nd, 2017, by an anonymous user on 4chan's /pol/ board. The user suggested:
How about we meme "Undocumented Immigrant Day" at Starbucks into existence? Announce free coffee for all illegals on a certain date. August 11? 11 looks like II (for Illegal Immigrant). I'm open to suggestions there. Name a liberal place for all illegals to go at once and demand free stuff.
Thoughts?
Other users in the thread suggested getting ICE (Immigration and Customs Enforcement) involved so that they could deport those that showed up. The same day, Twitter user @VenantDeserod tweeted a fake poster advertising the event (shown below, left). The following day, another anonymous 4chan user posted a poster they had created to spread on social media, detailing that the offer was that all undocumented immigrants would receive a 40% discount on all Starbucks products on August 11th, 2017 (shown below, right).


Once Starbucks caught wind of the hoax, they began to respond to people spreading the rumor, denying the event was taking place. According to Buzzfeed, the company is investigating the source of the ads.

Philadelphia Arrest Controversy
Starbucks Philadelphia Arrest Controversy refers to the public backlash following the arrest of two African American men at a Starbucks, allegedly for loitering in the store without purchasing anything, in April 2018. Upon the police arrival, the men protested that they were waiting for a friend, which was captured on video by another customer and shared on Twitter. The video quickly went viral on Twitter, sparking protests against racial profiling and prompting an apology from the company.
On April 12th, 2018, Twitter [1] user @missydepino posted a video of police arresting two African American men at a Starbucks in Philadelphia, Pennsylvania. She captioned the post, "@Starbucks The police were called because these men hadn't ordered anything. They were waiting for a friend to show up, who did as they were taken out in handcuffs for doing nothing. All the other white ppl are wondering why it's never happened to us when we do the same thing." The post (shown below) received more than 12,000 comments,163,000 retweets and 223,000 likes.
Starbucks</a> The police were called because these men hadn't ordered anything. They were waiting for a friend to show up, who did as they were taken out in handcuffs for doing nothing. All the other white ppl are wondering why it's never happened to us when we do the same thing. <a href="https://t.co/0U4Pzs55Ci">pic.twitter.com/0U4Pzs55Ci</a></p>&mdash; Melissa DePino (missydepino) April 12, 2018
On April 13th, Starbucks's official Twitter account responded directly to the tweet and said, "We're reviewing the incident with our partners, law enforcement and customers to determine what took place and led to this unfortunate result." The post (shown below, left) received more than 1,100 retweets and 3,300 likes in three days.
The following day, @Starbucks tweeted an apology for the incident. They wrote, "We apologize to the two individuals and our customers and are disappointed this led to an arrest. We take these matters seriously and clearly have more work to do when it comes to how we handle in our stores. We are reviewing our policies and will continue to engage with our community and the police department to try to ensure these types of situations never happen in any of our stores." The post (shown below, center) received more than 18,000 comments, 6,000 retweets and 19,000 likes.
Additionally, they tweeted[6] a statement from CEO Kevin Johnson and said, "We regret that our practices and training led to the reprehensible outcome at our Philadelphia store. We're taking immediate action to learn from this and be better." The post (shown below, right) received more than 2,700 retweets and 6,800 likes in two days.



On April 15th, the Twitter account for Philly Weekly wrote (shown below) that the CEO would be meeting with the two men "face-to-face." They wrote, "Starbucks CEO will travel to Philly with hopes to 'meet personally with the two men who were arrested to offer a face-to-face apology.'" The post (shown below) received more than 120 retweets and 295 likes in 24 hours.

The following day, CEO Kevin Johnson posted a video apology on the Starbucks website (clip below).
On April 17th, Starbucks announced that they would be closing more than 8,000 stores nationwide on May 29th, 2018 to conduct racial-bias training. The training will focus on preventing discrimination in Starbucks stores.
#FreeBlackCoffee
#FreeBlackCoffee is a hoax campaign orchestrated in late April 2018 by anonymous 4chan users who circulated photoshopped Starbucks coupons falsely claiming to provide "1 free beverage" as an apology for the controversial arrest of two African Americans waiting at a coffee store in Philadelphia, Pennsylvania. On April 15th, Twitter user @VibeHi uploaded a video of himself successfully demanding a free coffee at a Starbucks location (shown below).
Starbucks is racist https://t.co/fPf3ERMlXX

— Hotep Jesus 🧠 (@VibeHi) April 15, 2018
On April 17th, threads began appearing on 4chan's /pol/ board encouraging viewers to tweet out fake Starbucks coupons for free coffees along with the hashtag #FreeBlackCoffee (shown below).

Beaner Cup Controversy
Starbucks "Beaner" Cup Controversy refers to the public reaction toward Starbucks after a Latino customer reportedly received a cup with a racial slur written in place of his name. The company has apologized to the customer, but many compared the incident to another in which two African American men were arrested for sitting in a Starbucks restaurant. On May 15th, 2018, a Latino Starbucks customer named Pedro received an order with the word "Beaner" printed on the cup as oppose to his name (image below). That day, Pedro's co-worker Priscilla Hernandez tweeted, "One of our cooks went in to @Starbucks on Gould & Foothill this morning in La Canada & out of all the names they can put on his cup they decide to put "beaner." We called & complained & their excuse was they couldn't understand him. Regardless; there are MANY names you can put." The post (shown below) received more than 1,900 retweets and 2,500 likes before being deleted.

Following the post by Hernandez, the Twitter account for Starbucks Help responded with an apology. They wrote, "Thank you for letting us know, Priscilla. This is not the welcoming experience we aim to provide, and we have reached out to this customer to apologize and make this right. -Ryan." Within three day, the tweet[2] (shown below) received more than 20 retweets and 20 likes.

On May 17th, reporter Shomari Stone tweeted, "Pedro doesn't believe the slur was an accident because the Starbucks barista called his name once his order was ready. In an effort to compensate the experience, Starbucks offered him a $50 gift card. 'I didn't accept it because its like an insult overall.'" The tweet received more than 1,900 retweets and 3,500 likes in 24 hours.
That day, California State Representative Norma J. Torres tweeted three images labeled "Human Beings," "Coffee Beans" and "Beans." She captioned the post, "Free diversity training for @Starbucks #GetIt." The post received more than 1,100 retweets and 4,000 likes in 24 hours.
Twitter user @NickPonticello tweeted, "Starbucks printed a racial slur on a customer's cup and they offered him a $50 gift card as an apology! They need way more than one day of racial-bias training. Go to your local #Starbucks and demand an apology! And always insist they get your name right!" The post received more than 800 retweets and 1,800 likes in 24 hours.
Anti-Bias Training
On May 29th, Starbucks closed over 8,000 stores in the afternoon for a 3-hour anti-bias training seminar, which is estimated to include up to 180,000 employees.[2] Experts estimate Starbucks could lose $12 million in revenue for the training, which will "focus on understanding prejudice and the history of public accommodations in the United States," according to the company. The sessions were closed to the media. The morning of the training, the Starbucks Twitter account tweeted about the sessions, gaining over 1,400 retweets and 6,500 likes (shown below).

Porn Ban
On November 26th, 2018, the Enough Is Enough YouTube channel uploaded a video in which activist Donna Rice Hughes discusses pressure the organization placed on Starbucks to censor their Wi-Fi networks (shown below).
On November 28th, 2018, Business Insider[3] published an article which included a statement from Starbucks announcing that the company would be blocking customers from viewing porn while using their Wi-Fi service in coffee shops. That day, The Verge[4] published a similar statement from the company:
"While it rarely occurs, the use of Starbucks public Wi-Fi to view illegal or egregious content is not, nor has it ever been permitted…We have identified a solution to prevent this content from being viewed within our stores and we will begin introducing it to our US locations in 2019."
The following day, Mashable[5] reported that PornHub would be launching a new "Safe For Work" category on the site for those wanting to browse the website while at a Starbucks location.
Related Memes
15 Minutes Late With Starbucks
15 Minutes Late With Starbucks is an expression used to mock someone who shows up late to a meeting or event because he or she appears to have stopped for coffee on the way. On September 3rd, 2012, Twitter user emre published a tweet which claimed that pop singer Taylor Swift looked like someone who would show up late to class with Starbucks. Within the next six months, the tweet received over 1,000 retweets and 700 favorites.
taylor swift looks like those white girls who show up 10 minutes late to class with starbucks every day

— emre(@chanelpuke) September 3, 2012



Starbucks Name FAIL
Starbucks Name FAIL is a series of photographs documenting misspelled names of customers written on the side of cups at the global coffeehouse chain Starbucks. In September 2005, Starbucks enacted a new policy requiring baristas to write the names of customers on the side of their cups. On May 13th, 2010, a Tumblr blog titled "Starbucks Got My Name Wrong" was launched, which highlights photographs of misspelled names written on Starbucks cups (shown below).



Starbucks-chan

Gashi-gashi's Starbucks-chan, also referred to as Stb-chan, is an anime-inspired cartoon character based on the multinational coffee chain Starbucks' iconic green siren logo. It is also inspired by the controversy of Starbucks' temporary revival of its original logo between 2006 and 2008.

In 2006 and early 2008, the Starbucks' company reintroduced a revamped version of their original brown logo of the twin-tailed Siren. The logo featured the full-body of the Siren in a Navasana pose, topless, with her upper body covered in flowing hair, leaving only her naval visible. In response to the change, many Christian groups boycotted the company for having,


"…a naked women on it with her legs spread like a prostitute…The company might as well call themselves, Slutbucks." – Mark Dice, Founder of the Resistance

Original Starbucks Logo – 1971
On March 10th, 2017, Twitter user @uejini, a.k.a Gashi-gashi, posted an anime-like illustration of the siren based off her Navasana pose within the logo along with the caption, "i love coffee". The post accumulated 49 comments, 1.2k shares and 4.7k likes over the past months. Two days after the original image was posted, @uejini posted another illustration of STB-chan holding a coffee cup with the phrase, "Drink it," in the foreground.



In the following months, Gashi-gashi as well as many other artists began posting more illustrations of his design of STB-chan on sites such as DeviantArt and Twitter. Gashi-gashi's Starbucks-chan was also featured on a mega thread on /co/ following the creation of Smug Wendy's.
Search Interest
External References
Recent Videos
There are no videos currently available.