PROTIP: Press 'i' to view the image gallery, 'v' to view the video gallery, or 'r' to view a random entry.
This submission is currently being researched & evaluated!
You can help confirm this entry by contributing facts, media, and other evidence of notability and mutation.
Team Fortress 2 Advice Animals are image variations of the Advice Animal meme format, with the theme of the images being related to the class based first person shooter Team Fortress 2. They either relate to mechanics and instances in the game, or elements and topics that are prominent in the fandom.
Origin
The earliest known example of a Team Fortress 2 advice animal is this image post on Funnyjunk of various advice animal style images regarding the Sniper, Spy and Pyro classes. It was posted to the site on April 8th 2010. Here is the original image post
Spread
Team Fortress Two Advice Animals are also prominent on other image and meme sharing sites, like Memebase and Meme Generator . There is also instances of usage on sites like Reddit and Tumblr .


Possible Meme Mutation discussion on the Team Fortress 2 Subreddit.
Tumblr and Meme Generator have more examples and activty regarding Team Fortress Advice animals based on searches and images, while Reddit and Memebase only have a few instances of the meme.
There are also instances of the advice animals being used on sites regarding the game itself, like Steam's User Forums (Notably the Team Fortress 2 section of the forums) and sites like Gamebanana, which specialises in custom/user made downloadable content to use in PC games.


Steam Forum Users discuss and create deteritives about Sad Pyro.
The Team Fortress Advice Animals are prominent on the site, serving as sprays that can be downloaded and used in game to added to a map for others to see. A pack of various downloadable Advice Animal sprays can be seen here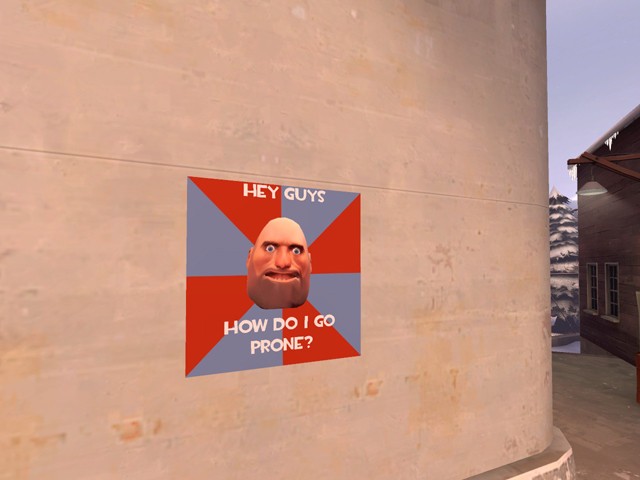 An example of a TF2 Advice Animal spray used in game
It is also common for Team Fortess Advice Animals and other memes to be featured in Idling and Achievement servers for Team Fortress 2, among others.
Tumblr


The Team Fortress 2 Memes front page on Tumblr.
On Blog hosting platform Tumblr, there is "Team Fortress 2 Memes", or "tf2memes" for short. It can be found Here . It was created on July 1st 2011, a week after the Uber update and when Team Fortress 2 became a Free to Play game. Since then, it has been a large source for creating and increasing Advice Animals related to Team Fortress. The blog is still running currently and there are a total of 11 templates and collections for Team Fortress Advice Animals. The blog also has other memes not related to Advice Animals or Advice Animals which are not considered good enough for their own section, which are sorted into a Unsorted/Miscellaneous section .
Notable Examples

Sad Pyro is also a deteritive of the Pyro Sitting Down meme.
Mutation
There are also various instances of Team Fortress 2 related images being made of already established Advice Animals.

A mutation of the The Most Interesting Man in the World meme.

A mutation of the Scumbag Steve / Scumbag Hat meme.

A mutation of the Bear Grylls/Better Drink My Own Piss meme.
Other Examples
There are also other examples of Team Fortress Advice Animals, either originating from Meme Generator or Tumblr.
From Tumblr:
From Meme Generator:
Recent Videos
There are no videos currently available.
Facebook Comments