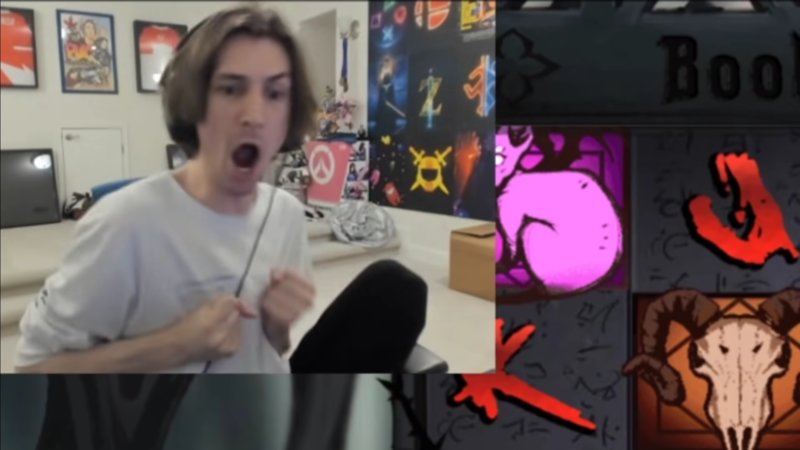 Gambling Streaming / Gamba
This submission is currently being researched & evaluated!
You can help confirm this entry by contributing facts, media, and other evidence of notability and mutation.
Overview
Gambling Streaming, referred to by some as Gamba, is a controversy surrounding sponsored gambling streamers on Twitch. The controversy largely revolves around the streamers, including xQc and TrainwrecksTV, normalizing gambling among younger audiences. The discussion surrounding gambling on Twitch saw a viral surge in May 2022 after xQc returned to sponsored gambling after quitting it in 2021. In September 2022, crypto gambling and gambling through unregulated websites was banned from Twitch following controversy surrounding the streamer Sliker scamming people out of hundreds of thousands of dollars.
Background
xQc Gambling Streams 2021
While present on Twitch and other streaming platforms for many years before, streaming slots, roulette and other casino games did not attract major attention until April 2021, particularly after April 22nd when well-known streamer xQc[1] started doing slots streams that were sponsored by the online casino and betting website Stake. A similar sponsorship was earlier received by streamer Trainwrecks.[6] While the exact details of the sponsorship deals are unknown, it is generally presumed that the sponsorship site at least partly finances the bankroll.
Starting on April 23rd, 2022, xQc's sponsored gambling streams became a viral topic of discussion among streamers and on social media. For example, on April 24th, streamer Asmongold talked about the drama on stream (VOD[2] shown below, left). Also that day, YouTuber Cr1TiKaL talked about xQc promoting gambling during his stream, with xQc later responding (VOD[3] shown below, right).
Cr1TiKaL: I see gambling has become kinda big fucking these days. That's… a little dangerous. I never had a problem with it but I see a lot of young people – not here, not necessarily here – but I was watching… And it seems a bit dangerous, I think.
On April 25th, xQc vocally defended his gambling on stream in response to the criticisms.[4] On June 28th, 2021, xQc quit gambling on stream after he revealed that his referral link was used by 2,000 people to join a gambling site, also revealing that he's "moderately" addicted.[5]
This is going to be a really bad take, but I genuinely believe gamba is content. […] I genuinely feel like I'm slightly, if not moderately, addicted, and it's really bad. […]
xQc's Return to Gambling Streams 2022
On May 16th, 2022, xQc returned to sponsored gambling, reigniting the controversy. A same-day clip of xQc announcing his decision posted in the /r/LivestreamFail[7] subreddit received over 26,400 upvotes in one month (clip shown below).
I might just go full book book.
On May 18th, streamer Ludwig uploaded[8] a video titled "Twitch Needs to Stop Gambling Streamers" that received over 580,000 views on YouTube in one month (shown below).
In the following days, xQc proceeded to vocally defend his decision to return to sponsored gambling during his streams.[9] On May 19th, xQc revealed[10] that people who used his referral code wagered over $119 million USD.
Sliker Scam Controversy
On September 17th, 2022, Twitch streamer Sliker was accused of scamming his viewers, mods and fellow creators out of over $300,000 US over the course of three years to support his gambling addiction. Sliker would purportedly DM people claiming he had bills due and his bank account was locked, promising to pay them back but failing to do so. This sparked a massive pile-on in the past few days where victims of the scam shared the messages Sliker sent them. He admitted to the scam on the 18th and blamed it on his gambling addiction, which started with CS:GO Gambling, sparking a massive debate in the Twitch community about the ethics of allowing people to stream gambling on the site. Many streamers, including Pokimane, Hasan Piker and Mizkif called for gambling streams to be banned from the site following the controversy.
Twitch Bans Crypto Gambling
On September 20th, 2022, Twitch made a post to Twitter[14] announcing that they would ban the streaming of gambling websites that aren't licensed in the United States, including gambling on sites like Stake, Roobet, Rollbit and Duelbits, some of the most used gambling sites on Twitch. According to the statement, Twitch will continue to allow the streaming of sports betting, fantasy sports and poker. The post gained over 299,000 likes and 23,000 retweets in a day (shown below).

Online Reactions
Following xQc's return to sponsored gambling streams in May 2022, the subject became a viral topic of discussion on social media and within the streaming community. For example, on May 26th, Ethan Klein of h3h3productions made a tweet[11] about xQc and Trainwrecks for allegedly getting young people addicted to gambling. The tweet (shown below, left) gained over 500 retweets and 12,700 likes in two weeks. On May 28th, economics and gambling consultant Ollie Ring (@olliering) made a thread[12] about the emergence of mainstream gambling streamers (shown below, center).



Related Memes
Gamba
Gamba is a slang word for "gambling," originally coined by streamer Reckful and popularized by xQc.[13]
Book Book Book
Book Book Book (capitalized BOOK BOOK BOOK) is a catchphrase often shouted by streamer xQc while playing the slots game Book of Shadows, with a combination of three or more "Books of Shadows" icons awarding the player with additional free spins.
Search Interest
External References
Recent Videos
There are no videos currently available.