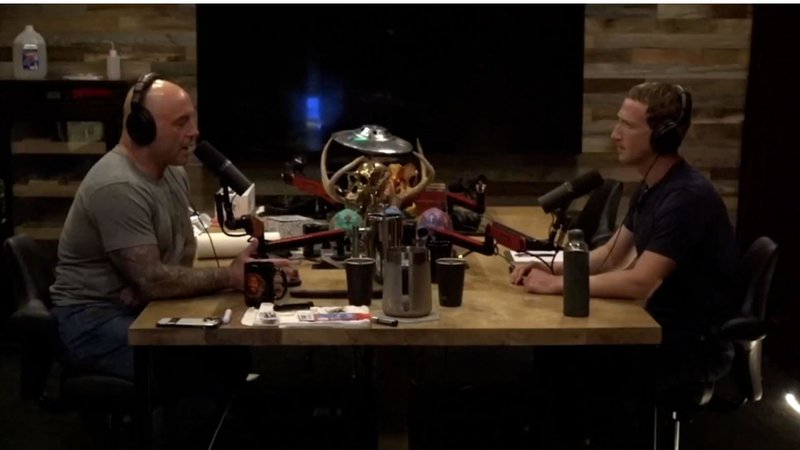 Mark Zuckerberg's 2022 Joe Rogan Experience Appearance
This submission is currently being researched & evaluated!
You can help confirm this entry by contributing facts, media, and other evidence of notability and mutation.
Overview
Mark Zuckerberg's 2022 Joe Rogan Experience Appearance or simply Mark Zuckerberg On Joe Rogan refers to the appearance of Meta CEO Mark Zuckerberg on the August 25th, 2022, episode of the Joe Rogan Experience podcast. During the three-hour podcast, Rogan and Zuckerberg discussed a variety of topics, including the Metaverse and Facebook's content moderation process and policies. Following the episode, Zuckerberg's appearance was widely discussed and covered online.
Background
On August 25th, 2022, Mark Zuckerberg, the CEO of Meta (parent company of Facebook, Instagram and Whatsapp), made an appearance as the guest on Joe Rogan's podcast called the Joe Rogan Experience (clip shown below). The two men talked for almost three hours on the show, mostly about Zuckerberg's ongoing Metaverse project to expand the internet beyond phones and computers to "a real physical sense of presence."[3] Zuckerberg discussed both hardware and software under development to create the Metaverse, as well as technical problems along the way.[1] Rogan also notably wondered about the feasibility of doing different martial arts and stand-up comedy in virtual reality.
As the interview went on, Rogan asked Zuckerberg about his work leading Facebook and moderating disinformation online. Zuckerberg implied that this aspect of his job is draining and difficult.[2] The two also discussed an already-disclosed story about Facebook and the FBI, in which the social media company limited the spread of discussion about Hunter Biden and his laptop, having seen it promoted by foreign governments and fearing it was misinformation.[4]
Online Reactions
Following the episode's premiere on Spotify on August 25th, 2022, memers online joked about Zuckerberg's facial expressions and socially awkward vibe, with many calling him a robot or alien similar to other public appearances. Rogan himself joined in on this bit in a friendly way when he asked Zuckerberg to drink water less robotically in reference to his 2018 Congressional Hearing. Memers like @NathieVR, posting on August 25th and earning just over 400 likes, joined in on mocking Zuckerberg's social skills.[5]

Many also found fault with Zuckerberg for his heavy promotion of the Metaverse and perceived lack of concern with content moderation. For example, on August 26th, 2022, Twitter[6] user @CheyHuntMajer posted a Girl Explaining meme commenting on the topic, gaining just over 500 likes in less than 24 hours (seen below).

Twitter[7] user @jrhennessey, who also tweeted on August 26th and earned just under 200 likes, seemed to mock both men for seeming to talk past each other and not understand what the other one had said (seen below).

External References
Recent Videos
There are no videos currently available.