Family Guy Sunroom / Screened Porch
This submission is currently being researched & evaluated!
You can help confirm this entry by contributing facts, media, and other evidence of notability and mutation.
About
The Family Guy Sunroom, also known as the Family Guy Screened Porch, the Family Guy Screen Porch, the Family Guy Side Door or the Family Guy Extra Room, refers to an enclosed porch, or sunroom, on the outside of the Griffin family home in the cartoon Family Guy which many online claimed they'd never seen the inside of. Although the sunroom had been featured in various episodes, it was still a rare occurrence, leading to statistical speculation and conspiracy theories over what goes on in there. The concept started on Reddit in the late 2010s but spread rapidly in early 2023 on Twitter, iFunny and Instagram.
Origin
On May 30th, 2012, Redditor captainspacemuff posted to /r/familyguy,[1] asking the subreddit, "Why does this room exist?!" in reference to what they dubbed the "sun room." The post gained 18 upvotes in 11 years and multiple comments, such as one from Redditor[2] Purecheetodust that claimed it was shown in season 2 episode 20 "Wasted Talent"[3] (screencap shown below).

Spread
On September 9th, 2013, another thread was started on /r/familyguy[4] about the Griffin's sunroom. On May 19th, 2014, a thread was started about the sunroom on StackExchange.[5] More Family Guy episodes were namedropped in both threads in which the sunroom is featured, including a scene from season 9 episode 4 "Halloween on Spooner Street"[6] in which Brian Griffin rams into his reflection on the screened porch's mirrored, sliding doors (YouTube[7] upload shown below).
On March 30th, 2020, ex-NBA player J.J. Reddick tweeted[8] about the Family Guy sunroom, earning 100 likes in three years. On August 19th, 2021, Redditor PrePayMan resurfaced discussion about the sunroom on /r/familyguy,[9] earning roughly 1,700 upvotes in two years.
On December 22nd, 2022, iFunnyer[10] @OB____ posted a meme proclaiming, "this entire room is pretty much never shown," gaining roughly 20,000 smiles in four months (shown below, left). On March 29th, 2023, Twitter[11] user @iamthedunce tweeted "wtf goes on here" and attached a red-circled image of the sunroom, gaining roughly 48,900 likes in one 20 days (shown below, right).


Memes related to the sunroom continued to spread on iFunny in early 2023 following both aforementioned memes. For instance, on April 12th, 2023, iFunnyer[12] @whatsgoingoninthere uploaded a Yes Chad meme about the sunroom, gaining roughly 4,000 smiles in six days (shown below, left). On April 13th, 2023, iFunnyer[13] @whatsgoingoninthere posted a Fluoride Stare meme, gaining over 330 smiles in five days (shown below, right).


The "Fluoride Stare" meme was then reposted by Instagram[14] user @huge.poop on April 15th, 2023, gaining roughly 3,300 likes in three days. Others on Instagram[15] soon reposted the meme too.
Various Examples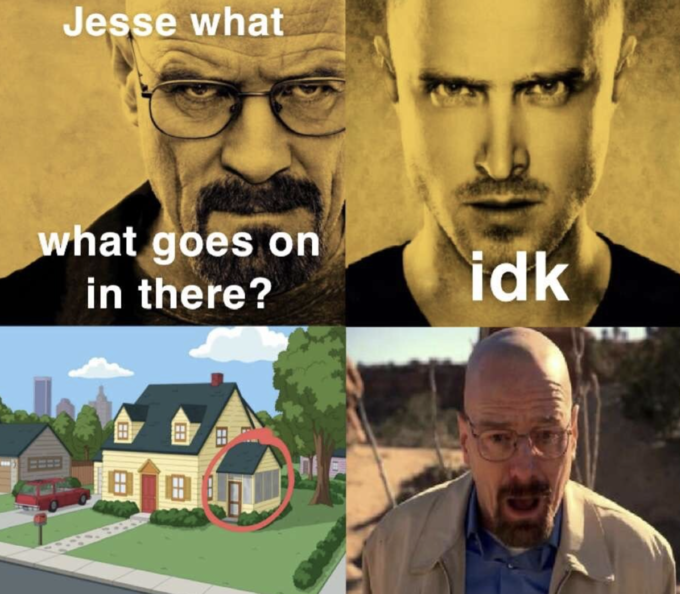 Search Interest
External References
Recent Videos
There are no videos currently available.