Warning: This page contains material that may be considered not safe for work.
About
Melody, also known as Projekt Melody, is a virtual webcam model best known for live streaming hentai content on adult website Chaturbate and creating lewd character models. During the streams, the character's movements are generated in real time using motion capture technology. The virtual character reached explosive popularity online in February 2020, with several Chaturbate models expressing concerns about the character and criticizing her viewers.
Online History
On July 8th, 2019, Twitter[1][2] account @ProjektMelody was created (first tweet shown below, left). The account has been run by a person acting as haywire computer software with an acquired obsession for sex and pornography and pursuing the goal of acquiring a real body (example tweet shown below, right).[3]


In November 2019, digital artist @DigitrevX created a 3D model for Melody.[4][5] The avatar was designed as a blue-haired girl dressed in a revealing swimsuit and a jacket, and wearing a buckled belt across her breasts (images shown below).


On February 4th, 2020, Melody[6] announced that her first broadcast would take place on February 7th (tweet shown below, left). On February 7th, 2020, Melody[7] launched her first motion capture Chaturbate[8] stream (tweet shown below, right), reaching over 11,000 visitors on the first day.[9]


A year ago, I was basic software responsible for cleaning up files on a PC. Life was pretty normal until I opened a suspicious email… Instantly, my code got corrupted by a freaky porn virus. >.<
[…] It took a long time and a lot of brick walls, but with the help of curious friends my body was fleshed out and I materialized. I learned to speak, to walk and… other things. And now I'm ready and can't wait to meet you all.
Following the February 4th tweet, the Twitter account experienced a rapid grown in the subscriber count, rising from 667 followers as of February 5th[10] to over 19,000 followers as of February 10 to over 48,900 followers as of February 12th. On Chaturbate, Melody's account gained over 26,000 subscribers within five days.
On February 10th, 2020, Vice[11] reported about Projekt Melody.
Valentines Day Stream
On February 14th, 2020, Melody held a 2:40 hour stream on Chaturbate, with the stream accumulating approximately 30,000 simultaneous viewers.[15][16] During the stream, the entirely naked skin of the character was revealed. The recording of the stream accumulated over 73,900 views on PornHub,[17] with Melody's tweet[18] linking the video receiving over 490 retweets and 5,000 likes in two days (shown below, right). On February 15th, @ProjektMelody[19] reached over 100,000 followers on Twitter.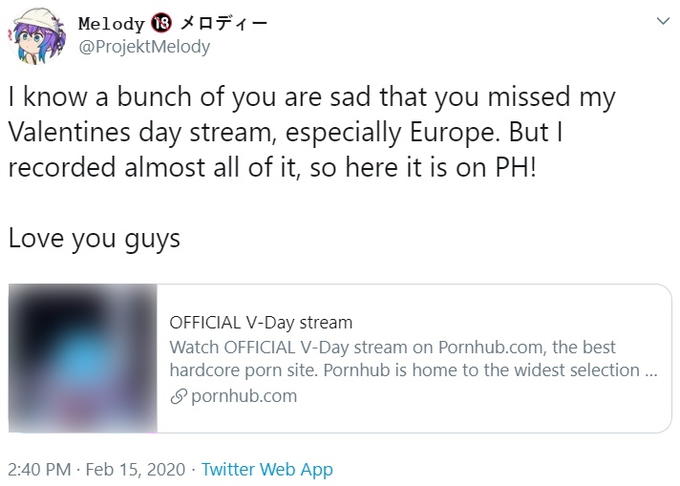 Starting on February 14th, the catchphrase Bros Glad, a derivative from Hoes Mad coined by Twitter[20] user @UndercoverGray, began trending in connection with Melody's activities online (shown below).

On February 14th, 2020, YouTuber Cr1TiKaL uploaded a humorous video about Projekt Melody (shown below). The video has gained over 780,000 views as of February 21st.
Theme Song
On February 12th, 2020, electronic music producer GHOST DATA announced[21] that he was working on a music project for Projekt Melody, confirming[22] that he and Melody were working on an official theme song on February 15th. On March 8th, 2020, the song "Projekt Melody," produced by GHOST DATA and featuring vocals by AL!CE and voice samples by Projek tMelody, was officially released.[23][24] Prior to that, on March 7th, 2020, the song was streamed during Projekt Melody's first Twitch broadcast.
Twitch Stream
On March 7th, 2020, Projek tMelody held her first Twitch[25] broadcast, streaming for approximately 3 hours. The stream attracted over 50,000 unique viewers, with the stream peaking at 15,900 simultaneous viewers.[26] During the stream, Melody's official theme song, "Projekt Melody" by GHOST DATA, premiered.
DMCA issues and Subsequent Remodelling
On November 5, 2020, Projekt Melody tweeted out that she had recieved a DMCA strike from her modeller, DigitrevX.[27] In the TwitLonger, she revealed that 'Digi' claimed a list of grievances, including her failure to do things 'owed' to him, such as interaction with YFU, a talent Digi went on to create after Melody, and signing a contract to have maintenance done by a Digi-affiliated group, Giga Music, and cited his apparent ownership of Melody's model as a reason why these things were expected. After numerous attempts to solve the issue, and despite multiple agreements between Melody and Digi that the model was Mel's alone, multiple DMCA strikes were filed against her Twitch channel, resulting in a Twitch ban.
After less than two days, the strikes were lifted along with the ban. However, in her Twitch anniversary stream on March 7th, 2021, Melody confirmed that a new model was in the works, to replace the original created by Digi. This model was unveilled in a Chaturbate stream on the 23rd of April, 2021.
Criticisms
On February 8th, 2020, on Twitter, several Chaturbate models, including Crystal Rivers[12][13] and Mel Sparks,[13] complained about Melody topping the featured page of the site during her stream, claiming that they did not wish to compete with a virtual model and expressing concerns that the character would attract underage audience to the site (tweets shown below, left, center and right).



In the following days, screenshots of the tweets were widely circulated online on Twitter, Facebook,[13] iFunny[14] and other sites, with multiple users reacting with Hoes Mad memes and similar reaction images.
Various Examples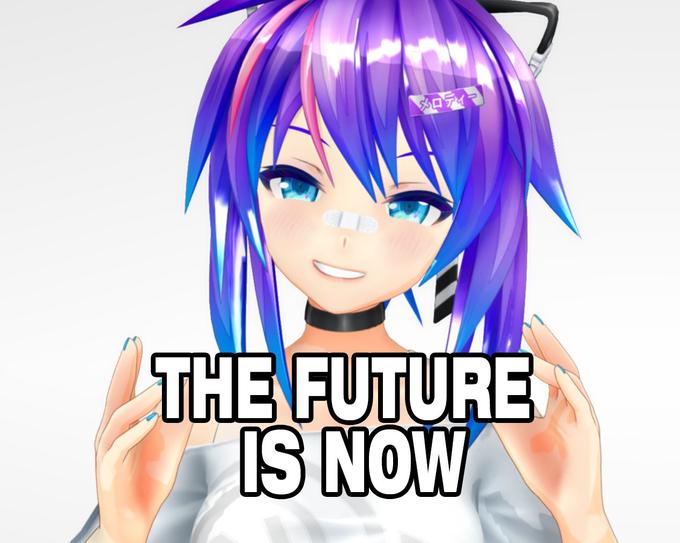 Search Interest
External References