This submission is currently being researched & evaluated!
You can help confirm this entry by contributing facts, media, and other evidence of notability and mutation.
About
Wil Wheaton is an American actor and writer known for his portrayal of the character Wesley Crusher in the science fiction television series Star Trek: The Next Generation. He has gathered a notable following online due to a strong presence on sites like Twitter, Facebook, Tumblr and Reddit.
History
Wheaton's acting debut in a major motion picture was as the voice of Martin Brisby in the 1982 animated film The Secret of NIMH (shown below, left). In 1986, Wheaton starred as the protagonist Gordie Lachance in the drama comedy film Stand By Me (shown below, right).
Srom 1987 to 1990, Wheaton portrayed the character Wesley Crusher in the science fiction television series Star Trek: The Next Generation (shown below, left). In 2009, Wheaton began appearing as himself in episodes of the television sitcom The Big Bang Theory (shown below, right).
Online History
On March 12th, 2006, Wheaton created an account on the social news site Reddit.[5] On March 24th, he created the "Will Wheaton" YouTube[10] channel, garnering over 1.73 million video views in the first eight years. On April 3rd, 2008, Wheaton created his personal Tumblr[8] blog. On February 7th, 2012, he created a Facebook[9] page, which gathered upwards of 141,000 followers in the next two years. Wheaton maintains the site WillWheaton.net,[7] which contains a blog and links to his various social media accounts. As of November 2013, Wheaton has received more than 2.45 million followers on Twitter.[6]
Social Media Exit
On August 15th, 2018, Wheaton deactived his Twitter account, citing the company's refusal to ban conspiracy theorist and InfoWars-founder Alex Jones. Before closing the account, he wrote:[11]
"Twitter is broken. You deserve better than an app that tolerates and welcomes the spreading of abuse and misinformation. Being part of this is not doing us any good. Personally, politically, socially. For a day, a week, forever: your call. It's just a good time to go. #DeactiDay
Following the deactivation, Wheaton reactivated a long-dormant account on the social media site Mastodon, which uses a decentralized structure, open source network. However, after using the site for a short period of time, he claims that he became the target of harassment. Furthermore, moderators threatened to suspend his account after they received more than 60 reports about his usage. He wrote on the site before leaving:
"But it's been made very, very clear to me that I am not welcome in the Fediverse, and I hear you. I hoped to find an alternative to the birdsite where I could find the same fun community that existed over there in the beginning, and it's clear to me that I won't be finding that. Before I leave, I want to just make something very clear, because I've spent most of my life being yelled at by people who don't know me at all, and I want the record to be clear. 2/x

"During GamerGate, I was dogpiled and mobbed and brigaded and attacked by thousands of accounts. I started using a blocklist that was supposed to help stop that. I did not know that the blocklist I signed up for also had a lot of trans women on it. When I found out, I did everything I could to remove those women from the list I shared. When there were still innocents on the list, I stopped sharing the list entirely. Despite this, a mob has decided that I'm anti-trans. 3/x

"This lie that I am anti-trans, or anti-LGBTQ, is deeply hurtful to me (I know it's nothing like the pain LGBTQ people deal with every day, as they simply try to exist in a world that treats them so badly, but it is still hurtful in its own way to me). I just want to make it extremely clear: that is a lie, and the people spreading it are misinformed.

"So I'm leaving the Fediverse, which has treated me with more cruelty, vitriol, hatred, and contempt than than anyone on the birdsite ever did. 4/x"
Shortly after, Wheaton posted on his blog[12] about his experience on Mastodon and that he would be leaving social media entirely.
On August 30th, Mastodon founder Eugen Rochko wrote on the site,[13] "I'm not happy with how the Wil Wheaton situation was resolved. An admin was overwhelmed with frivolous reports about him and felt forced to exile him. I've said before that I think it sets a dangerous precedent on how a large group of people can mobilize to drive anyone off the fediverse. Mob rule is universally dangerous: Mods and admins must examine evidence and decide based on wrongdoing and danger, and not on how many times someone was reported." The post received more than 200 reshares and 400 favorites.
That day, Redditor [14] cehteshami posted about the incident on the /r/OutOfTheLoop subreddit. The post received more than 1,000 points (92% upvoted) and 600 comments.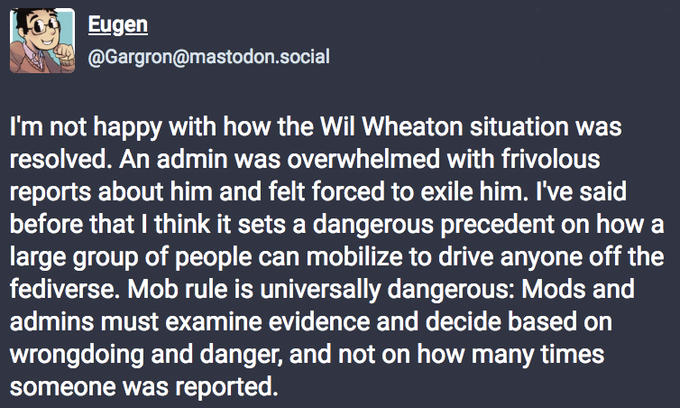 Related Memes
Wheaton's Law
Wheaton's Law is an internet axiom which states "Don't be a dick." It was originally used in the context of sportsmanship in online gaming but its scope was eventually expanded to apply to life in general. Wheaton first uttered the expression during his keynote speech at the Penny Arcade Expo (PAX) in August 2007.
Star Trek: The Next Generation Parodies
Wheaton is often featured in Star Trek: The Next Generation Parodies, in scenes featuring his character Wesley Crusher.
Literally Hitler
"Literally Hitler" is a hyperbolic expression that can be used to denounce an individual or group as being worse than the German Nazi dictator Adolf Hitler. On January 2nd, 2012, Redditor chromiumsun submitted a video to the /r/videos subreddit, in which actor Will Wheaton accuses the Kardashian family as being "more depressing to me than Hitler" (shown below). In the comments section, many Redditors mocked Wheaton's statement by referencing the "literally Hitler" meme.
Elyse Porterfield Dry Erase Board Hoax
Wheaton parodied the Elyse Porterfield dry erase board hoax in August of 2010, when he announced that he was quitting the website w00tstock using dry erase boards.

Photoshop Battle
On November 14th, 2013, Wheaton tweeted a photograph of himself making a thumbs up hand gesture inviting viewers to photoshop the picture.
Okay, photoshoppers, get to work. We're all counting on you. pic.twitter.com/270eUOyss3

— Wil Wheaton (@wilw) November 14, 2013
That day, many Twitter users responded with photoshopped variations of the image.[1][2][3] Also on November 14th, the Internet news blog The Daily Dot[4] published an article about the photoshop meme.
On November 15th, the Photoshop Will Wheaton Tumblr blog was launched, highlighting notable photoshopped images of Wheaton (shown below).



Search Interest
External References