Pokemon According to My Dad
About
Pokemon According to My Dad is a series of visual charts designed to survey an outsider's understanding of the Pokemon universe, especially from the perspective of a parent or family member who is largely unfamiliar with, though not completely unaware of, the popular video game and animation franchise. The concept has been since incorporated into fandoms of other media franchises in popular culture, in a similar manner to the What I Know About… series on Tumblr.
Origin
One of the earliest examples of the meme was submitted to FunnyJunk[1] in a post titled "Pokemon According to My Mom" on June 18th, 2011. The chart shows a variety of Pokemon all labeled Pikachu with the only exception of the actual Pikachu who is described as "that one yellow mouse thing."

The same day, a post titled "Pokemon According to my Dad" was posted to a Tumblr user's since deleted blog. The post gained over 25,000 notes before it was deleted.
Spread
On December 23, 2011, Tumblr user peatea64[3] posted an image post titled "Megaman Characters According to My Dad." As of May 2014, the image has gained over 100 notes. On April 7th, 2012, Tumblr user le-petit-roux[6] posted an image titled "Hetalia According to My Five-Year-Old Brother." As of May 2014, the post has gained over 1,000 notes (shown below).

In 2013, at least four derivative images that were posted on garnered over 100 notes, including i-am-the-sassysquatch's[4] post on Ace Attorney, gaythalia's[5] post on Tumblr-popular celebrities and therationaldove's[7] post on Puella Magi Madoka Magica.
Notable Examples






Derivatives




Related Memes
What I Know About
What I Know About X are intentionally low quality slideshow presentations which give bad explanations of what is supposedly the author's knowledge about the specific topic they only had a vague resource to rely on, created to look like Microsoft PowerPoint[1] presentation. Popular on Tumblr, these presentations are often used to explain popular fandoms and TV shows from the perspective of an outsider whose only knowledge of them comes from Tumblr. When seen on Tumblr, they are often titled "What I know about x from my dash," referring to their Tumblr dashboards. Hallmarks of the meme include low quality copy and pasting, randomly placed narration and a comic sans font.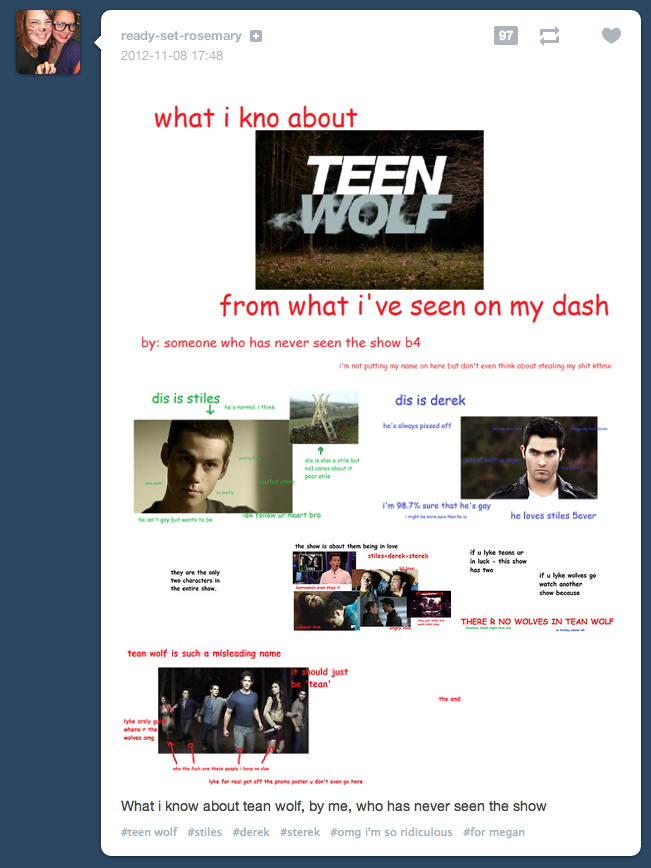 Search Interest
External References
Recent Videos
There are no videos currently available.