Sonic the Hedgehog Movie Poster Parodies
This submission is currently being researched & evaluated!
You can help confirm this entry by contributing facts, media, and other evidence of notability and mutation.
About
Sonic the Hedgehog Movie Poster Parodies refers to a series of jokes, memes and photoshopped version of the advertising materials for 2019's Sonic the Hedgehog film.
Origin
On December 10th, 2018, video game news websites IGN published the first teaser poster for the Sonic the Hedgehog live-action film on Instagram. [1] The poster included light animations, creating a muscular silhouette of the character. The post received on 27,000 likes and 147,000 views in 24 hours.
Spread
Following the post from IGN, people began mocking and parodying the poster. That day, Twitter user @stevezaragoza tweeted,[2] "look at what happens when you brighten sonic's face on the Sonic the Hedgehog poster." Below the caption, @stevezaragoza posted a photoshopped version of the poster that placed Gritty's face over Sonic's. The post received more than 8,600 retweets and 38,000 likes in two days (shown below, left).
Twitter[3] user @myanimewaifu tweeted a drawing of the "back" of the new Sonic design. They captioned the post, "if that's the front of sonic then is this what his back looks like?" The post received more than 2,200 retweets and 9,700 likes in two days (shown below, center).
DeviantArt [4] user jazzjack-KHT posted a version of the poster featuring Ugandan Knuckles in Sonic's stead. The post received more than 545 views in two days. The following day, Redditor [5] Jake5713 posted the image to the /r/TwoBestFriendsPlay subreddit, receiving more than 865 points (96% upvoted) in 24 hours.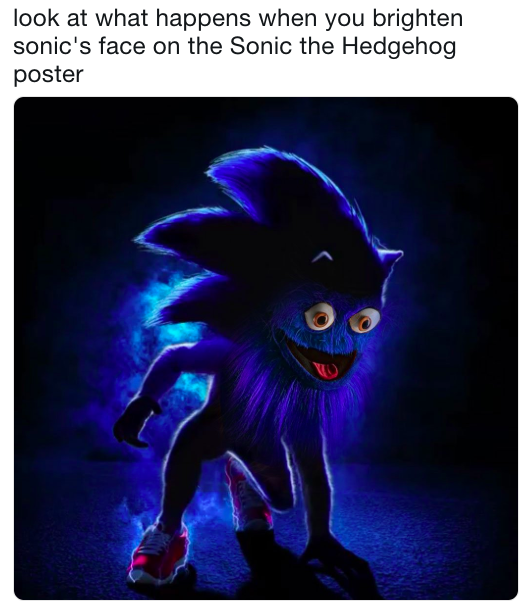 Second Poster
On December 11th, 2018, Twitter[6] user @ThatCubeGamer tweeted a rumored second poster for the film with the caption "this can't be real this can't be real this can't be real." The poster features Sonic's legs atop the Golden Gate Bridge in San Fransisco. Within 24 hours, the post received more than 9,500 retweets and 35,000 likes (shown below).

Following the post, people began posting parodies of the second poster. Twitter[7] user @egoraptor tweeted a photograph of an attempt to recreate the poster. Within 24 hours, the post received more than 1,900 retweets and 18,000 likes (shown below, left).
Over the next few hours, others tried to recreate the image and posted photoshopped parodies of the image (examples below, center and right).



Sonic Creators' Response
On December 11th, 2018, the Twitter account for @SonicJPNews tweeted responses from Sonic creators Naoto Ohshima, Sonic Unleashed character designer Gurihiru, Shiro Maekawa and Yuji Naka:[8]
Ohshima: "Sonic is a fairy of hedgehog, so he doesn't need to be designed closer to a real hedgehog even in a live action. Mickey doesn't become a mouse in live action, does he? Because they are fairies who can live on when people believe in them."
Gurihiru: "I've heard that Sonic movie was going to be a mixture of live action and animation, but I haven't expected this…"
Maekawa: "Wooow, they made a totally unexpected arrangement there *rofl*."
Yuji Naka: "From the comments here, it looks like it's very badly received. I wonder if the movie is actually good when you watch it. I see many movies based on anime or games are unpopular. I wonder why that happens…"
Various Examples






Search Interest
External References
Recent Videos
There are no videos currently available.