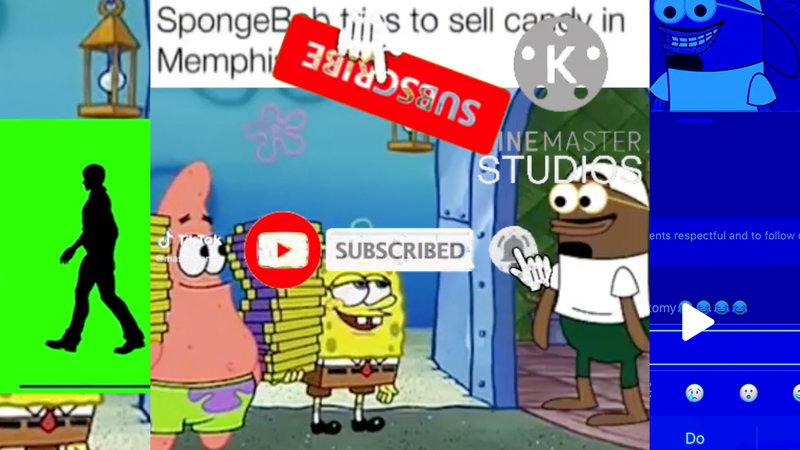 SpongeBob Tries to Sell Candy in Memphis
This submission is currently being researched & evaluated!
You can help confirm this entry by contributing facts, media, and other evidence of notability and mutation.
About
SpongeBob Tries to Sell Candy in Memphis refers to a series of absurd Hood Irony videos that re-edit a YouTube video called "Spongebob tried to sell chocolate in MEMPHIS" by YouTuber Tutweezy. The original video involves a Black SpongeBob fish who answers the door for SpongeBob and Patrick. However, the re-edits became less involved with the video's plot and more about chaotic Hood Lobotomy visuals such as Greenscreen Silhouettes, YouTube "Subscribe Button" graphics and other effects that made the meme ironically low-quality. SpongeBob in Memphis memes became prevalent on TikTok and Instagram in early 2023.
Origin
On February 1st, 2017, YouTuber[1] Tutweezy posted a video called, "Spongebob tried to sell chocolate in MEMPHIS." The video was similar to a YouTube Poop but focused less on nonsensical edits and more on the concept of SpongeBob and Patrick meeting a Black, fish character who's supposed to be from Memphis, Tennessee, and wants to roast them. Over the course of six years, the video received roughly 3.9 million views and 69,000 likes (shown below).
Good afternoon, sir. Could we interest you in some chocolate?
Nah, man. I just wanna roast y'all….
Hood Irony-related usage of the video was posted to Instagram in 2020, exemplified by a video posted by Instagram[2] user @eshakbot on May 20th, 2020, that showed an overly moldy version of the video, receiving over 270 likes in three years (shown below). The post is currently the first discovered sharing of the meme.
Spread
About a month later, on June 5th, 2020, the same video was shared by Instagram[3] user @c_o_c_o_n_u_t_s_, gaining over 730 likes in three years. On July 7th, YouTuber[6] CRIMSON posted a Nightcore version of the aforementioned video that essentially just sped it up. The video gained roughly 52,000 views and 3,600 likes in three years (shown below).
More memes related to SpongeBob being in Memphis or videos that used YouTuber[1] Tutweezy's video surfaced on Instagram going into the 2020s. For instance, on September 16th, 2021, Instagram[4] user @patiasfantasyworld posted a meme that gained roughly 7,600 likes in two years (shown below, left). On May 1st, 2022, Instagram[5] user @hoodnigga.rap2016 posted a moldy video using a different Tutweezy YouTube video, gaining over 750 likes in 11 months (shown below, right).

On December 31st, 2022, a video was shared on both iFunny[7] and TikTok[8] that had silhouettes walking, YouTube "Subscribe Button" graphics and a Kinemaster watermark. On iFunny, the meme was shared by iFunnyer[7] @HypebeastThebean, gaining over 20 smiles in four months (shown below). On TikTok, it was then shared by TikToker[8] @m4tth3wwwww, where it gained over 1,300 plays and 30 likes in a similar timeframe. The original creator is currently unknown, but the aforementioned posts are currently the earliest discovered.
The video inspired further iterations on TikTok going into early 2023. For instance, on January 11th, 2023, TikToker[9] @hood_irony00 posted a video, gaining roughly 137,300 plays and 15,200 likes in three months (shown below, left). On March 1st, TikToker[10] @illegalbugtrader posted an iteration, gaining roughly 1.1 million plays and 206,200 likes in one month (shown below, right).
Various Examples
Search Interest
External References
Recent Videos
There are no videos currently available.