This submission is currently being researched & evaluated!
You can help confirm this entry by contributing facts, media, and other evidence of notability and mutation.
About
Hood Lobotomy refers to a subset of Hood Irony memes common on TikTok that combine Greenscreen Silhouettes and the Me Everytime After The Lobotomy video concept into one video genre that reads like noncoherent and avant-garde Schizoposting. Although the Hood Lobotomy aesthetic was founded on Instagram starting in 2020, the phrase "Hood Lobotomy" wasn't coined until early 2023 on TikTok within Hood Irony comment sections on the app, later inspiring the #hoodlobotomy hashtag.
Origin
Starting in late December 2022, Greenscreen Silhouette Hood Irony videos started surfacing on TikTok which were either reposted from or inspired by Instagram[1] user @chxallah who started uploading Silhouette Irony videos as early as December 2020. On December 26th, 2023, TikToker[2] @hoodirony.university uploaded a Silhouette Irony video, gaining roughly 37,800 likes in four months. In the video's comment section, TikToker[3] @diet_chlorine_dioxide wrote, "this is me during the lobotomy," in reference to the similarly chaotic Me Everytime After The Lobotomy videos that were appearing on the app in 2022. The comment gained over 480 likes in four months and is currently the first discovered "Hood Lobotomy" association (shown below).

On January 4th, 2023, TikToker[4] @brothereric51 uploaded the first video within the #hoodlobotomy hashtag on TikTok,[5] gaining roughly 367,800 plays and 88,900 likes in three months (shown below).
Spread
Going into early 2023, Hood Lobotomy became its own subset of Hood Irony videos, spreading to various creators on the app. For instance, on January 8th, 2023, TikToker[6] @juandavious_pringle uploaded a video that gained roughly 182,000 plays and 15,300 likes in three months (shown below, left). On February 9th, 2023, TikToker[7] @holera_mike uploaded a video that gained roughly 1.5 million plays and 270,900 likes in two months (shown below, right).
Going into March and April 2023, both Casino Irony and Pirate Irony evolved from the Hood Lobotomy genre on the app. Hood Lobotomy-related videos also surfaced on iFunny, such as a video uploaded by iFunnyer[8] @Cables on April 13th, 2023, that used Family Guy and Subway Surfers footage, gaining over 860 smiles in five days (shown below).
By April 18th, 2023, the #hoodlobotomy tag on TikTok[5] had amassed over 20 million views.
Related Memes
Gamblecore, also known as Casino Irony, refers to a genre of video memes similar to Pirate Irony that use low-quality footage and graphics related to online and real-life gambling in order to satirize gambling addiction, similar to the precursor Keep Gambling meme. Gamblecore videos appeared on TikTok in early 2023, building on aesthetics started by Hood Irony and Silhouette Irony. The videos included ear-rape audio and alluded to winning lots of money, coins and jackpots. Ultimately, the satirization was similar to ironic Drunk Driving memes and mostly criticized the prevalence of gambling streaming on platforms like Twitch, labeling it as propaganda for the gambling and casino industries by emulating crudely made propaganda. The term notably uses a -core suffix, likely inspired by Corecore.

SpongeBob Tries to Sell Candy in Memphis refers to a series of absurd Hood Irony videos that re-edit a YouTube video called SpongeBob tried to sell chocolate in MEMPHIS" by YouTuber Tutweezy. The original video involves a Black SpongeBob fish who answers the door for SpongeBob and Patrick. However, the re-edits became less involved with the video's plot and more about chaotic Hood Lobotomy visuals such as Greenscreen Silhouettes, YouTube "Subscribe Button" graphics and other effects that made the meme ironically low-quality. SpongeBob in Memphis memes became prevalent on TikTok and Instagram in early 2023.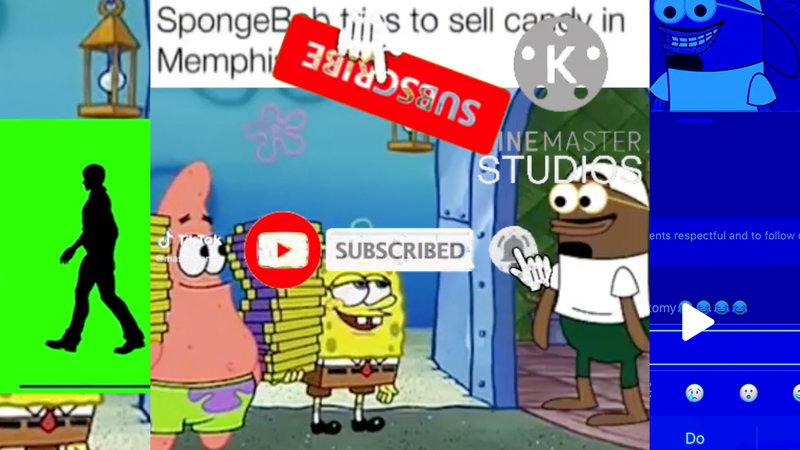 Pirate Irony, also known as Piratecore or There Be Treasure, refers to a series of videos on TikTok and elsewhere that use Hood Irony adjacent visuals to show chaotic scenes that are pirate-related, predominantly using free-to-download backgrounds and greenscreen silhouettes. The trend evolved from Casino Irony and other, niche, Corecore-related microtrends like Me Everytime After The Lobotomy which use low-quality and moldy shitposts. Many of the Pirate Irony videos used pirate talk sound effects, like a pirate saying, "There be treasure!" among others like "Arg" or doubloon noises.

Various Examples
Search Interest
External References