Squidward Trying to Sleep
This submission is currently being researched & evaluated!
You can help confirm this entry by contributing facts, media, and other evidence of notability and mutation.
About
Squidward Trying to Sleep refers to an image of Squidward Tentacles from a 2005 episode of the animated series SpongeBob SquarePants lying in bed awake and sad or worried, unable to sleep (similar to the Wojak Trying to Sleep meme). A screenshot of the scene became popular in image macros as early as 2013, spreading significantly over the following years, particularly on Tumblr and Reddit. One of the most popular versions of the meme is a photoshop showing Spoons Rattling SpongeBob in the window.
Origin
On September 30th, 2005, season four episode 65b of SpongeBob SquarePants aired, titled "Funny Pants."[1] In the episode, Squidward tells a joke to SpongeBob that inspired him to laugh the whole day and through the night, keeping Squidward up. At one point in the episode, Squidward is seen lying in bed, scared and awake, as SpongeBob laughs in the distance, keeping him from rest.
On August 28th, 2013, Tumblr[2] user evilscientist posted a screenshot of the scene along with the caption, "when youll never have a chance with your crush," garnering over 72,000 notes in eight years (shown below). This is the earliest known use of the image as a meme.

Spread
The image slowly spread across social media over the next few years, used occasionally in image macros alongside jokes about being kept awake at night. On July 11th, 2015, iFunny[3] user SpookyMoose posted a photoshopped version of the image featuring Spoons Rattling SpongeBob in the window (shown below). This became the most popular version of the meme going forward, particularly on Tumblr.

In May 2016, now deactivated Tumblr[4] user jordanspicecake posted a labeled version of SpookyMoose's photoshop about followers being bothered by a poster, garnering over 145,000 notes in five years (shown below, left). On June 20th, Tumblr[5] user dongboss posted a new wholesome photoshop of the image featuring Squidward smiling, garnering over 93,000 notes in a comparable span of time (shown below, right).


Users continued to replace the image in the window in future photoshops to fit the context of the joke. For example, on July 12th, 2016, Tumblr[7] user wizbutts posted a version with Patrick Star in fishnets in the window, garnering over 250,000 notes in five years (shown below).

The image continued to prove popular over the course of the next five years, appearing on most social media platforms, particularly on Reddit and Tumblr.
On March 21st, 2021, u/u/karvina_42 posted a meme using the image to /r/BikiniBottomTwitter,[8] garnering over 35,000 upvotes in three months (shown below, left). On June 20th, 2021, Redditor u/Maattaann posted a meme to /r/memes[6] using the image in an image macro, garnering over 54,000 upvotes in a week (shown below, right).


Related Memes
Spoons Rattling (often expressed within parentheses as [spoons rattling]), refers to the subtitles from a still of Spongebob Squarepants in a cowboy hat waving his arms in the air. The image is frequently used in shitposting in communities like iFunny and Tumblr (examples shown below).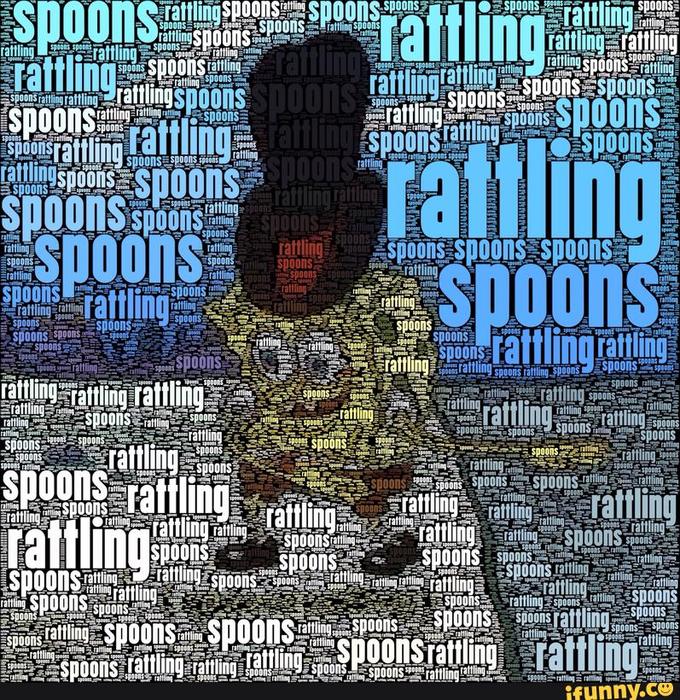 Various Examples






Templates


Search Interest
External References
Recent Videos
There are no videos currently available.