This submission is currently being researched & evaluated!
You can help confirm this entry by contributing facts, media, and other evidence of notability and mutation.

About
Code Lyoko is a French animated science-fiction and adventure series produced by animation studio MoonScoop and aired on France 3 and Canal J in France, and on Cartoon Network in the United States. The original series ran from 2003 to 2007, and a live-action/CGI animated sequel series titled Code Lyoko: Evolution was released in 2012. The series focuses on a group of adolescents who try to stop an evil computer virus from creating disasters in the physical world.
Premise
A young student named Jeremie discovers a supercomputer in an abandoned factory. After activating the supercomputer, Jeremie discovers the virtual world of Lyoko, the malevolent artificial intelligence X.A.N.A. which attempts to free himself of the computer's confines, and the beautiful girl Aelita who is trapped inside. To help save Aelita and stop X.A.N.A.'s attempts to cause disasters in the real world, Jeremie enlists the help of his 3 friends Ulrich, Yumi, and Odd, who travel to Lyoko to stop X.A.N.A from the inside.
History
Originally inspired by their earlier short film Les enfants font leur cinéma (shown below, left), creators Thomas Romain and Tania Palumbo created the pilot called Garage Kids in 2001 (shown below, right), which later evolved into Code Lyoko two years later in 2003. Romain eventually left the series to work on the Japanese anime series Ōban Star-Racers.
The locations for the factory and boarding school featured in Code Lyoko were based on the now demolished Renault production plant in Boulogne-Billancourt and Lycée Lakanal in Sceaux, respectively. Code Lyoko began airing on September 3rd, 2003, and ran for 4 years until November 10th, 2007. Five years later, on Decmeber 19th, 2012, a sequel series titled Code Lyoko: Evolution aired on the French channels France 4 and Canal J. The series ran for a year, and ended on the one year anniversary of it's original episode on December 19th, 2013.
Online Relevance
On Tumblr the series is tagged under several tags such as Code Lyoko,[1] CodeLyoko,[2] and Code Lyoko Evolution.[3] The official Facebook page for the series has over 413,000 likes.[4] The series also has several database like websites which document information about the series such as TV Tropes[5] and the Code Lyoko Wiki.[6] On YouTube there are around 36,000 search results for "Code Lyoko".[7] The opening theme for the series has been uploaded to YouTube numerous times with the most viewed instance having over 1.3 million views (shown below).
Fandom
On Tumblr there are various fan-made blogs dedicated to the series, such as Fuck Yeah Code Lyoko![8] Code Lyoko Headcanons,[9] Code Lyoko Confessions,[10] and several others.[11] There are several sites which catalog the various fanfictions written about the series, such as FanFiction.net,[12], Code Lyoko Fanfiction Wiki,[13] and Code-Lyoko-Fanfics.[14] On YouTube there are various fan-made edits and AMV style videos centered around Code Lyoko. On November 11th, 2007, YouTuber OddDellaRobbia12 uploaded a low pitch rendition of the theme song with a compilation of clips from Code Lyoko featuring the character William (shown below, left.) As of August 2015 the video has nearly 2 million views. On December 31st, 2005, YouTuber ChaosScorp uploaded a compilation pf clips featuring the antagonist X.A.N.A.'s attacks on the characters in the real world, while the song "Still Waiting" by Sum 41 plays in the background (shown below, right). As of August 2015 the video has over 1.1 million views.
Fan Art
On YouTube there are various videos showcasing users drawing characters and locations from Code Lyoko,[15] with the two most viewed instances having over 9,000 and 3,000 views respectively (both, shown below).
On DeviantArt there are various posts tagged under #CodeLyoko[16] as well as over 26,000 search results for "Code Lyoko".[17] There are also various fan groups and accounts dedicated to the series, such as Code-Lyoko-Fans,[18] Code-Lyoko-Evolution,[19] codelyokofan92,[20] as well as several others.[21][22]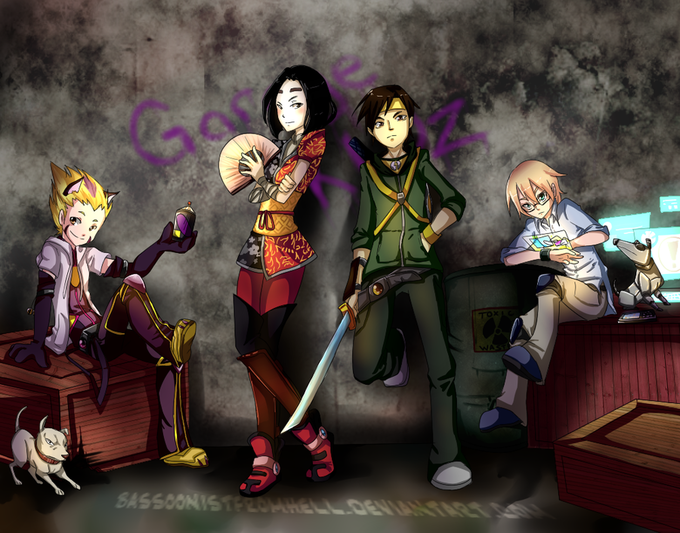 Related Memes
Code Lyoko Foreheads
Code Lyoko Foreheads refers to the mockery of the size of the foreheads in Code Lyoko which are often regarded as being ridiculously oversized. The forheads are often edited to either have text or objects on them, or to be in different or absurd shapes or places.

Search Interest
External References