About
Internet Explorer (often abbreviated as IE) is a web browsing software that is included in all versions of Microsoft Windows Operation Systems since Windows 95. Though once regarded as the most widely used web browser, being utilized by more than 95% of all web browsers at its height in 2002 and 2003, the popularity of Internet Explorer began to decline after the launch of other browsing applications like open source Mozilla Firefox, Apple Safari and Google Chrome in the following years. Due to its enduring association with novice Internet users, or noobs, Internet Explorer has been a popular subject of parodies and ridicule on the web.
Online History
The first version of Internet Explorer (IE1, shown below, left)[5] was developed by a team of six programmers led by Thomas Reardon and released on August 16th, 1995. Modeled after the source code of Spyglass Mosaic[6] browser which Microsoft licensed the same year for $2 million, IE1 came prepackaged with the release of Windows 95 and its Microsoft Plus! add-on package. The second version, which featured support for SSL, cookies and Internet newsgroups, was released three months later on November 22nd, 1995. The iconic blue "e" logo did not appear until the third version of the program, released on August 13th, 1996. This version of Internet Explorer[7] (shown below, right) came equipped with support for CSS, ActiveX controls and Java applets. At the time of its release, IE3 was considered one of the most popular versions of the software. It was also the first version to feature the iconic blue "e" logo.


Additional revisions of Internet Explorer were unveiled with IE4 and IE5 in 1997 and 1999, the next significant updates arrived in August 2001 with the launch of Internet Explorer 6.[8] Released on August 27th, 2001, it was the default browser shipped with Windows XP and WIndows Server 2003. Between 2002 and 2003, IE6 simultaneously became the most widely used version, as well as the most criticized release for its vulnerability issues and lack of support for modern web standards, as it did not reach a stable release until May 2008. Despite its shortcomings, however, IE6 remained the most popular version of its series even after the release of IE7.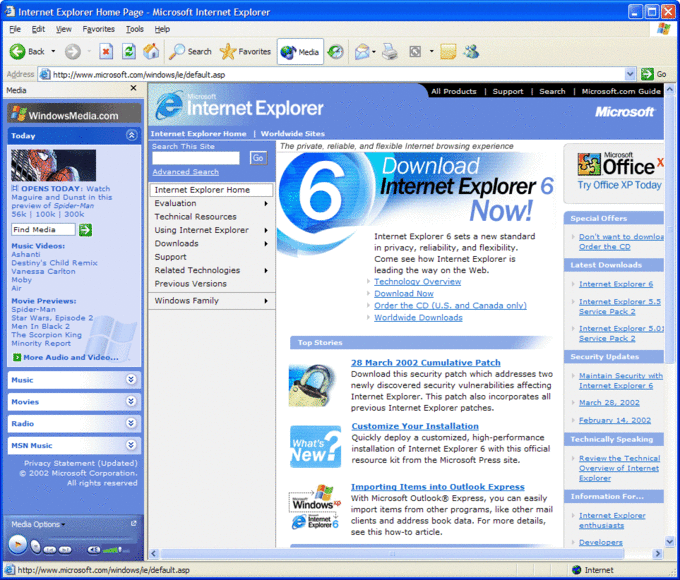 Meanwhile, Microsoft's competitor and the once-dominant brand Netscape Navigator open-sourced their browser code and entrusted it to the newly formed non-profit Mozilla Foundation to create a successor, which launched in November 2004 under the name Mozilla Firefox.[9] In the following years, Microsoft's usage share in web browser applications began to drop as alternative options continued to emerge, most notably Apple Safari in 2003 and Google Chrome in 2008. Microsoft eventually released its successor Internet Explorer 7 in October 2006, though by then, it had already lost much of influence in the overall usage share of web browsers.

As of October 2012, Internet Explorer has reached its 10th incarnation[10] (shown below), released on August 1st, 2012. This version included a version of Adobe Flash Player specifically tailored to the browser that would not drain the user's battery. The company also chose to enable a default "do not track" option for accruing advertising information. On October 1st, 2012, the Board of Directors from the Association of National Advertisers wrote an open letter[11] to the CEO of Microsoft stating that they were shocked by the action, claiming it would harm consumers and hurt competition, losing a large amount of potential information. The letter was reposted on tech blogs Slashgear[12] and ZDNet[13], yielding hundreds of comments and tweets.

Reception
The widespread criticisms of IE6 soon led to its inclusion in "worst tech products of all time" lists by tech news sites and publications, some of which labeled it as the "least secure software on the planet."[14] On Urban Dictionary, there are more than 50 entries associated with the term "Internet Explorer."[4] The earliest definition, submitted by user ChibiTaryn on August 1st, 2003, highlights that "its lack of security has made it a target for viruses, and other exploits." Between 2004 and 2005, definitions reflect became a running joke that Internet Explorer is the best web browsing tool to use when downloading Mozilla Firefox, as noted in the top voted entry submitted by user supaDISC on February 20th, 2005:
A simple Windows XP tool which allows the user to browse to Mozilla.com and download Firefox, a web browser. Example: As soon as I installed XP I opened Internet Explorer and grabbed the latest version of Firefox.

At the dawn of what was satirically known as the second browser wars[15] in the mid-2000s, tech news sites and computer review blogs began comparing the strengths and weaknesses of various web browsers, with many publications ostracizing Internet Explorer as the least competent option. Despite poor user feedback and developer's reviews, Internet Explorer continued to retain its usage share mostly through its compatibility with Microsoft's operating systems.
Notable Images
Many comics and image macros comment on the lack of functionality available with Internet Explorer by comparing it to other browsers through outlets like rage faces (shown below, top center) or a backwards gun (shown below, bottom right).









Anti IE6 Campaigns
Despite it being one of the most popular instances of the browser, several aspects of Internet Explorer 6 caused web pages to render differently than in other browsers. By February 2009, the Norwegian auction site Finn.no[29] (shown below, left) began encouraging users to upgrade their outdated browsers.[25] The campaign quickly caught on, as blogger Peter Haza[26] posted screen shots of 12 other websites (example shown below, right) from several countries that showed pop up messages linking to an upgrade when a IE6 user accessed the page. The following month, SaveIE6[27] was created, hosting a petition[28] that would be sent to the World Wide Web Consortium in order for them to reevaluate their standards to cater to the outdated browser.


In July 2009, IE6 No More[30] was created, providing web owners with an HTML code they could insert into their site for a similar pop up message. Websites including YouTube, Weebly, Digg, Facebook and Justin.tv all joined in the Anti-IE6 campaign[31] by August, when CNN[32] reported on the movement. Microsoft responded[33] by saying that they could not discontinue support for the browser at that time, reinforcing a "kill date" of April 8th, 2014. The next year, Google announced that its Document application would cease supporting IE6[34] and the Aten Design Group in Denver, Colorado held a funeral[36] for the browser. Microsoft finally decided to join the anti-IE6 movement in March 2011[35], launching an Internet Explorer 6 Countdown[37] to heighten awareness of what countries are still using the ten-year-old browser. As of September 2012, 6% of the world was still using Internet Explorer 6, down from 11.3% in 2011.

Anti-IE Communities
The first anti-IE website, Stop IE[17], was launched in August 2004, listing numerous reasons why people should switch their browsers. A second site, I Hate IE[20] was created in January 2005, compiling user-submitted reasons as to why people dislike IE. Later that year, Kill Bill's Browser[22] (shown below, left) suggested 13 reasons why users should dump IE, using a color scheme from the 2003 action movie Kill Bill. I Hate Internet Explorer[19] was launched in December 2007 providing a now-defunct forum for IE critics to vent about the browser. In 2009, IE Sucks.info[16] was established, attempting to launch a campaign to kill the browser. The same year, two unaffiliated Facebook fan pages were created, I Hate Internet Explorer[18] which gained more than 14,000 likes (shown below, right), and I Hate Internet Explorer (IE)[21], which accrued more than 9100 likes as of October 2012.


The Browser You Loved to Hate
Around the release of Internet Explorer 9 in March 2012, Microsoft launched a campaign to reestablish the browser by using people's hatred of it. Titled "The Browser You Loved to Hate"[24], the corresponding site utilized a Tumblr page to compile graphs and videos advertising the rebuilt browser, as well as quotes from tech blogs and tweets about how great IE is. On March 15th, 2012, they launched an official commercial depicting a young male adult known for hating Internet Explorer changing his mind about the browser after using IE 9.
Commercial Parodies
After a slew of Internet Explorer 9 commercials depicting the browser as powerful and secure, many YouTubers began uploading parody videos to re-emphasize its perceived mediocrity. As of October 2012, there are nearly 3000 results for the search term "internet explorer parody"[23] on YouTube.
Phase Out
On March 17th, Microsoft announced that it would be phasing out Internet Explorer in favor of a new browser it temporarily called "Project Spartan." Based on initial focus group testing, the new browser will probably have the word Microsoft in the name.[38] Microsoft confirmed that Internet Explorer would still be available in some environments, but that the main browser capabilities of Windows were expected to migrate to the new browser.
Predictably, even the phase out was subject to parody, including this bit on The Jimmy Fallon Show:
Search Interest
External References