This submission is currently being researched & evaluated!
You can help confirm this entry by contributing facts, media, and other evidence of notability and mutation.
About
Sesame Street is an American educational children's program with a cast of actors and Jim Henson's puppets aired on public television. The show is famous for being the first educational American children's shows and for their history of famous guest stars from the entertainment industry as well as other public figures.
Premise
On Sesame Street, a fictional city street, a collections of monsters, grouches, as well as other various puppet creatures such as Big Bird and the Count live together with human neighbors, both adults and children. Episodes cover basic pre-school lessons such as numbers, letters and colors as well as social topics such as healthy eating and handling a loss. Episodes often also feature famous guest stars including musicians who might sing a song with a muppet or politicians and activists who might teach a life lesson.
History
Sesame Street premiered on November 10th, 1969, on public television. As of August 2014, the show has run for 44 seasons and over 4,000 episodes. The show has created by Joan Ganz Cooney and Lloyd Morrisett, and utilizes the muppets of Jim Henson.
Accolades
The show has been nominated for 11 Primetime Emmys in Outstanding Achievement in Children's Programming, winning six. They have also been nominated for two Grammy Awards, winning one for Best Recording for Children in 1971, and two Peabody Awards in 1970 and 1990.
Online Presence
As of August 2014, Sesame Street's Facebook page[2] has gained over 840,000 likes and its Twitter account[3] has gained over 860,000 followers. Its Instagram account[7] has gained over 20,000 followers, and its YouTube channel[10] has gained over 1 million subscribers.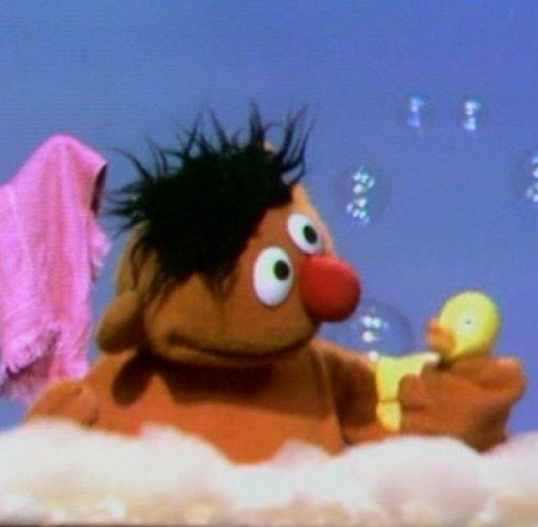 Fandom
There are several of fan run Tumblr blogs dedicated to the show as of August 2014, fuckyeahsesamestreet[5]and fuckyeahclassicsesamest[6]. Fans also gather to discuss the show on its Fanpop page[8] and the subreddit /r/sesamestreet/.[9] DeviantArt [4] has over 12,000 pieces of fan art tagged Sesame Street.



Related Memes
Bert is Evil
Bert is Evil is a photoshopping trend that involves superimposing an image of Sesame Street character Bert into scenes of disasters like JFK's assassination and Oklahoma City bombings in similar vein to Disaster Girl. The "Bert is Evil" phenomenon reached its peak in October 2001, when Reuters news agency published a photograph of a pro-bin Laden protester rallying in Bangladesh with a large image poster of Osama bin Laden and Bert posing next to each other.

Jack Black's Octagon
Jack Black's Octagon refers to a clip taken from a 2008 episode of Sesame Street[1] in which Elmo teams up with American singer and actor Jack Black[2] to define the word "octagon." Black's strange demeanor throughout the skit has led it to become common source material in YouTube Poop Music Videos as well as MAD video remixes.

Ernie and Bert's Drum Play Parodies
Ernie and Bert's Drum Play Parodies, better known as "Susami Street" (Japanese: 荒みストリート) in Japan, refers to a series of parody videos on the Japanese video sharing service Nico Nico Douga (NND) which are inspired by a remix video of a drum play by Ernie and Bert from Sesame Street.

Fired Big Bird
Fired Big Bird refers to a series of online satires surrounding a budget cut proposal on the Public Broadcasting Service (PBS), which runs the children's television series Sesame Street, introduced by Mitt Romney during the U.S. presidential debate against President Obama in early October 2012. On the Internet, the quote was quickly taken out of the original context and turned into a joke that Mitt Romney Hates Big Bird, the protagonist of Sesame Street.






Pop Culture Parodies
Sesame Street often creates short parody videos based on popular television shows or films. Often the original media is very inappropriate for small children, and the parody will have an educational theme replacing the more adult themes. On August 5th, 2013, Sesame Street's YouTube channel posted a video titled "Sons of Poetry," a parody of the television show Sons of Anarchy. As of August 2014, the video has gained over 900,000 views. On October 3rd, the channel posted a video titled "Cookies of the Caribbean," a parody of the film series Pirates of the Caribbean. As of August 2014, the video has gained over 1 million views.
On March 7th, 2014, the channel posted a video titled "Les Mousserables," a parody of the film Les Miserables. As of August 2014, the video has gained over 840,000 views. On May 7th, the channel posted a video titled "Cookie of Oz," a parody of the film The Wizard of Oz. As of August 2014, the video gained over 340,000 views.
Notable Examples






Search Interest
External References