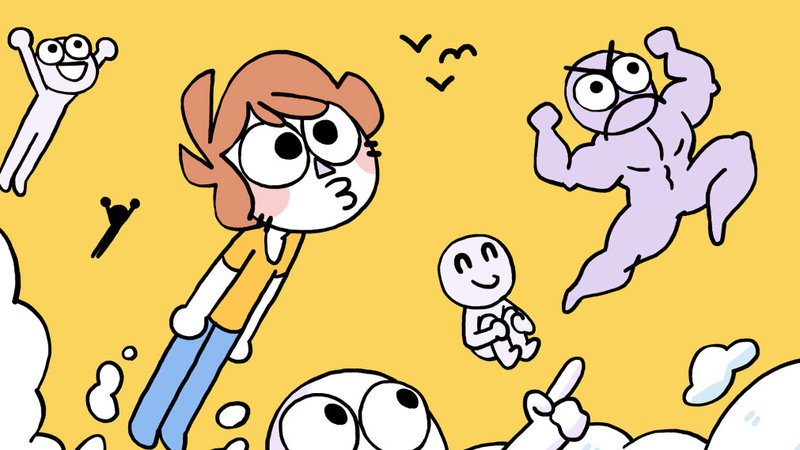 About
Shen Comix, previously known as Owl Turd Comix, is a webcomic created by Shenanigansen known for its whimsical art style and downbeat punchlines.

Origin
Shenanigansen started Owl Turd Comix in February of 2013. His first comic[1] was posted to Tumblr on February 19th (shown below).


Spread
In the coming years, Owl Turd Comix grew in popularity, with his comics regularly receiving tens of thousands of notes on Tumblr.[2] He has illustrated for The Daily Dot,[3] College Humor,[4] and Naver Webtoon.[5] Many of his comics feature a character named "Shen" serving as the protagonist, which Shenanigansen says is "close enough" to his real personality.[6]
While Owl Turd is popular, it does have its critics, who often criticize it for resorting to formulaic punchlines about the author's neuroses. On December 13th, 2016, Tumblr user comic-sans-apologist[7] published a comic mocking Owl Turd by doing an overly simplistic parody of one of his comics. The post has gained nearly 11,000 notes in over a month.

Hiatus
On November 18th, 2017, Shenanigansen published a status update on Facebook[8] announcing that his comic would be placed on "hiatus" while working on "getting to a place of emotional stability" (shown below).

The next day, a follow-up post was released revealing that he was dealing with "personal, non-comics-related stuff" and that he liked ''the bike memes,'' referring to the exploitables using his My Bike Got Stolen Recently comic (shown below).[9] Within 24 hours, the post gathered more than 10,000 reactions, 520 comments and 280 shares.

Various Examples






Related Memes
Missed the Point
Missed The Point is a series of exploitable 4-panel comics featuring a character wearing a heart sweater convincing a protester to identify what he likes.


All Life Is Precious
All Life Is Precious is an exploitable Owl Turd Comix panel in which a person is holding a spider. Electing to bring it outside rather than kill it, the person says, "All life is precious." The spider then says something offensive to the person, leading the person to squish it. In the exploitable, what the spider says changes.

My Bike Got Stolen Recently
My Bike Got Stolen Recently, also known as Bike Cuck, is an exploitable Owl Turd webcomic in which a boy is initially sad to discover his bike is stolen but feels better after speculating that the thief who stole it is happy to have it. Online, the comic was mocked for having a simplistic outlook on theft and universal happiness, spawning numerous parody variations.

Search Interest
External References