Welcome to the Gang / Crimes Johnson
About
Welcome to the Gang, otherwise known as Crimes Johnson, is an exploitable Owl Turd comic featuring a young man who is introduced to a gang of criminals, who are typically captioned with various humorous descriptions of their criminal acts.
Origin
On December 4th, 2017, Owl Turd released a comic in which a gang of criminals is introduced to a young boy, including "Stealin' Steve," "Murderin' Mike" and "Crimes Johnson." After asking what Crimes Johnson had done, it is revealed that he "made a really bad tweet" (shown below).[1]

Spread
Shortly after the comic was posted, it was deleted by Owl Turd creator Shenanigansen. In a post on Tumblr, Shenanigansen revealed that he "just wasn't feeling it" and that the only part of the comic he liked was Crimes Johnson (shown below).[2]

Also on December 4th, Redditor ThatFluxNerd posted a variation in which Crimes Johnson is accused of saying "traps aren't gay" (shown below, left). That same day, Redditor RomoSSJ5 submitted an edited version of the comic to the /r/GuildWars2[3] subreddit (shown below, right).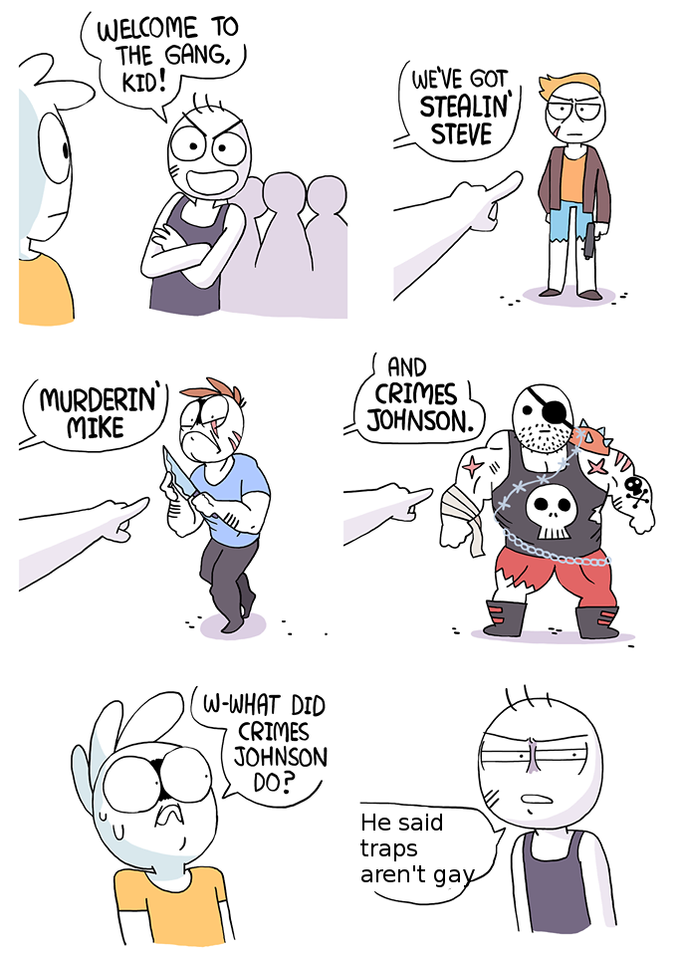 On December 5th, Redditor DoesntLikeSand posted a variation of the comic referencing the Respect Women meme to /r/memeeconomy[4] (shown below, left). Meanwhile, Know Your Meme user Guy with Opinions uploaded a My Bike Got Stolen Recently parody of the comic (shown below, right).


Search Interest
Not available.
External References
Recent Videos
There are no videos currently available.