About
Who's That Pokemon? is a series of exploitable images and video clips parodying the bumper segment that was featured in the animated TV series Pokemon. The parodies often play on humorous juxtaposition between the silhouette of an unknown Pokemon creature and its actual identity after unveiling, which may range anywhere from an unexpected Pokemon to an entirely unrelated character outside of the franchise.
Origin
Who's That Pokemon?[4] was originally introduced as an eyecatch[1] bumper segment in the animated TV series which began airing in 1997. They came on immediately before and after each commercial break during the broadcast as to keep the audience engaged by giving a mini-quiz based on the silhouette of a Pokemon character.

YTMND
The phrase "who's that pokemon?" was used on YTMND as early as May 6th, 2004[6], but the first edited version of the bumpers did not appear until over a month later on June 24th, 2004.[5] Instead of an actual Pokemon character, the image featured a silhouette of a drawn penis and was paired with a sound clip of "Who's that Pokemon?"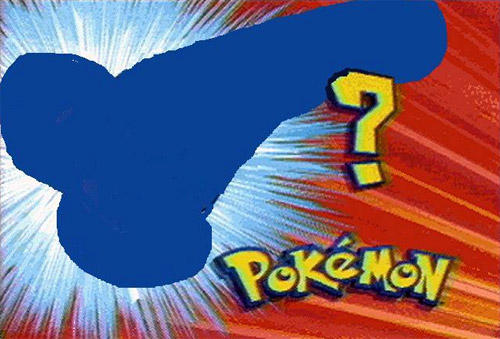 Spread
On September 22nd, 2007, YouTuber gameboy659[2] uploaded a video of a boy yelling "Pikachu" at a silhouette which is later revealed to be Koffing. Though the original video was removed on a copyright claim from license holder ShoPro[3], it has been mirrored on YouTube by several different accounts.
Image macro versions of "Who's That Pokemon?" gained more popularity after they began appearing in the webcomic Super Effective, a side project of VG Cats[8], in July 2008.[7] That September, a flash animation was posted to Newgrounds[9] which shows the silhouette of a Jigglypuff but turns out to be a contorted Kadabra. In 2009, a blank template for a 4-pane comic using the Pokemon background was posted on SheezyArt.[10] Additional instances have appeared on Tumblr[13], FunnyJunk[14], deviantArt[15] and 4chan.[16]

On April 26th, 2012, YouTube channel NinBuzz launched a web video series titled "Who's That Pokemon,"[12] a minute-long video quiz in which the viewer must guess the name of the Pokemon based on three clues about its characteristics and abilities, rather than the silhouette of the characters. As of July 2012, at least eight episodes have been released.
To date, one of the most popular examples came from a Vine by Sammy San Pedro Cruz, showing a man yelling "It's Pikachu!" at a silhouette that turns out to be Clefairy (shown below).
TikTok Resurgence
In March of 2020, TikToker 7berry posted the "It's Pikachu!" vine onto TikTok, gaining over 510,000 likes (shown below, top).
As of September 2021, the sound led to the creation of over 129,000 videos, usually with people hoping to get one thing but receiving another. On July 28th, 2021, user @talordinh posted an example involving a cat, gaining over 3.6 million likes. On August 14th, Ninja posted an example that gained over 1 million likes (shown below, right). The TikTok resurgence was covered by The Daily Dot.[17]
Various Examples
As of July 2012, a keyword search for "who's that pokemon" on YouTube[11] yields 4960 videos.
Search Interest
External References