About
"Bitches Be Like…" is an expression that is typically used as a preface to describe various cliché behaviors and catchphrases associated with a specific group of people. In image macros, snowclone variations of the phrase have been used to indicate the subject of the joke, in a similar vein to the satirical YouTube series Shit Girls Say.
Origin
One of the earliest known uses of the phrase "bitches be like" comes from the rap song "I'll Bee Dat" by Redman (shown below), released on December 8th, 1998.
"My first name must be he ain't shit
'Cause every time I'm in a car bitches be like he ain't shit
I'll bee dat, I'll bee dat, I'll bee dat, I'll bee dat"
The earliest known image macro using the phrase was submitted to the Asian Town Forums[6] on April 15th, 2012, which featured a photo of the rear end of an uncooked turkey with the caption "Bitches be like / I'm still a virgin thoe (sic)". Within the next 10 months, the thread received over 900 responses.
Spread
On October 7th, 2012, the @BitchesBeLike Twitter feed was created, tweeting notable image macros featuring the "bitches be like" caption. Within four months, the feed gained more than 5,100 followers.
BITCHES BE LIKE… twitter.com/BitchesBeLike/…

— Bitches Be Like… (@BitchesBeLike) October 7, 2012
Also in October 2012, the "Niggas/Bitches Be Like" Facebook[5] page was launched, which garnered more than 196,000 likes in the next four months. On November 2nd, YouTuber recklessmike uploaded a video titled "Bitches be like," which parodied stereotypical behaviors associated with women (shown below). Within the next three months, the video received upwards of 89,000 views and 340 comments.
On November 20th, the single topic blog Bitches Be Like[4] was created, reblogging notable image macros from the series. On January 21st, 2013, Redditor bromando500 submitted an image macro featuring the character Luigi from the video game series Super Mario standing in front of a mirror with the caption "Bitches on Facebook be like" (shown below). Within one month, the post received over 8,700 up votes and 150 comments.

Notable Derivate: Niggas Be Like
Niggas be like is one of the most famous snowclones of the meme that aims to make fun at at cliched, stereotypical and overall laughed upon behaviour within the black community (although its sometimes extended to include behavior of other ethnic groups) in the form of image macros featuring black males in humorous situations.[7][8]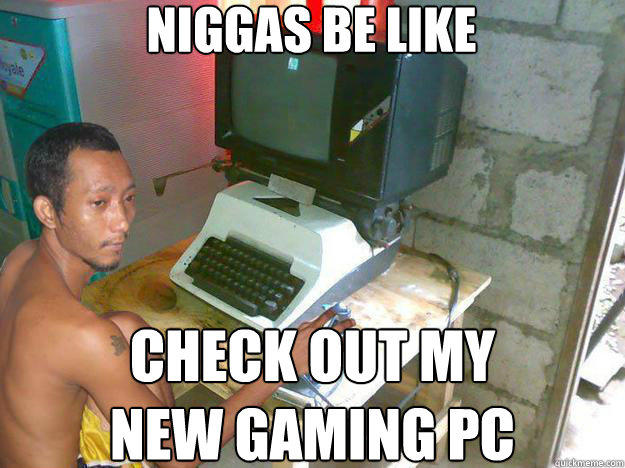 On October 2012 the twitter account @NiggasBeLike[9] was opened, which features posts with said images as well as other other black related jokes, as well as the facebook site Niggas Be Like[10], which has gathered a total of 2.527.229 likes.
On June 08, 2013 a description of the phrase was added by user "ItsJustMeBeinAboss" to Urban Dictionary.[11]
On Oct 2, 2014, a Vine compilation titled "Niggas Be Like Vine Compilation" featuring a set of black vines was posted(shown below) and has gathered 632,660 views and 6,001 likes.
Notable Examples
Image macros featuring the caption "bitches be like" often mock the descriptions and hashtags paired with photos shared on various social networking sites. Additional examples can be found on Pinterest[3] and Tumblr under the tag "#bitches be like."[2]






Twitter Feed
Search Interest
External References
Recent Videos
There are no videos currently available.