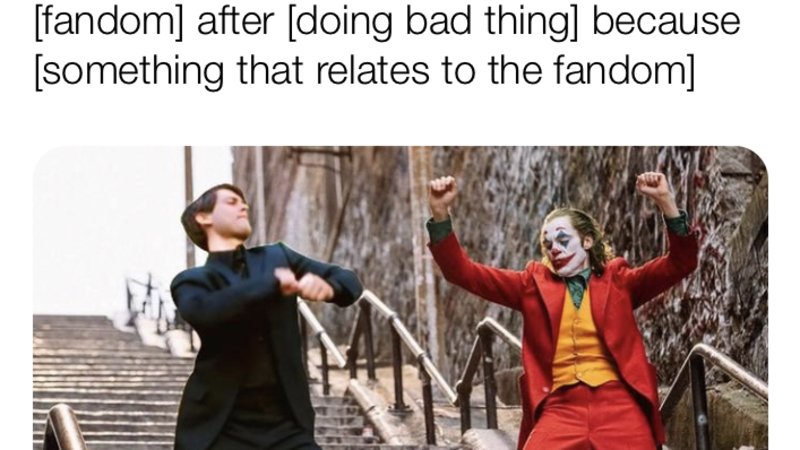 Fandom Generalization / Fans When
This entry contains content that may be considered sensitive to some viewers.
This submission is currently being researched & evaluated!
You can help confirm this entry by contributing facts, media, and other evidence of notability and mutation.
About
Fandom Generalization, also known as Fans When and Fans Explaining, refers to a series of memes, particularly GIF captions, which ascribe various false or exaggerated traits and behaviors to fans of various franchises. First popularized on iFunny in August 2019, the format is best known for memes about JoJo's Bizarre Adventure's fans' affinity for "unsucked cocks."
In March and April 2021, the format saw a surge in popularity in the form of the 'Fans Explaining' Montages.
Origin
While the exact origin of the meme is unknown, one of the earlier notable memes singling out a particular fandom with the purpose of mocking it are memes about anime fans and K-Pop fans. One of the most defined early trends within the Fandom Generalization format are memes about the fans of the animated series Rick and Morty that mock them as pretentious, pseudointellectual and gate-keeping; most notably, the To Be Fair, You Have To Have a Very High IQ to Understand Rick and Morty copypasta.
The trend first gained defined spread over the summer of 2019 following the spread of similar Don't Mess With Fans memes earlier that year, most notably with memes pocking fun at fans of the anime series My Hero Academia fans and JoJo's Bizarre Adventure by describing the former as child predators and the latter as homosexuals.
Notable Fandoms
My Hero Academia
Fans of the anime My Hero Academia (MHA) are often portrayed in GIF captions and memes as child predators or pedophiles. While the exact reasons for this are unclear, it is presumably linked to the prevalence of waifu arguments centered around the under-aged characters in the series.
While some GIF Captions mocking My Hero Academia fans appeared on iFunny in April 2019,[1][2] memes depicting them as being interested in adolescents did not appear until July 2019.[3][4][5][6] The trend gained larger prominence on the meme app starting in September that year (examples shown below).[7][8][9]



JoJo's Bizarre Adventure
JoJo's Bizarre Adventure is a manga by Japanese author Hirohiko Araki that was developed into an anime by the animation studio David Productions. JoJo's Bizarre Adventure fans are often portrayed as gay and eager to suck "unsucked cocks," presumably due to flamboyant character designs and certain elements that can be perceived as homoerotic by an unaware viewer. The rapid growth of JoJo's Bizarre Adventure's fanbase and its online presence was a significant factor that contributed towards the fandom being mocked in memes.
Fandom Generalization memes about JoJo's Bizarre Adventure fans originated in GIF Captions on iFunny[41] in early August 2019 and remained a popular format on the platform for several months (examples shown below).



Osu!
GIF captions describing Osu! players as being interested in children began appearing on Tenor, iFunny and in OkBuddyRetard-themed subreddit r/OsuBuddyRetard's Discord server in late September and early October 2019.
The earliest known GIF caption about Osu! players being child predators was submitted iFunny[42] by user clangggg and to Tenor[34] by user bruhfunny420XDDDDD on September 28th, 2019. On October 2nd, 2019, Discord[35] user dragonicz posted the GIF caption to the r/OsuBuddyRetard server. In mid-October and November that year, dragonicz and another Discord user MooshPMC uploaded multiple similar GIF captions to Tenor (examples shown below).[35][36][37][38][39]



Rick and Morty
In the summer of 2017, people began making fun of Rick and Morty fans in response to the popularity of the first-wave Pickle Rick memes, the Rick and Morty IQ copypasta and the reactions to the McDonald's Mulan Szechuan Sauce promo campaign. Many memes mocked Rick and Morty fans as pretentious, pseudointellectual and inclined towards gatekeeping.
Hazbin Hotel
Similar to memes about the fans of JoJo's Bizarre Adventure, memes about the fans of Hazbin Hotel exploit the idea of them being homosexual and having an affinity for "unsucked cocks," with other memes mocking them as being sex-obsessed and vulgarly horny. The memes gained notable spread following the premiere of the pilot episode of the series in October 2019.



Super Smash Bros
Memes about Super Smash Bros. players being child predators largely stem from the July 2020 sexual misconduct allegations made against several prominent Super Smash Bros. players and community members.



K-On!
K-On! Fans Are Racist is a fandom generalization meme semi-ironically stating that fans of the slice-of-life anime series K-On!, and often other slice-of-life anime series and anime in general, are extremely racist. The meme was spawned by users with K-On! profile pictures being regularly caught posting racist and anti-semitic content on social media, and gained particular popularity in the /r/okbuddybaka subreddit.



Related Memes
"Fans Explaining" Montages
'Fans Explaining Montages', also known as "The State of Fans" Montages and "Fans When" Montages, refer to a series of humorous Fandom Generalization montages which mock fans of several franchises within a larger medium such as anime or retro FPS. The montages are usually set to the opening theme of The Powerpuff Girls
The current state of Anime Fans pic.twitter.com/Xk0dCCJV6g

— DioWhosAHeroForFun (@OnePunchDio) March 9, 2021
Don't Mess With Fans
Don't Mess With Fans or Don't Fuck With Fans refers to a series of ironic memes which warn people not to mess with fans of certain fandoms, paired with a humorous reason why they shouldn't do it, most notably with the punchline "we'll suck your dick."
Discord Child Grooming
Discord Child Grooming refers to an ongoing controversy surrounding the activity of child groomers on the Discord communication app. Starting in 2019, the presence of child groomers on Discord has been a subject of investigations and news reports and has been a recurring subject of memes on Twitter, iFunny and Instagram.
Group Names Misinterpretation
Pansexuals Attracted to Pans, or Group Names Misinterpretation, refers to a series of memes which interpret names of various groups such as pansexuals, asexuals, Millennials, accelerationists, capitalists in literal or incorrect ways, such as assuming that pansexuals would have a sexual preference for pans, or that capitalists would be preoccupied with caps or country capitals.
Reddit Moment
Reddit Moment is a slang term mocking moments when Reddit has cringeworthy commentary or discussion. The phrase is a particularly popular way to mock times when a Redditor is demonstrating how he or she believes Reddit is the superior social networking platform in contrast with other sites.
Search Interest
External References