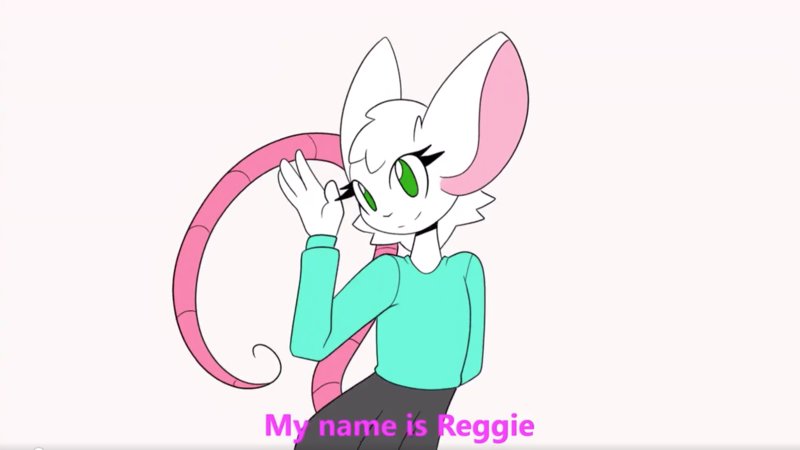 Warning: This page contains material that may be considered not safe for work.
About
Hi, My Name Is Reggie refers to an animated, pornographic video in which a male mouse dressed in feminine clothing discusses his sexuality interspersed with clips of the mouse having sex. The video inspired the creation of remixes wherein the pornographic clips were replaced with clips from other pieces of media.
Origin
On April 20th, 2018, artist @Whygena_draws[1] posted a video in which their character Reggie introduces himself, discussing how much he likes guys. The video is interspersed with animated clips of him having homosexual sex. It gained over 649 retweets and 2,000 likes (shown below).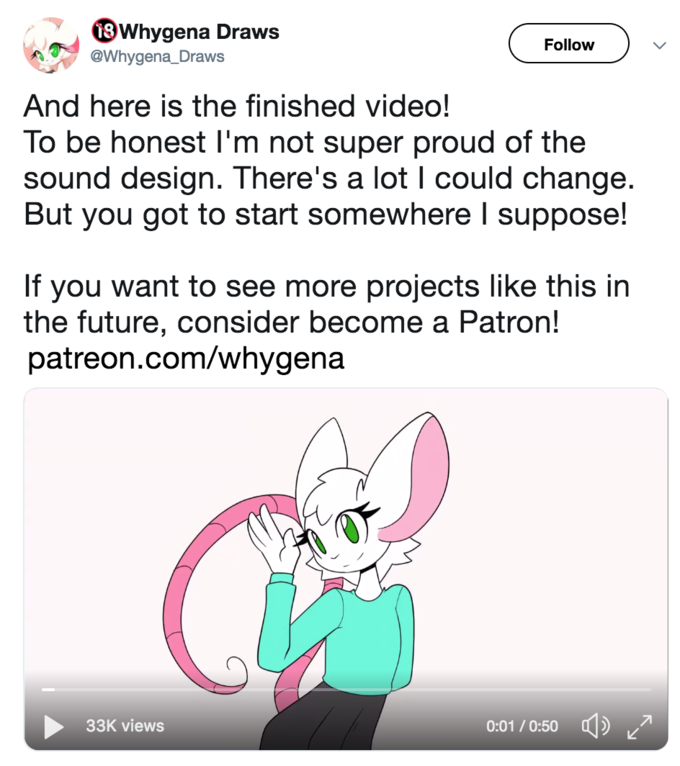 Spread
In the responses to the post, other Twitter users began remixing the clip, replacing the pornographic scenes with clips from other media. For example, user SCP1033RBLX responded by replacing the pornographic scenes with clips from Michael Jackson videos (shown below, top). User @Mr_zapps responded with a remix with clips from Jojo's Bizarre Adventure (shown below, bottom).
I made some shitepost about the animation. pic.twitter.com/uk1EsMYWUz

— BehindTheMask (@SCP1033RBLX) April 26, 2018
This is my shitpost pic.twitter.com/DFBGRGQ1XX

— Skele_boi (@Mr_zappz) May 9, 2018
Remixes appeared on YouTube as well. One of the more popular parodies remixed the clip with lines from Jontron. It was posted by Misell Pirskatti on May 21st, 2018 (shown below, left). Another remix was posted by obscurVEVO on September 2nd, 2018 (shown below, right).
Tagging Controversy
On e926, a site which hosts much Furry artwork, the character has caused some controversy and anger at the site's moderators, as the character is quickly labeled and tagged female despite the character being male and in female clothing. The continued mislabeling led Whygena to create a GIF in which Reggie says he doesn't mind being called a girl even though those who do so are completely wrong (shown below).

Commented responses to that post directed anger at the site's moderators who seemed unwilling to acknowledge the character's stated gender (examples shown below).


Various Examples
Search Interest
Unavailable
External References