This submission is currently being researched & evaluated!
You can help confirm this entry by contributing facts, media, and other evidence of notability and mutation.
About
Pink Nose E-Girl Makeup, also known as Gamer Girl Makeup, is a style of face makeup characterized by an excessive application of nose contour or blush, a sharp dot of nose highlight and eyeliner designed to elongate the eye. While the makeup style has been an e-girl staple for years, it was popularized by cosplayer Belle Delphine and singer Doja Cat in the early 2020s. The style has been described in popular culture as the "female fedora" and "OnlyFans warpaint," primarily due to its prevalence with female content creators that make thirst trap videos.
Origin
While the exact origin of the term "e-girl" is unconfirmed, it is generally understood to be a category that was largely popularized in its current form through TikTok around 2019, where it was used to describe a Gen Z goth/emo or alt style of dressing. The style is influenced by skate, K-Pop and gamer culture and is often adopted by women who post thirst-trap content on the platform. A prominent content creator also known for popularizing the specific style of "e-girl makeup" signified by excessive nose contour is cosplayer and model Belle Delphine, primarily during the late 2010s.
One of the first viral instances of a person showcasing the typical application of e-girl makeup was Doja Cat's Beauty Secrets Vogue video in which she applied makeup with a heavy focus on nose contour and highlight, as well as eyeliner meant to elongate the eye. The video is entitled "Doja Cat's Guide to E-Girl Beauty" and was uploaded to Vogue's official YouTube[1] channel on December 25th, 2019, where it gathered over 26 million views in the three years since its upload (seen below).
The style of makeup is also notably seen in the Doomer Girl Wojack (seen below).

Spread
On October 9th, 2020, a since-deleted Redditor[2] posted an image of a beauty influencer with a sharp nose contour to the subreddit /r/BadMUAs, gathering over 2,000 upvotes in two years (seen below).

On December 24th, 2021, Redditor[3] Portgas posted the following question about e-girl makeup to the subreddit /r/TooAfraidToAsk, "What's up with girls having red noses on social media?" The post gathered five upvotes in nearly a year (seen below).

On February 5th, 2022, TikToker[4] @eternalmanyah posted a video titled, "Trying egirl makeup <3," and gathered over 7.4 million plays and 900,000 likes in nearly eight months (seen below).
Gamer Girl Makeup
In recent years this trend has also come to be known as "Gamer Girl Makeup," with various TikTok content creators making tutorials for the style. On February 21st, 2021, TikToker[9] @hayleybuix posted a "Gamer Girl Makeup Tutorial," gathering over 1 million plays and 200,000 likes in over a year (seen below, left). On March 4th, 2021, TikToker[10] @chael.dot posted a similar video, gathering over 500,000 plays and 50,000 likes in over a year (seen below, right).
On October 9th, 2022, TikToker[5] @eliseuchan posted a video with several e-girls reciting the phrase "You're such a good boy!" The video gathered over 3 million plays and 200,000 likes in over a week (seen below).
The video was stitched by other TikTok creators who denounced @eliseuchan and her friend's style of makeup. TikToker[6] @dirtyfuneral stitched the video repeating this sentiment and gathered over 100,000 plays and 20,000 likes in over a week (seen below, left). TikToker[8] @dorateyah posted a duet with @eliseuchan's video as well, saying that it reeks of "male pandering" (seen below, right).
On October 18th, Twitter[7] user @crotchner posted a tweet calling the e-girl style of makeup "the female equivalent of a fedora" and gathered over 100,000 likes in a day (seen below).

Related Memes
Tumblr Nose
Tumblr Nose, sometimes called Tumblr Red Nose Syndrome, refers to a trend where drawn characters have bright red noses, particularly on Tumblr. The style has come under criticism for its common usage and unrealistic look.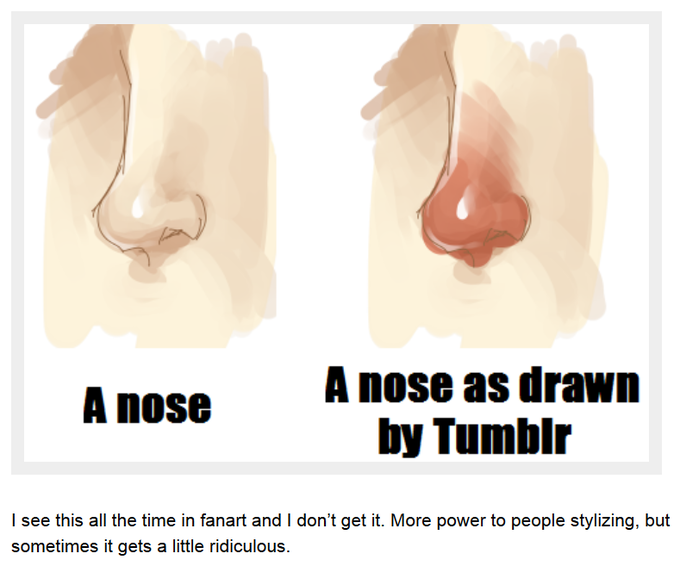 E-Girl Factory
E-Girl Factory is a series of TikTok parody videos in which users typically become captured in a makeshift factory and become transformed into a stereotypical e-girl. The videos depict transformations that parallel the bimbofication subculture, leading to discussions about whether the trend plays into fetish content.
Various Examples



Search Interest
External References