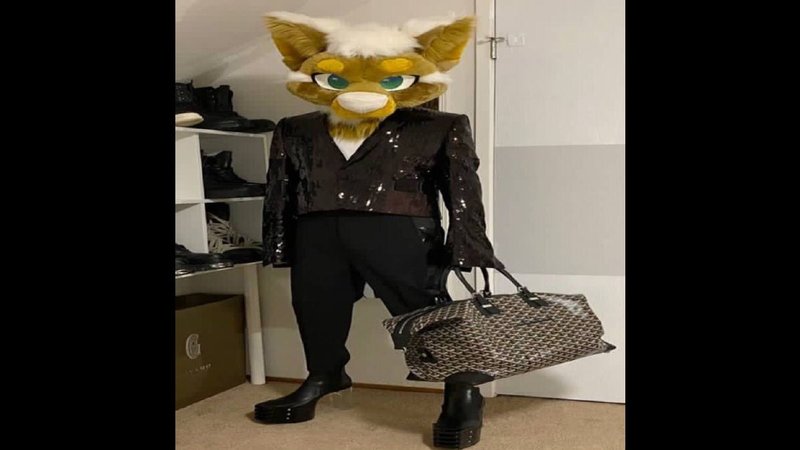 This submission is currently being researched & evaluated!
You can help confirm this entry by contributing facts, media, and other evidence of notability and mutation.
About
The Rick Owens Furry refers to multiple images of a furry dressed in the designer fashion brand Rick Owens alongside other images of other hypebeast furries flexing their designer outfits. Images of the Rick Owens Furry, whose name is Tryst, went viral on Twitter in August 2021 despite Tryst posting "fit pics" online since 2019.
Origin
On February 26th, 2019, Tryst uploaded his first photo of himself dressed in Rick Owens to his Instagram[1] (shown below, left). The photo received 237 likes over the course of one month. Tryst uploaded more photos of himself in his fursuit and Rick Owens clothes going into 2021. His most notable photo (shown below, right) was posted to Instagram[2] on August 16th, 2020. The post received 239 likes over the course of one year.


Spread
The Rick Owens Furry received meme attention starting on Twitter in 2019. On May 6th, 2019, Twitter[3] user @1felys tweeted about the "rick owens furry community" (shown below). This tweet received 22 likes and nine retweets, as well as a reply[4] from Tryst himself.

Photos of Tryst surfaced on Twitter again in 2021. On July 7th, 2021, Twitter user @litluke2 featured a photo of Tryst in a tweet[5] that received roughly 2,000 likes. More notably, on August 29th, 2021, Twitter user @COOCHIECOWGIRL tweeted the same photo of Tryst dressed in Rick Owens. The tweet[6] (shown below) received roughly 7,200 likes over the course of one week. @BrailledFOTW also tweeted [11] a photo of hypebeast furries on August 30th, 2021, and received roughly 1,600 likes.

Inherently, the image of the Rick Owens Furry received attention on Instagram[7] after @COOCHIECOWGIRL's tweet. There are also other hypebeast furries that have been present on social media alongside Tryst, like Twitter users @acedthebased,[8] @Pupmask[9] and @yeenwave[10] who have also been posting "fit pics" since 2019.
Various Examples






Search Interest
Unavailable.
External References
Recent Videos
There are no videos currently available.