About
"…said no one ever" is a phrase often used online to mock something that is generally disliked or of an unpopular opinion. Though it is often employed as a Twitter hashtag, it can also be found as a caption on image macros or in the text of e-cards.
Origin
The single topic blog "shit no one has ever said"[1] was launched on Tumblr in May 2010 by a group of two writers, a producer, and a lawyer. The first post criticized the manner in which people discuss politics on Facebook, claiming that no one would ever go to the site to read "intelligent, objective opinions" on the Support Our Law Enforcement and Safe Neighborhoods Act, an Arizona state legislative act requiring alien residents to carry their registration documents with them at all times, which sparked much controversy[9] in April 2010 after several groups disputed whether or not the law violates the civil rights of immigrants.

On July 6th, 2010, Twitter user @donni[10] became one of the first people to use the term in a tweet, noting his distaste for striped vests. This tweet was favorited almost 650 times as of March 2013.
"I see you're admiring my striped vest," said no one ever.

— donni (@donni) July 6, 2010
Spread
Throughout 2011, the joke continued to appear on Twitter often enough that in October, a member of The Data Lounge forums[15] complained about its overuse in a thread on annoying mannerisms online. By December, a Quora user inquired as to the history of the phrase,[22] though it went unnoticed until August 2012. On January 12th, 2012, a humorous e-card featuring the phrase was uploaded on Someecards.com by user Silly13,[2] expressing a false appreciation for the shoe brand Crocs (shown below). Within a month, this image was reposted to humor sites FunnyJunk[3] and I Waste So Much Time.[4]

On January 24th, 2012, a "Said No One .. Ever" Tumblr blog[5] was established. In March, a Twitter account[21] was launched with various quotes that fit the context of the phrase, but it ceased tweeting in September of that year. That June, the first Facebook fan page[7] for the phrase was created, gaining more than 2,000 likes as of March 2013. By August, a blogger known as Pithypants[8] posted a short piece about how the phrase had spread across Facebook. In December, three additional Facebook fan pages launched,[18][19][20] accruing more than 44,000 likes in aggregate.
Notable Examples
Additional image macros and textual jokes utilizing the phrase can be found on We Know Memes,[16] Pinterest,[17] Tumblr,[13] and Reddit.[14]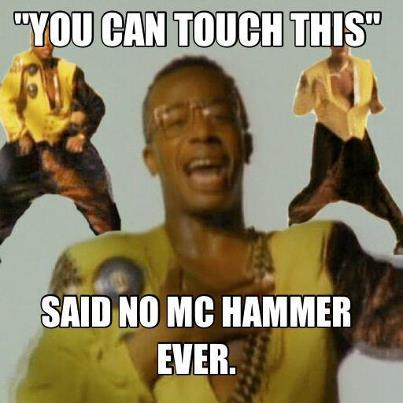 Twitter Feeds
As of March 2013, the hashtag #saidnooneever[11] has been used more than 87,000 times and the complete phrase "said no one ever"[12] has been used more than 91,000 times.
Search Interest
Searches for the phrase "said no one ever" began to rise in January 2012.
External References
Recent Videos
There are no videos currently available.