This submission is currently being researched & evaluated!
You can help confirm this entry by contributing facts, media, and other evidence of notability and mutation.
About
"Same Voice Actor" is an expression indicating that two or more fictional characters were voiced by the same person. Online, the phrase is often used to caption juxtaposed images of various video game, television and film characters.
Origin
On January 16th, 2009, the video game news blog GamesRadar[2] published an article about various video game characters who were performed by the same voice actor.
Spread
On May 3rd, 2010, the men's interest blog Spike[5] published a listicle of fictional characters who were voice by the same actor. On October 22nd, 2012, the "Same Voice Actor" Tumblr[8] blog was launched, which highlights image macros juxtaposing two different anime characters voice by the same actor (shown below).

On November 12th, the Internet humor blog Smosh[7] published a listicle of notable cartoon characters using the same voice actor. On May 6th, 2013, a page for "Hey It's That Voice" was created on TV Tropes[6] for examples of commonly used voice actors in animated works. On February 5th, 2014, the TeddyKGaming YouTube channel uploaded a video about various characters voiced by the same actor (shown below, left). Within two years, the video gained over 1.4 million views and 4,800 comments. On March 9th, TeddyKGaming uploaded a follow-up video with more notable voice actors (shown below, right).
Various Examples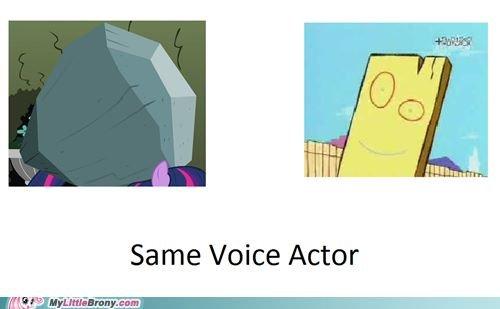 Search Interest
External References