Overview
Moth Girls are a type of Monster girl popular in the Anime/Manga and Furry communities. The name applies to characters that have moth-like features and behavior, with the furry versions leaning more to full-animal features. Moth girls have been popular on the internet for years but saw a sudden spike in popularity during the autumn of 2018 thanks to the popularity of memes like Moth Lamp and Super Crown.
Fandom
Moth Girls are extremely popular in art sites like Deviantart, Furaffinity and Pixiv, where searching the term gives 5000+, 2000+ and 600+ results respectively. The popularity of these characters has lead to a substantial amount of fan art, crafts and cosplays. For example, on Tumblr, user fiship[1] uploaded a drawing of Moth Girl with a caterpillar (shown below left) which got over 50,000 notes. On October 10th, 2018 famous cosplayer Jessica Nigri released a photoshoot of herself dressed as a moth girl making reference to the moth lamp meme. The Twitter post managed to get 23,000 likes and 3,500 retweets in the coming days (shown below right).


Fanart






Notable Characters
Mashiro
Mashiro is the name of a prominent Moth girl portrayed in the erotic doujinshi series Layers of White by the artist SOLOPIPB. The main series shows the character as a yandere monster who psychologically attacks the main character and rapes him. This series is known for its dark and unsettling themes. Besides those appearances there is also a spinoff of the series which portrays her as a loving wife.


The character has been popular since the release of the original doujinshi, seeing a substantial amount of fan art, but got a sudden rise in popularity thanks to the moth lamp meme during 2018 on sites like /r/Animemes (examples shown below).




Various Examples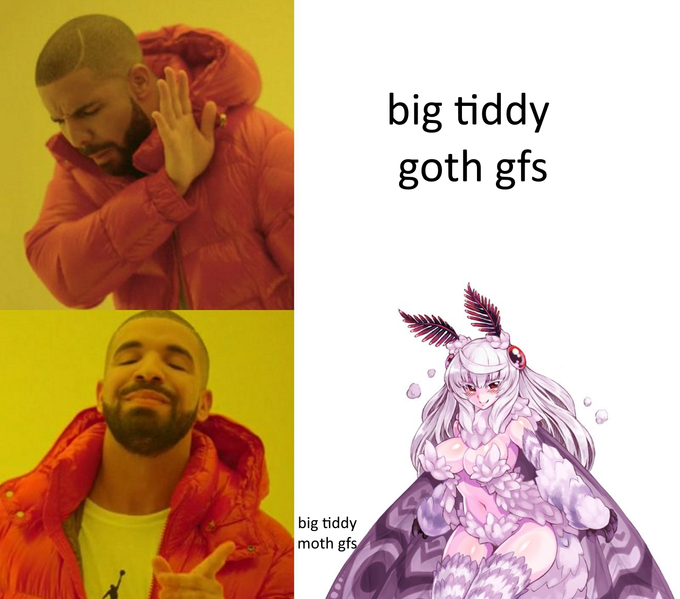 Search Interest
External References