This submission is currently being researched & evaluated!
You can help confirm this entry by contributing facts, media, and other evidence of notability and mutation.
About
Walmart is an American multinational retail corporation that owns and operates a chain of discount supermarkets, department stores and grocery stores in 28 countries. Online, the company has been a popular subject of parodies, satires and other viral media due to its widespread reputation as the paragon of "mega-corporations" in popular culture.
History
Early Years
The company was founded in 1962 by American businessman Sam Walton, a former J.C. Penney employee who successfully ran a series of Ben Franklin variety stores across Arkansas during the 1940s and 1950s. With a focus on high-volume sales at lower prices, Walton's franchise underwent a period of substantial growth and expanded into a chain of 24 stores with a total revenue of $12.6 million within its first five years in operation. Shortly after the beginning of its expansion beyond Arkansas, Walton's company was formally incorporated as Wal-Mart Stores, Inc. on October 31st, 1969, establishing itself as a retail powerhouse at the national level.
Multinational Expansion
By the early 1990s, Walmart had grown into one of the largest retailers by revenue in the United States and begun expanding beyond the borders into Mexico in 1991, Canada in 1994, and Africa in 2010. There are also locations in China, UK, Japan, and India. Walmart is the world's largest company by revenue, according to the Fortune Global 500 list in 2014, as well as the biggest private employer in the world with 2.2 million employees.
Controversies
The company gained a reputation for harming local businesses in areas where it appears, as its low prices tend to drive independent companies out of business.[1] This was parodied in an episode of South Park. [2] In 2016, cost-cutting decisions such as allowing for self-checkout areas and the removal of "greeters" from some stores led to a 19% increase in profit and a 23% increase in theft and crime from Walmart.[3] Walmart also has a long history of pushback from labor unions, animal rights activists, religious groups, and its own employees for various practices which ensure it keeps low prices, often at the expense of human and animal well-being.[4] In February of 2019, a judge ruled against Walmart in a case where they had fired an employee for having a medical marijuana card.[7]
Paige Yore's Walmart Cashier Story
Paige Yore's Walmart Cashier Story refers to a video of a woman telling a story about a customer freakout episode that allegedly took place at the checkout line at a Walmart superstore in Pueblo, Colorado. After the video was uploaded to Facebook and YouTube in early December 2015, it quickly entered widespread circulation in the news as a feel-good story of the holiday season, though the validity of the woman's story still remains in dispute as Walmart has denied that the event has ever taken place.
On December 4th, 2015, a 25-years-old woman named Paige Yore uploaded a Facebook video in which she tells a story about a heartwarming exchange she has had with a teenage cashier at a Walmart store in Pueblo, Colorado. In the video, Yore explains that she was waiting at the checkout line for nearly 20 minutes when a disgruntled customer in front of her began berating the cashier for being slow. Upon witnessing the exchange, Yore allegedly intervened to mediate the situation, at which point the young store clerk broke down in tears and revealed to her that his mom had committed suicide just hours before his shift began.
Elimination of "Greeters"
One of Walmart's significant features has been its "greeters," people who stand at the front of the store and greet customers. The role has been traditionally taken by people who have difficulty finding employment such as the elderly and disabled.[5] On February 28th, Walmart[6] announced it would be removing the role in favor of a "Customer Host" role, who would be handling receipts and customer service. They said they were looking at each individual case of greeters with disabilities as they transitioned them out of the role. The move was met with backlash online, as people felt Walmart would likely be leaving the disabled and elderly without a job. Actress Marlee Matlin tweeted her displeasure with Walmart at the news, saying "it isn't right" (shown below, left). In response, some users stated they would shop elsewhere (shown below, right).


Subreddit's Unionization Memes
On July 8th, 2019, Redditor bdonvr[10] posted that he was fired from Walmart for his posts on the /r/Walmart subreddit, which included confidential corporate documents. The document was an outline of Walmart's new "Great Workplace Program," which sorts employees into different pay tiers (shown below).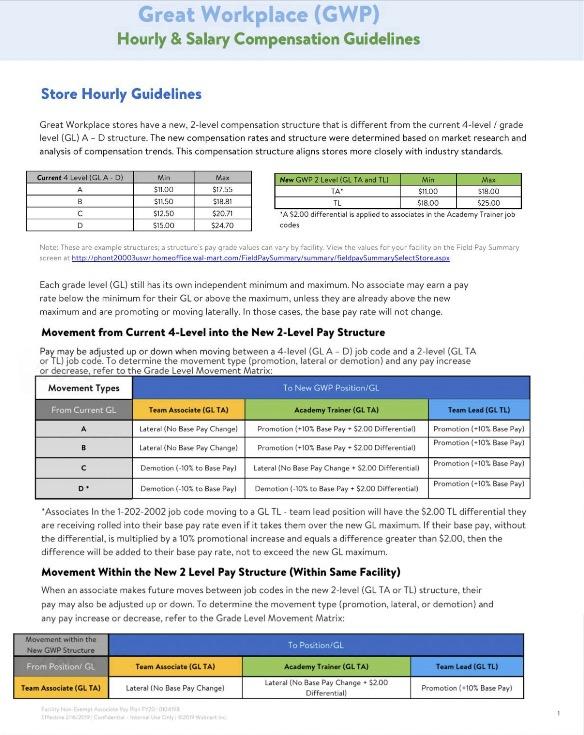 After the Reddit user announced they were fired for sharing the document, they cautioned that people on the subreddit be careful with the content they post because Walmart corporate management may be monitoring their posts. In response, members of the subreddit began flooding the subreddit with pro-union political cartoons and memes. For example, user kevans2[11] posted a political cartoon that gained over 1,100 points (shown below, left). User ShitbirdJerry posted a Let Me In meme about Walmart workers unionizing that gained over 2,100 points (shown below, right). The surge in pro-union memes were covered by Vice[12] and and Daily Intelligencer.[13]


Online Presence
Walmart has over 950,000 Twitter followers[8] and 34 million Facebook[9] likes. In the late 2010s, Walmart's Twitter account began tweeting more meme-literate tweets. For example, on February 7th, 2019, they tweeted a Shaggy's Power meme (shown below).

People of Walmart
People of Walmart is a single topic blog which features images of strangely dressed people shopping at the American discount store Walmart.
People of Walmart was created in August of 2009, as a site to host pictures of people dressed or acting in a bizarre way at Walmart. The site's about page explains:
"We personally have nothing against Walmart. We, along with most of America, shop at Walmart for nearly everything we need. This site is simply a satirical social commentary of the extraordinary sights found at America's favorite store."
The site invites reader submissions.
Yodel Walmart Boy
Walmart Yodel Boy refers to a video of 12-year old Mason Ramsey performing a country song in a Walmart. The video went viral as people applied various captions to it and remixed it.
On March 24th, 2018 in Harrisburg, Illinois, child performer Mason Ramsey, known for his Hank Williams impressions, was filmed singing "Lovesick Blues" in a Walmart. A video of the performance was uploaded two days later by YouTube account ViralHog.
Search Interest
External References