PROTIP: Press 'i' to view the image gallery, 'v' to view the video gallery, or 'r' to view a random entry.
About
Selfie, sometimes spelled Selfy, is an internet slang term for "self-portrait" that is used to describe self-taken digital photographs. The term is commonly used as a hashtag on photo-sharing communities to indicate that the subject in the photo is the uploader himself or herself.
Origin
While it is unclear where the term selfie began, selfy spelled with a y was used as early as 2004 on photo-sharing site Flickr[23] to describe self-taken portraits. The term was also popular within the teenage population on the social networking site MySpace, as exhibited by the first definition for selfy, submitted to Urban Dictionary[24] on April 22nd, 2005.

Spread
In late June 2005, the first group pool named Selfies was created on Flickr.[25] Though it was intended as a place for fans of the music group Self to convene, it has since become a repository for self-taken photos. Throughout the mid 2000s, the tags "selfie"[20] and "selfy"[28] continued to be used throughout Flickr to designate these self portraits. In early 2007, the first Flickr pool dedicated specifically to selfie shots[19] was created (shown below). Later that year, in September 2007, the term was first used outside of personal blogging space when TMZ[29] used it to describe actress Rosario Dawson stopping to take a photo with a fan.

In 2009, selfies were discussed on a college lifestyle blog CollegeCandy[30] as part of a humorous discussion detailing the process of taking self shots. In July, "Selfie" was first added to Urban Dictionary[1], describing it as an activity specifically done for MySpace and Facebook. Around the same time, the tags "selfy" and "selfie" began taking off on other social networks including Twitter[6], Tumblr[8][9], Instagram[3][4] and deviantArt.[21] In October 2010, Selfie.com[7] was registered, featuring thousands of selfies from across the web. In January 2011, the blog Selfie Magic[11] launched, providing tutorials teaching others how to take good self-portraits. Though the blog stopped updating in January 2012, it launched the hashtag Selfie Saturday[17][35], encouraging readers to take a photo of themselves once a week.

Throughout 2012, the term "Selfie" began making headlines on sites including the Wall Street Journal[36], the Atlantic[37], Gawker[38] and Buzzfeed[39], many of which highlighted celebrities taking these types of photos. In December, TIME named Selfie #9 on their Top 10 list of 2012 Buzzwords. The next year, Read Write Web[18] and Mashable[10] both took a deeper look into the motivations and psychology behind these photographs, citing research discussing the ways self-taken photographs could effect a person's self-esteem. As of February 2013, there are hundreds of Facebook fan pages[31] dedicated to different kind of selfies including nude photos[32], fitness photos[33] and humorous photos.[34] These three communities alone have more than 475,000 likes among them.
My Cloud Pal
On January 1st 2013, San Francisco resident Danielle Bruckman lost her iPhone while celebrating for New Year's Eve. After logging into her iCloud backup at home, she discovered that several photographs had been unknowingly synced with the service, containing selfies of a mustachioed man. On December 26th, Bruckman launched a Tumblr blog titled "My Cloud Pal," featuring photographs uploaded to her cloud service juxtaposed with her own recreations of the images (shown below). In the next week, several news sites highlighted photographs from the blog, including Gawker,[46] BuzzFeed,[47] Mashable,[48] Daily Mail[49] and The Daily Dot.[50]




"#
SELFIE

"

Let Me Take a Selfie is a Vine video fad that involves lip-synching to a verse from The Chainsmokers' 2014 electronic dance single "#SELFIE" before taking a series of selfiesn dramatic and comical poses.






Related Memes
MySpace Angles
The term MySpace Angles was coined as early as 2005 to describe the manner in which many MySpace users would photograph themselves at an angle to obscure any perceived physical flaws. In 2010, dating site OkCupid[41] found that despite the smoke and mirrors behind pictures that utilized angled photos, women with profile photos utilizing this technique received nearly double the amount of new contacts as other users.
GPOY
GPOY, or Gratuitous Picture of Yourself, is a Tumblr tag that began appearing in 2008 in its earlier form, GPOYW[42], which encouraged the community to posts these photos on Wednesdays. Though the photos are not required to be self-taken, many of them are due to bloggers using their phones or computer web cams to take them. By 2009, the "W" had been removed from the tag[43], resulting in its use any day of the week. In 2012, Buzzfeed[45] posted an in-depth look into the use of the GPOY tag, finding that many young woman use it as a way to express their personalities without the fear of being judged for putting too many pictures of themselves on their blogs. The tag has also made its way to Instagram[44], where more than 174,000 photos have used it.

Self Pop Tart
Self Pop Tart is a single topic blog that curates user-submitted self-portraits in which the cameras have been replaced with cutout images of pop tart pastries for comedic effect. Launched on November 22nd, 2011, the blog saw significant traffic after Fall Out Boy singer Pete Wentz tweeted a link to 2.8 million followers at the time. After 114 photoshopped images, the blog ceased updating in December 2012.

Guido Jesus
Guido Jesus is an advice animal image macro series that utilizes a self-taken photo of a tanned man with long, flowing black hair. The captions tend to make a biblical illusion followed by an irreverent statement that makes the character seem more like a Jersey Shore cast member than a holy entity. Since its first appearance in 2011, more than 1300 instances of Guido Jesus have been submitted to Quickmeme.[46]



Ulzzang
Ulzzang is a South Korean internet slang term used to describe ordinary people who have become internet famous due to being deemed especially attractive. The term, which is a portmanteau of the Korean words for face ("Ul-gul") and best ("Zzang"), was used as early as the 1990s, leading to the creation of a number of beauty ranking websites similar to Hot or Not throughout the 2000s.


Don't Obsess Over Me
"Don't Obsess Over Me, I Am Only a Legend" is a catchphrase that was first uttered in a discussion thread on the Chinese MOP forums where the OP (original poster) went on a rant about how he was someone to be respected and admired. The "holier-than-thou" tone of his post led to more than 4900 tounge-in-cheek replies and dozens of video parodies using the song "Only a Legend" (哥只是个传说) by Chen Xu (陈旭).
Sign Holding
Sign Holding refers to the act of participating in a social or political movement by taking a selfie, or posing for a picture, with a handwritten sign featuring a message about the issue and sharing it online under the designated hashtag. Since first rising to recognition through the "We are the 99%" campaign in 2011, online picketing has become a popular tool in social media activism; however, it has been also criticized as a prime example of slacktivism by many pundits on the web.

Pretty Girls, Ugly Faces
Pretty Girls Ugly Faces is a photo fad in which girls take pictures of themselves while posing in an unflattering manner, defying the stereotypical understanding that women take self-portraits to obscure attributes they deem negative. Though a Tumblr blog was created for these photos in 2011, the fad did not take off until a subreddit was created in July 2012.



Belfies
Butt Selfie, or sometimes Belfie for short, is a type of selfie in which the photographer takes self-portraits of their backside.

Selfies at Funerals
Selfies at Funerals is a single topic blog that compiles and curates a series of selfies of people taken while attending a funeral service.

Selfie Olympics
Selfie Olympics, also known as Trick Shot Selfie, is a photo fad that involves taking a mirror-shoot selfie in a bathroom while posing in a physically challenging manner or partaking in an unusual activity.



Tiger Selfies
On December 4th, 2013, the Tumblr blog Tinder Guys With Tigers[52], which features photos taken from the dating mobile app Tinder of men posing with tigeres, was created. According to the Wall Street Journal[56], as of May 2014, 10% of men on the dating app have tigers in their photos.



On June 21st, 2014, the New York State legislator passed a bill[53], introduced by Assemblywoman Linda Rosenthal, that would bans touching tigers within the state of New York. Those in violation of the bill could be fined $500. The bill was covered by several sites including The Washington Times[54] and Refinery29.[44]
Ellen DeGeneres' Oscar Selfie
Ellen DeGeneres' Oscar Selfie refers to a group selfie taken by Ellen Degeneres along with numerous Hollywood celebrities at the 86th Academy Awards ceremony in an attempt to make the most retweeted photo of all time. Shortly after Degenres tweeted the selfie, the image went viral and spawned a handful of photoshopped parodies featuring other actors and meme characters.
No Makeup Selfie
No Makeup Selfie is a type of selfie in which the subject is shown without wearing any cosmetics.
Dozens of British celebrities have participated in the #nomakeupselfie movement, including Gwyneth Paltrow, Adele, Amy Willerton, Helen Flanagan, Kym Marsh, Jemima Khan, Michelle Heaton, Lucy Watson and Jodie Marsh, among others.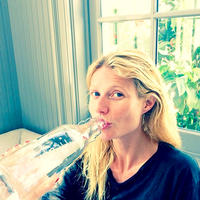 Sellotape Selfie
Sellotape Selfies is a photo fad in which individuals take pictures of themselves after wrapping their faces in adhesive tape as to appear grotesque in a contorted and squished manner. Each Sellotape selfie is then uploaded to Facebook with an invitation for a friend to take one, in the same style as neknominate.



Aftersex Selfie
#Aftersex is a hashtag used to highlight post-coital selfie taken and uploaded by couples on Instagram. Upon its breakout in March 2014, the hashtag has been largely criticized as an example of oversharing in the social media.

Usies
An usie, sometimes spelled ussie, is a term used specifically to refer to a group selfie featuring two or more people. The term was coined by Instagram user Caseygraham[64] in the caption of a selfie he posted on August 17th, 2012.

"Opposite of#selfie. This is an #usie."
On April 28th, 2013, the first Urban Dictionary[60] entry for usie was added by user JayCub, who defined it as:
"A self inflicted group photo; When the participant of a group photo also acts as the picture taker. The number of participants in an "ussie" is not limited, but typically does not exceed 3 due to the close nature of the photo."
On January 13th, 2014, Business Insider[63] published an article titled "Selfies Are Dead, It's All About The 'Usie' Now" which categorized a group shot taken by a group of teenagers with the Pope as an usie. On July 30th, 2014, AP[62] published a story titled " What's a Group Selfie? Usie" which pointed out though the term has been used since 2013, the term had only recently become widespread within the last month. The same day the term was covered by Buzzfeed[61] and Gadgets[65].
Search Interest
Smaller search peaks for "selfie" in the early 2000s may be attributed to a misspelling of name Selphie Tilmitt[22], a character in the Final Fantasy game series. Additionally, the term was used for fans of the alternative rock band Self, who released their first album in 1993.[26][27]
External References
Facebook Comments