About
"Bravo Nolan" is a sarcastic expression used to mock plot holes or incongruity in films by the British movie director Christopher Nolan,[1] including Inception, The Dark Knight saga and Interstellar. The catchphrase also inspired the creation of the phrasal template "Bravo X."
Origin
The earliest use of the phrase can be found in a thread submitted to 4chan's /tv/ (television and film) board on July 23th, 2010, which included a message criticizing the ending of Inception.[3]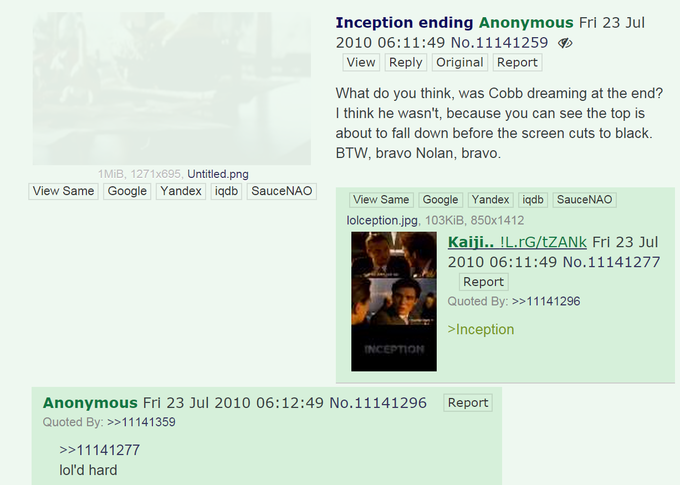 Percursor
On February 4th, 2008, one of the earliest sarcastic uses of "bravo" on 4chan was posted in a thread on the /a/ (anime) board in response to a post questioning the ethics of causing a breakup.[2]

Spread
The phrase was scarcely used until February 11th, 2012, when a thread was submitted to /tv/ featuring a screen capture of The Dark Knight Rotten Tomatoes page along with the catchphrase.[5] On April 21st, 2012, the phrase was used in another post on the /tv/ board criticizing the movie The Avengers. The phrase started being used in spam posts, shitposts and vertical posts practise.[6]

On April 19th, 2014, YouTuber SheepEsquire uploaded a video titled "bravo nolan", featuring a YouTube Poop remix of The Dark Knight Rises' plane scene. On May 21st, 2014, YouTuber see yiyay uploaded a video titled "BRAVO NOLAN", featuring a close up picture of Nolan's face with clapping on the background. On April 21st, 2015 Redditor real_rocknrolla submitted a post asking about the catchphrase to the /r/OutOfTheLoop[8] subreddit.
Sasuga
A notable derivate from the catchphrase comes with replacing "Bravo" by the japanese word "Sasuga" (さすが). This expression is mostly used on anime or japanese culture discussions, with a similar context. One of the earliest instances of his use as sarcastical reply can be found on a thread submitted on 4chan's /a/ board on October 24th, 2009, where a user replies to the original poster because the thread has no replies.[9] The first use as critic can be found on a /a/ thread submitted on November 18th, 2009, with the message "Sasuga Shaft" as reply to a message that features scenes of works by the japanese animation company Shaft and compares them to Haruhi Suzumiya's scenes.[10] The expression is primarily used to criticise plot twists or plot holes on manga and anime.[7]

Search Interest
External References
Recent Videos
There are no videos currently available.