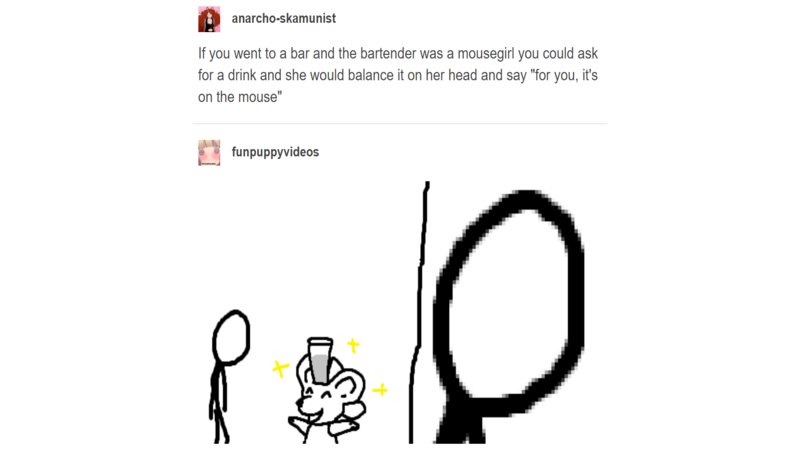 "For You, It's On The Mouse"
This submission is currently being researched & evaluated!
You can help confirm this entry by contributing facts, media, and other evidence of notability and mutation.
About
"For You, It's On The Mouse" is an art meme that originated from a post on Tumblr. The phrase inspired a wave of artwork depicting the scene on sites such as Twitter, making it another part of the growing 2022 trend of Fan Art memes being prevalent. The pun is a wordplay on the phrase "It's On The House" which often means that the item in question is free, paid for by the house (establishment).
Origin
The art meme was first posted to Tumblr on May 28th, 2022, following a comment being posted by Tumblr user anarcho-skamunist[1] which would go on to inspire the art piece.


If you went to a bar and the bartender was a mousegirl you could ask for a drink and she would balance it on her head and say "for you, it's on the mouse"
Later that day, Tumblr user funpuppyvideos[2] reblogged the post, and added a crude drawing of the scene in a manner similar to Hey Check Out How Hard I Can Pee (shown below). The post received over 132,000 notes in over five months (shown below).

Spread
On June 22nd, 2022, the Twitter artist and content creator @funktilde[3] uploaded a variation of the phrase with a drawn and colored mousegirl holding a tray of food and drinks with her arm using her head as a brace, getting over 44 likes in five months as part of a promotion for a YouTube video (shown below).

On September 2nd, 2022, the Twitter artist and content creator TrentTroop[4] had a representation of the phrase created with AI Art program Midjourney, signaling a shift in which meme art can be made by non-traditional ways to great effect (shown below).

Various Examples






Search Interest
External References
Recent Videos
There are no videos currently available.