This submission is currently being researched & evaluated!
You can help confirm this entry by contributing facts, media, and other evidence of notability and mutation.
About
Skull Comparisons refers to a series of image macros that parody diagrams that compare skulls of the different stages of human evolution. However, instead of the different skulls of humanity's growth, all of the skulls look the same except for one, which the meme's author denotes as less evolved based on the opinion or action described in the skull's captioning text.
Origin
The earliest known example of the Skull Comparison parody was posted by an anonymous 9GAG [1] user on June 19th, 2016. The post features seven skulls, including that of man, woman, white, black, etc. The final skulls, however, is that of an early human, which is denoted as the skull of "people that think 30 FPS acceptable today." The post (shown below) received more than 11,400 points and 450 comments as of October 2017.

Spread
On June 20th, 2016, Imgur [2] user weirdnorwegianguy "People who say 'jif' instead of 'gif.'" As of October 2017, the post (shown below) received more than 30,000 views and 1,500 points.

Several months later, an anonymous 9GAG[3] user posted the a variation with the final skull reading "people think that the Earth is flat." The post (shown below, left) receive more than 27,000 points and 420 comments as of October 2017.
The following year, on May 11th, 2017 the Facebook [4] account succmymeme posted a variation with the eighth skull reading "people who don't like memes." Within a year and a half, the post (shown below, right) received more than 2,400 reactions, 875 shares and 200 comments.


Several months later, on September 10th, 2017, Tumblr user warpath-dazin [4] posted a variation in which the final skull reads "people who bring infants to see movies." Within a year, the post (shown below) received more than 40,900 notes.

Various Examples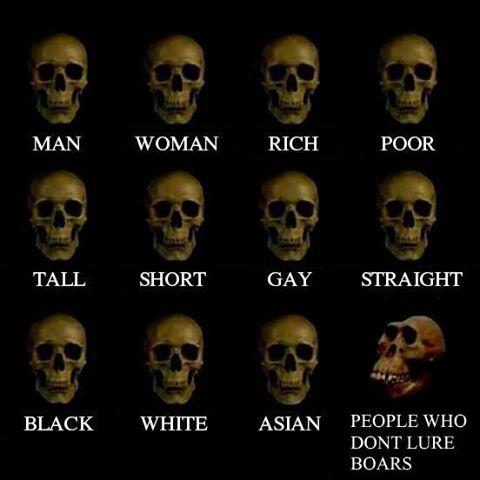 External References
Recent Videos
There are no videos currently available.