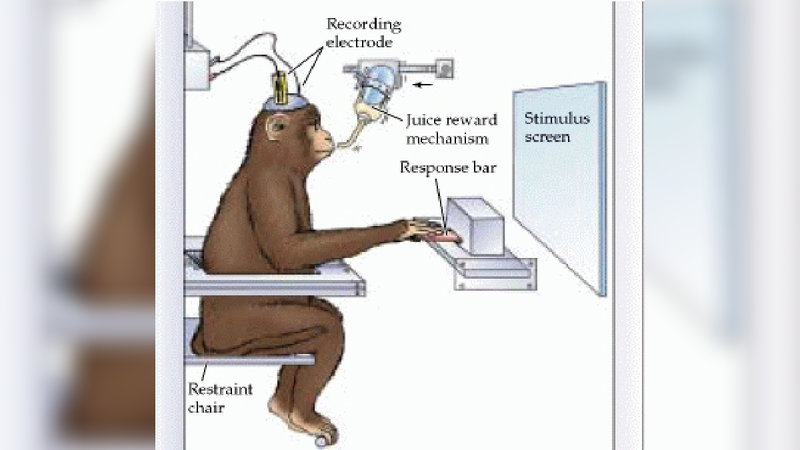 Stimulus Screen / Juice Reward Mechanism Monkey
This submission is currently being researched & evaluated!
You can help confirm this entry by contributing facts, media, and other evidence of notability and mutation.
About
Stimulus Screen Monkey or Juice Reward Mechanism Monkey refers to a scientific diagram illustrating a monkey with a recording electrode on its head staring at a stimulus screen and rewarded by a "juice reward mechanism." The diagram originally appeared in a 2011 study by the Cognitive Neurophysiology Laboratory titled "The neuronal basis of self-motion perception" and started to become the subject of memes in 2020. The meme is similar to the Neuron Activation meme.
Origin
In 2011, the Cognitive Neurophysiology Laboratory[1] published a study titled "The neuronal basis of self-motion perception" which studies "optic flow." The study includes an illustration of a rhesus monkey on a restraint chair looking at a stimulus screen with a juice reward mechanism. About the image, the study reads:
Monkeys are trained to perform demanding perceptual tasks, and we record from single or multiple neurons in cortex during performance of these tasks. This allows us to directly investigate the neuronal mechanism underlying particular perceptual behavior. In addition, Electrical microstimulation is used to test the direct linkage between physiology and behavior. Besides the standard biostatistical methods, we also use computational modeling to interpret results and guide future studies.
The image later appeared in a 2012 study on Reed.edu[2] about addiction. On June 12th, 2020 Twitter[3] user @shack_diesel posted the image without context, garnering over 23,000 likes and 3,400 retweets in three years (shown below). On June 13th, it was reposted to /r/apes,[4] garnering over 1,400 upvotes in three years.

Spread
On June 15th, 2020, a Redditor posted the image to /r/gaming,[5] titling the post, "Rate my setup," garnering over 8,800 upvotes in three years. On October 11th, Instagram[6] user rat.mans.memes posted an image macro using the same phrase, garnering around 14 likes in three years (shown below). The image macro became one of the most popular to use the image over the following memes and was reposted numerous times, including a 2022 Instagram[7] upload by poomkinjuice that garnered over 60,000 likes.

The meme became increasingly popular over the following years as an exploitable, where users photoshop various aspects of the image. On June 16th, 2021, Tumblr[8] user topherchris posted a version of the meme that garnered over 10,900 notes in two years (shown below, left). On August 3rd, 2022, Instagram[9] user mememonk_ posted a version of the meme about literally me syndrome garnering over 18,000 likes in five months (shown below, right).


On December 17th, 2022, Instagram[10] user souvlaki.vape.nation posted a version of the meme referencing the YouTube without eating meme, garnering over 5,500 likes in a month (shown below). The meme was reposted by Instagram[11] user monkey.posting on January 26th, 2023, garnering over 17,000 likes in a day.

Various Examples






Search Interest
[unavailable]
External References
Recent Videos
There are no videos currently available.