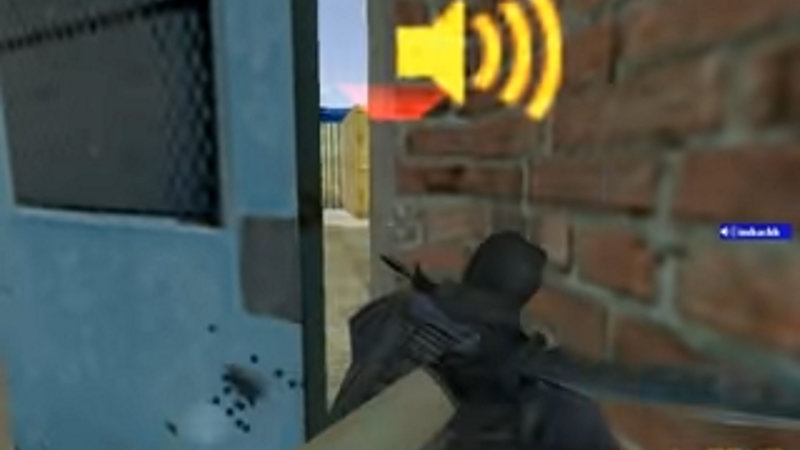 About
DOOR STUCK refers to a viral video of a Counter-Strike 1.6 player getting griefed by his teammate into being stuck in a door frame and shouting "Door stuck!" and other phrases in voice chat before both of them die. In the following years, the video became a well-recognized meme with multiple remixes, references and recognition from the Counter-Strike developer Valve.
Origin
On September 22nd, 2007, YouTube[1] user KinetiK001 posted a 34-second clip of himself griefing his Counter-Strike 1.6 teammate iambackk (jrbsn), known primarily as "door stuck guy," into being stuck in a door frame on cpl_mill map. The "door stuck" guy, who starts the round by singing the lyrics from "Drop It Like It's Hot " by Snoop Dogg, quickly realizes that he is stuck, reacting by shouting "door stuck" and "please" into the voice chat before both he and KinetiK001, playing as counter-terrorists, get killed by an enemy player. The original upload of the video accumulated over 10.8 million views in 13 years (shown below).
The phantom, exterior like fish eggs
interior like suicide wrist-rags,
I could exercise you, this could be your phys-ed
cheat on your man homie AGHHH I tried to sneak through the door, man! Can't make it, can't make it, the shit's stuck! Outta my way son! DOOR STUCK! DOOR STUCK! Please! I beg you! We're dead! You're a g-g-genuine dick sucker! [both die] Yo I'm adding this guy to friends.
Additional Details
The match, an ESEA pub game, was played on cpl_mill defuse map. According to details provided by kinetik001 in a Reddit AMA,[2] he happened to be doing a test recording with Fraps capture software when the events of the video unfolded.
The guy I pissed off was actually CAL-P or CAL-I, which means he was really good, and I had no or very few kills and was last place on my team (I was always pretty mediocre at CS tbh).
After a while I started knifing the dude cause he kept singing/rapping and it was getting on my nerves, plus I generally stopped trying cause I was doing so bad. Then the magical moment happened. I think he exaggerated his reaction a bit lol, but he was definitely pissed.
I then immediately left the pub and uploaded it to YT cause I knew it was gold. It didn't get a lot of views for a while, but slowly but surely they started going up.
"Door Stuck Guy" Identity
The "door stuck guy," whose nickname appears to be iambackk in the match, was later found to be ESEA[3] player jrbsn (Jordan Robinson), who remained an active Counter-Strike player for several years after the video. In May 2019, jrsbn opened a Twitter[4] account and later launched a Twitch[5] channel, mainly streaming VALORANT.
Spread
In the decade following the video being posted, it gained significant meme recognition, first in the Counter-Strike community, and later in the mainstream. Several remixes of the original video were posted online; for example, on April 16th, 2009, YouTube[6] user migichua1 posted a remix that gained over 44,500 views in eleven years (shown below, left). On January 14th, 2018, KinetiK001[7] posted a 10-year anniversary remix of the video that received nearly 400,000 views in two years (shown below, right).
On December 23rd, 2017, YouTuber[15] DeSinc posted a Door Stuck / Pick Up That Can meme that received over 1.7 million views in three years. On March 31st, 2018, YouTube[8] user crispfluid posted a Drake, Where's the Door Hole meme based on the clip, gaining over 256,000 views in two years. The videos mark some of the earliest mainstream memes referencing the video (shown below).
On May 20th, 2019, KineticK001[9] posted a video of himself playing Counter-Strike 1.6, gaining over 260,000 views.
On September 11th, 2019, Steam[10] user Hoxton submitted "Door Stuck" Counter-Strike: Global Offensive sticker to CS20 workshop contest organized by Valve, also creating a Reddit[11] thread in /r/GlobalOffensive subreddit which gained over 7.800 upvotes in six months. On October 18th, "Door Stuck" sticker was added to the game as a part of CS20 Sticker Capsule, assigned "Exotic" rarity by Valve.[12]

On March 2nd, 2020, prominent Counter-Strike YouTuber[13] 3kliksphilip posted an upscaled 60 FPS version of the video (shown below, left). On May 23rd, 2020, 3kliksphilip[14] posted the video "The Story of Door Stuck" in which he reviewed the history of the meme.
Friday Night Funkin' Mod
On July 24th, a group of Friday Night Funkin' modders led by modder Speedz released a FNF VS Door Stuck (Counter Strike Mod), a mod for the game based on the meme.[16] On the same day, a playthrough of the mod was uploaded to YouTube,[17] where it gained over 580,000 views in five days (shown below).
Copyright Troll / #SAVEDOORSTUCK
On July 27th, 2022, KinetiK001 uploaded a YouTube[18] video in which he revealed that the "Door Stuck" video was claimed by a copyright troll who was profiting off it (shown below). In the video, KinetiK001, unable to reclaim the video through appeals, said that he would delete the video rather than let the troll get money from it, later saying that he will set it to private instead.[19]
The news received viral responce online on Twitter[19] and YouTube[20] as users voiced their support for KinetiK001, with #SAVEDOOR hashtag trending on Twitter.
Various Examples






Search Interest
External References