About
Juan, also known as Horse On Balcony, refers to an image of a horse standing on a balcony accompanied by the bottom text "Juan" which became the subject of jokes in 2020. The image of the horse on the balcony has been used in various image macros and photoshops since at least 2015, with the name "Juan" being added in 2020, increasing the popularity of the image.
Origin
On November 26th, 2015, Agrigento Notizie[1] published a story about a viral image of a horse standing on a balcony, sharing the photograph, which would later become known as Juan. The article claims that Facebook page Mareamico shared the image and it went viral. It also claims that the horse escaped its barn and climbed the stairs onto the balcony. The horse is reportedly safe and back at its barn now.
On November 29th, 2015, an unknown user posted an image of a horse standing on a balcony to imgur[2] captioned, "Only in Malta" (shown below, left). This is the earliest known upload of the image outside of the Argigento Noitzie article. Memes featuring the image began popping up shortly after the upload. One of the earliest image macros featuring the horse, which spread primarily around Tumblr starting in December of 2015, attaches the bottom text, "I'm not like other girls" to the image (shown below, right).


The earliest known instance of the bottom text "Juan" attached to the image comes from an Instagram [6] post by @graphic.design.is.mypassion. The post received more than 2,200 likes in less than one year (shown below).

Spread
On July 4th, 2020 by Spanish meme page Comediante triste (shown below). In the video, the image of the horse as well as another image of a horse on a roof are displayed with the bottom text "Juan" under each. The video garnered over 20,000 views in 3 months.
On July 28th, 2020, Redditor Polkinar posted an image featuring Juan the horse, gaining 33 upvotes in 3 months.[3] On August 1st, Redditor Butcheey uploaded a photoshopped Star Wars meme to /r/memes[4] featuring Juan, gaining over 18,000 upvotes in 2 months (shown below, left). The post inspired more Juan memes across Reddit over the next few months. On September 14th, Redditor RON_SR uploaded another Juan photoshop to /r/memes[5] garnering over 16,600 upvotes and 15 Reddit awards (shown below, right). Juan memes continued to prove popular on Reddit throughout September and October, many making self-aware references to how strange Gen-Z and Millennial humor is.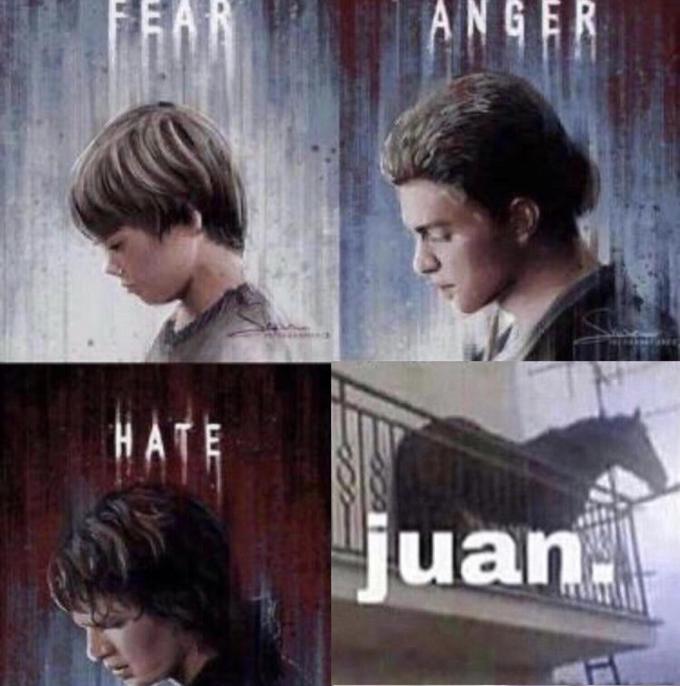 YouTubers also began using the image in video edits. On October 24th, YouTuber Lessons In Meme Culture uploaded a video detailing the history of Juan The Horse, garnering over 228,000 views in 6 days (shown below, left). On October 27th, YouTuber Peternity uploaded a meme where Juan floats up to the balcony, garnering over 287,000 views in 4 days (shown below, right).
Various Examples






Search Interest
External References