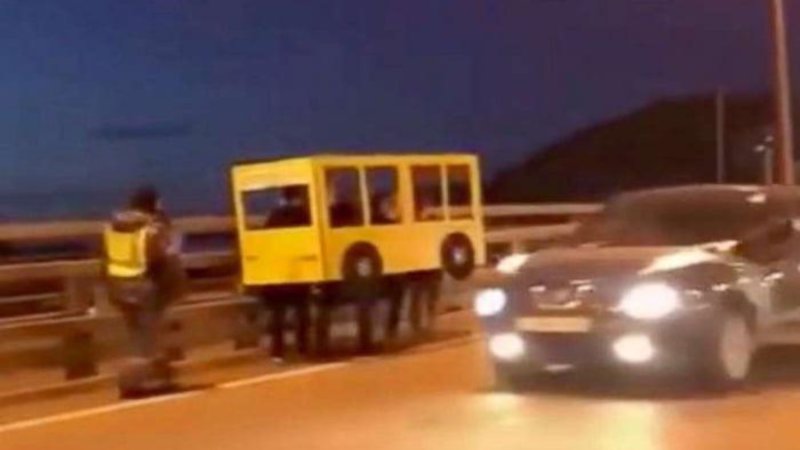 This submission is currently being researched & evaluated!
You can help confirm this entry by contributing facts, media, and other evidence of notability and mutation.
About
Blursed Images are photographs that are simultaneously blessed and cursed. As such, they can be funny, wholesome or deeply unsettling, and are often famous for evoking visceral emotions that simply don't exist or are impossible to describe. They occasionally come in the form of an image-based meme or a comic. Most images cannot be explained by logic and lack context behind their origin. They are typically captured with "Blessed_(Image Title)" and are shared with the intent of humor rather than the goals of leaving the viewer disturbed or positively uplifted, the presumed intentions of cursed and blessed images, respectively.
Origin
As the obvious conjunction of the two terms, the word "blursed" has been around almost as long as "cursed" and "blessed" but was not applied to images for many years and was merely used in comments on platforms such as Reddit and Twitter as a simple reaction to express approval of an image as being both great and terrible. As a simple slang term, "blursed" was first added to Urban Dictionary[6] on March 3rd, 2010, by user TuTally, receiving 214 likes in roughly 11 years (definition below).
Simultaneously blessed and cursed by a situation, object, person, etc.
As cursed Images and blessed Images began to gain popularity, blursed images naturally evolved. The earliest recorded blursed image was titled "Blursed Image #428617." It appeared on Twitter[5] on October 14th, 2016, shared by @punk_werewolf (seen below). It shows a person in a fuzzy, ambiguously food-shaped costume smiling while drinking wine. Throughout 2017, several other users labeled images as "blursed," but the phenomenon did not catch on until January 2018.

Spread
The popularity of blursed images began primarily in early 2018, gradually rising in the following years until it became a much more mainstream phenomenon. Throughout 2021, blursed images could be found reposted on different subreddits and gaining interest on other platforms such as Twitter,[1] Tumblr] and Instagram] The origins of most modern blursed images can be traced back to Reddit, with the exception of Tumblr blogs and some Instagram accounts that find blursed images elsewhere. On Twitter, bots and personal accounts frequently post blursed images from the subreddit /r/blursedimages.[4]
Blursed images primarily exist on Reddit, where they have surpassed both cursed images and blessed images in popularity. The subreddit /r/blursedimages has over 2.1 million members as of June 2021. There is a high level of engagement with blursed images posted on this platform, and the top image post of all time has over 110,000 upvotes (seen below). Blursed images tend to reappear on subreddits such as /r/hmmm, /r/oddlyterrifying, /r/memes and /r/TIHI.

Related Memes
Mini Keanu Reeves
Mini Keanu Reeves is a blursed image of actor and infamous meme figure Keanu Reeves, in which his body has been shrunken down while his head remains the same size. It is frequently used as an exploitable, especially when referring to a situation in childhood as represented by Keanu's short, awkward stature.

Muscle Man Chasing Runner
Muscle Man Chasing Runner is a blursed image from r/blursedimages that became a meme format. It is often used as an image macro to represent one thing trying to escape from another. It is often compared to Floating Boy Chasing Running Boy but can be more effective for some situations than the similar template due to the blursed effect of a terrified man being chased by disembodied muscles.

Various Examples






Search Interest
External References
Recent Videos
There are no videos currently available.