This submission is currently being researched & evaluated!
You can help confirm this entry by contributing facts, media, and other evidence of notability and mutation.
About
Babygirl is an internet slang term and term of endearment used to describe attractive or cute men, including fictional characters from various fandoms, in an infantilizing way. The exact metrics that make a man a "babygirl" are loosely defined, with online examples ranging from K-pop star Jimin and actor Pedro Pascal to Leon from Resident Evil 4. Babygirl is used similarly to the term submissive and breedable. While traditionally used by men in reference to women, it became popularized in mid-2021 on sites including Tumblr and Twitter in reference to men with the Why Does X Call You Babygirl? format, sparking the Draw Your Babygirl In This trend later that year.
Origin
Traditional Definition
While the exact origins of the term "babygirl" or "baby girl" are unclear, the term is traditionally used by men towards women and is meant as an endearing, sometimes flirtatious, pet name. The term is notably featured in the viral cringe video My Video for Briona, posted to YouTube[1] in 2012, where a young man calls a girl "baby girl" several times and tells her he loves her (shown below).
While the term may be endearing to some women, others have discussed it online as being a sign of a man "running game" on women or simply trying to hook up, especially if a man calls a woman they are not in a relationship with babygirl.[2][3]
In June 2021, Twitter[4] user @T4RIG posted, "normalize 👏 platonically 👏 telling 👏 your 👏 bros 👏 they 👏 look 👏 submissive 👏and 👏 breedable 👏." The post gained over 92,000 likes and 12,200 retweets in five days. The term "submissive and breedable," words which are more traditionally applicable to women than men, went viral online over the following months as a term of endearment towards men, loosely used in reference to attractive effeminate or soft-spoken men and femboys.
The earliest known example of the term "babygirl" being used towards men appears to have been posted to a Wattpad[5] entry created by user aradmille on August 19th, 2017 and last updated on July 4th, 2020, meaning it was likely uploaded between these dates. The post is a photoshop of a panel from the Mob Psycho 100 manga, where Shigeo asks Arataka, "why does Serizawa call you babygirl?" and Arataka responds, "How about we stop talking for a little while" (shown below).

Spread
The Mob Psycho 100 photoshop went viral on Twitter and Tumblr in August 2021 as users began redrawing the panel with new characters, often characters who are found attractive in their respective fandoms. The majority of the photoshops involve a man asking another man why someone calls them babygirl (examples shown below).



The term spread over the following months outside of the specific meme format. On August 23rd, 2021, Twitter[5] user @SkylarShark posted, "Notion to make 'babygirl' officially gender neutral," garnering over 240 likes in two years (shown below). On August 24th, Twitter[6] user @_GraceWrites_ posted, "Quackity called George baby girl he's a dead man walking I can hear the speedrunning music," garnering over 7,000 likes in the same span of time.

On June 11th, 2022, Twitter[7] user @munkaei posted, "calling grown ass man characters babygirl and princess is way funnier than it should be," garnering over 48,000 likes in 10 months. The term was defined several times on Urban Dictionary[8] that year, with the top definitions reading, "A fictional man who a tumblr user likes a lot. Similar to a blorbo or a poor little meow meow," and, "A term used towards grown fictional men who have the fandom in a loving chokehold."

On December 25th, Mashable[9] published an article titled, "The internet's 2022 horny dictionary" including a definition of the term "babygirl," writing:
"He's so babygirl" is the new submissive and breedable, a phrase used to describe when a man is so primally attractive that you want to provide for him that became mainstream in 2021. Babygirl a term of endearment for when a man is being cute, comfortable in his masculinity, or weak in an evocative way. Women reclaimed babygirl and used it as an adjective to infantilize grown men.
On October 23rd, 2022, Twitter[10] user @noahdeaart posted a stock image[2] of a businessman on his hands and knees, writing, "draw your babygirl in this" (shown below).

The post inspired over 9,000 quote retweets in six months, including numerous pieces of fan art depicting male characters, often fictional characters from various fandoms that the artist deems their "babygirl," in the same pose wearing a suit and tie (examples shown below).



The viral post inspired a similar post on December 25th, 2022 by Twitter[11] user @sephirothballs, who posted stock images of men crouched down with their hands on their heads in frustration, writing, "Can someone draw they babygirl like this," garnering over 30,000 likes and 3,100 quote-retweets and numerous pieces of artwork of characters in the pose (examples shown below).


2023 Continued Spread
The term continued to grow in popularity throughout 2023, with the exact metrics of what makes a man a babygirl seemingly still loose. On January 2nd, 2023, Twitter[12] user @ghiblidad posted an image of Winnie the Pooh looking at a piece of paper, confused, writing, "'He's so babygirl' if u tried to show ur babygirl a meme on ur phone he would look at it like this," garnering over 66,500 likes in three months (shown below, left). On March 2nd, Facebook[13] page Babydoll posted a meme captioned, "normalise calling men babygirl," garnering over 34,000 reactions and 19,000 shares in a month (shown below, right).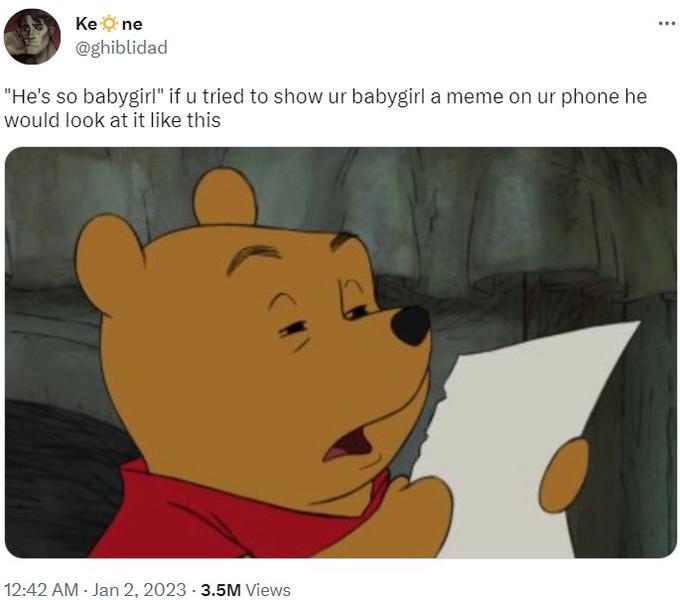 On April 12th, Twitter[14] user @binxxley posted, "girls be like 'he's so babygirl' and it's the darkest, most brooding, melancholic, tortured man you've ever laid eyes on," garnering over 2,100 likes in six days. That month on Twitter, the term was used in reference to a wide range of men, including K-pop stars,[15] actor Pedro Pascal [16] and Bill Hader[17] (shown below). The term also became popular in reference to Leon Kennedy from Resident Evil 4 following the release of the Resident Evil 4 remake.



Various Examples



Search Interest
External References