About
Femboy or Femboi refers to a man who exhibits feminine characteristics and signifiers like dressing effeminately (skirts, dresses, tights, etc.), among other indicators. It is a portmanteau of the words "feminine" and "boy." The term originates from the 1990s LGBTQ+ community and has been prevalent online since at least 2009. Memes about femboys became mainstream most notably in 2019, increasing in the following years.
Origin
Although the exact origin of the term is unknown, according to Dictionary.com,[1] the word emerged in the 1990s, originally as a derogatory term for a man who didn't adhere to traditional standards of masculinity. As the word got more usage going into the 2000s, especially in online discourse, it became a term of endearment in the LGBTQ+ community, as well as its own type of gender identity.
The term was first added to Urban Dictionary[2] on June 22nd, 2009, by EvaXIV who defined it as, "A young boy who presents extensive feminine mannerisms and actions often blurring the line between a boy and a girl." The definition has received roughly 1,500 likes since being posted, also becoming the top definition for the term on the site.
Spread
Even though the term "femboy" and the idea of a "femboy" existed in pop culture (like in anime and other forms of media) before 2019, memes about femboys picked up in abundance most notably in late 2019 on platforms like Instagram. Discourse surrounding femboys picked up alongside the popularization of tomboys as a meme topic, acting as a referential counter to their aesthetic. The /r/femboymemes[3] subreddit, for instance, was created on May 26th, 2019,[4] and as of December 2021, it has amassed roughly 8,400 members.
Sissy Hypnosis
A meme that started to define the way femboys were referenced in memes was Sissy Hypnosis, which, on platforms like iFunny, were used in conjunction with other sexual portmanteaus like "bussy" to reference femboys. This started notably in June 2019, increasing in the following months.[5]
Femboy Hooters
Other memes like Femboy Hooters were born in late 2019 as well, specifically originating from an October 1st, 2019, tweet by Twitter[6] user @Comfy_Times (shown below, left). It received 840 likes over eight months. It has since been deleted. However, the tweet inspired an entire lore of Femboy Hooters imagery that emerged over the course of late 2019. A photoshopped image of a Hooters' storefront was posted to Instagram, for instance, on March 17th, 2020, (shown below, right). The post received 753 likes over one year.


Other Notable Meme Developments
The first meme to reference femboys on Facebook [7] was posted on November 27th, 2019, (shown below, left) by the page e621.net. It received 164 likes over two years. Instagram[8] page @grandmas.butt was the first page on its platform to post a femboy meme on December 3rd, 2019 (shown below, right). It referenced rapper 6ix9ine as a K-pop femboy. The meme received roughly 8,100 likes over two years.

In 2021, femboy memes also took off in other templates like Beware of the Pipeline, which originated from a February 6th tweet[9] (shown, below, left). Femboy Fishing also came to prominence starting in July 2020, taking off in abundance in June 2021 on platforms like Facebook[10] (shown below, right). Another notable femboy meme trend is Submissive and Breedable, which also became widespread in 2021.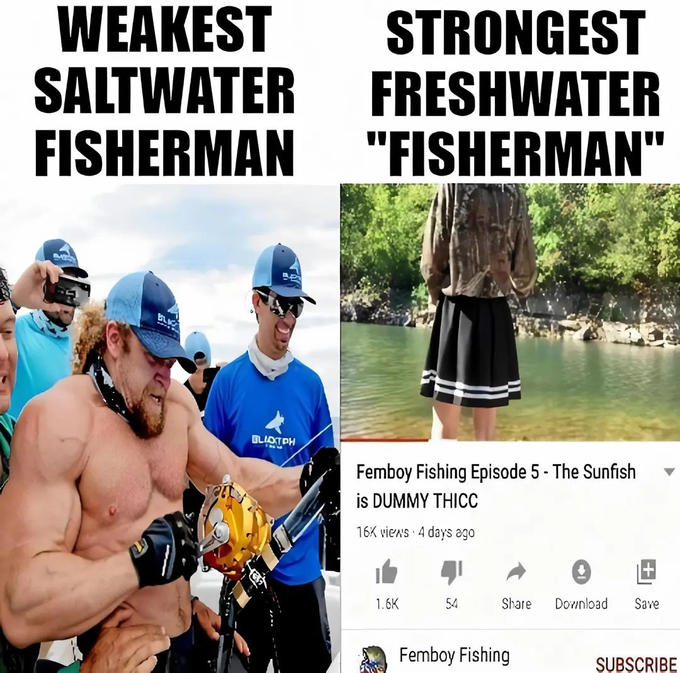 Various Examples






Search Interest
External References