This submission is currently being researched & evaluated!
You can help confirm this entry by contributing facts, media, and other evidence of notability and mutation.

About
Eevee (Japanese: イーブイ Eievui) is a Normal-type Pokémon who resembles a mixture of a fox, a cat, and a dog. It is notable for being able to evolve into many different Pokémon specific to a type. Over the years, it has gained an increasing amount of popularity, to the point where it became a co-mascot along with Pikachu for the 2018 Pokémon Let's Go games for the Nintendo Switch.
Origin
Eevee is one of the original 151 Pokémon introduced in the first Generation of Pokémon games: the Red and Blue editions released in 1996.[1] It is classified as the "Evolution Pokémon" and has an unstable genetic code that makes it able to evolve into more than one form. Three forms were introduced alongside it in the first generation, and more were introduced in following generations. These evolved forms, known by fans as "Eeeveelutions," are as follows:
Vaporeon – a Water-type that occurs when exposed to a Water Stone
Jolteon – a Electric-type that occurs when exposed to a Thunder Stone
Flareon – a Fire-type that occurs when exposed to a Fire Stone
Espeon – a Psychic-type that occurs when leveling up in the daytime when happiness level is high (introduced in Gen II)
Umbreon – a Dark-type that occurs in when the nighttime when happiness level is high (introduced in Gen II)
Leafeon – a Grass-type that occurs when leveled up near a Moss Rock within the game or exposed to a Leaf Stone (introduced in Gen IV)
Glaceon – a Ice-type that occurs when leveled up near a Ice Rock within the game or exposed to an Ice Stone (introduced in Gen IV)
Sylveon – a Fairy-type that occurs when leveled up with two levels of affection and knows one Fairy-type move (introduced in Gen VI)
Popularity
Despite not being the franchise mascot, Eevee has maintained constant popularity throughout its existence. Some fans have even claimed that it deserves to be the mascot due to its originality, versatility, and all around cuteness. One example comes from video producer WatchMojo who not only named Eevee the cutest Pokémon in one video (shown below, left), but also as the cutest video game character in another.
Youtuber Truegreen7[2] also declared that Eevee is the most original Pokémon in one of his videos, citing its multiple evolutions and how its ambiguous appearance resembles various cute animals.
Games
Eevee has also been the starter Pokemon of some notable side games within the series, including the Gamecube RPG Pokémon XD: Gale of Darkness in [3], the tactical RGP Pokémon Conquest[4] and two of the Pokémon Mystery Dungeon series of games.[5] In 2018, Eevee became the mascot of its own game with the Switch title Pokémon: Let's Go, Eevee![6]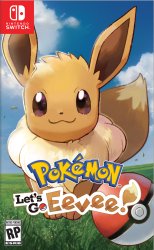 Twitch Plays Pokémon
Eevee would play a part of a running joke within the fandom of the live-stream Twitch Plays Pokémon. When the chat users wanted to retrieve the solitary Eevee within the game, they had planned later to buy a Water Stone to evolve it into Vaporeon so it could learn the move Surf, which would allow the players access to a core function of the game without having to get a Lapras. The Pokémon ended up being evolved into Flareon, and several events afterword caused other Pokémon to be released. Due to these events, it became nicknamed in the community as the "False Prophet."


Eevee Day
On November 21st, Pokémon fans celebrate "Eevee Day," particularly in Japan.[7] This is due to the numerical form of the date (11/21) spelled out and spoken vaguely resembles saying Eevee's Japanese pronunciation: Eievui.



Fanart
Eevee's fandom has generated many fanart, appearing on sites like pixiv and DeviantArt, with the latter having over 390,000 search results[8]



Fakémon
Eevee has been the subject of multiple Fakémon renderings by fans, who have conceived evolutions for the remaining types of Pokémon Eevee does not evolve into. These too are popular on sites such as DeviantArt and Tumblr (examples shown below).


Search Interest
External References
Recent Images 2,165 total