Outback Steakhouse Satanic Cult
This submission is currently being researched & evaluated!
You can help confirm this entry by contributing facts, media, and other evidence of notability and mutation.
About
Outback Steakhouse Satanic Cult is a joke conspiracy theory in which Twitter users connect five Outback Steakhouses on a map in the shape of pentagram and claiming that it's part of a Satanic conspiracy.
Origin
On July 27th, 2017, Twitter[1] @eatmyaesthetics tweeted a series of images that featured the location of several Outback Steakhouse restaurants on a map. The locations were connected in the shape of a pentagram, a prominent symbol in Satanism, Paganism and Freemasonry. The user captioned the images "Wtf is Outback Steakhouse planning." The tweet (shown below) received more than 117,000 retweets and 283,000 likes.

Spread
Shortly after the images hit Twitter, other users started posting more maps featuring a pentagram connecting various Outback Steakhouses (examples below).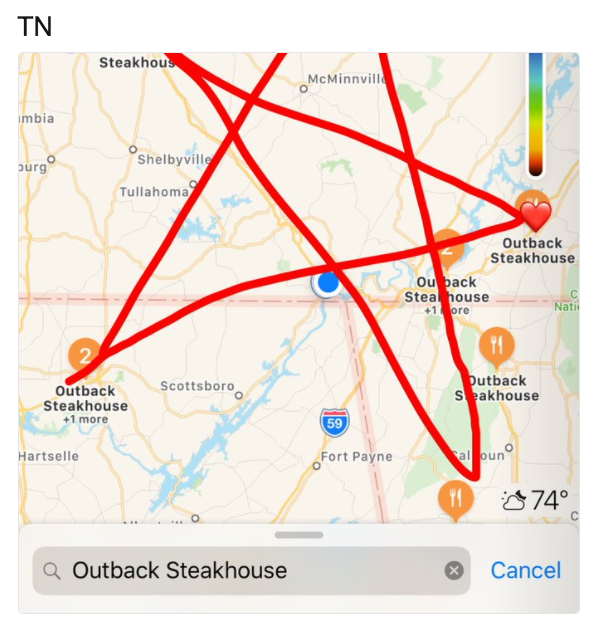 After the picture went viral, Outback Steakhouse responded to the fake conspiracy theory on Twitter[2] the following day. They tweeted a picture of their famous Bloomin' Onion dish over a may of Outback Steakhouse locations with the caption "Plot twist." The tweet (shown below) received more than 3,100 retweets and 16,000 likes.

Several media outlets covered the popularity of the tweet, including Mashable,[3] HuffPost,[4] AOL[5] and more. Twitter[6] published a Moments page to commemorate the popularity of the conspiracy theory.
Various Examples






Search Interest
External References
Recent Videos
There are no videos currently available.