About
Hollow Knight is an indie video game released for Microsoft Windows. It also will be released on the Nintendo Switch. The game is a "Metroidvania"-style platformer, meaning it combines elements of combat, platforming and exploration in 2D, similar to the Metroid and Castlevania series. Hollow Knight has been well-received by critics and fans.
Development
On November 18th, 2014, Team Cherry revealed Hollow Knight via a Kickstarter campaign.[1] The campaign reached its goal of $35,000 dollars in December of that year.[2] In December, Team Cherry showed some early gameplay footage (shown below). As of November 7th, 2017, the campaign has amassed $57,000.
Hollow Knight: Silksong
During Hollow Knight's Kickstarter campaign, one of the stretch goals was a DLC addition where the player could play as the character Hornet in her own side story. On February 11th, 2019, Team Cherry announced via Twitter a showcase of Hornet's new adventure. A few days later, on February 15th, Team Cherry unveiled a trailer for Hollow Knight: Silksong, officially declared by the devs themselves as a new game developed by Team Cherry, with Hornet as the main character of the story.
Reception
Hollow Knight received extremely positive reviews from critics. As of November 7th, 2017, the game has an 86/100 on review aggregating site Metacritic.[3] Critics praised the art style and called it one of the best Metroidvania-style games in years. On Steam, the game has a "Very Positive" score from over 10,000 ratings.[6]
The game has also been well-received online. The game has a dedicated subreddit with over 7,000 readers.[4] On Facebook, the game has over 2,300 likes.[5] It has been documented by TV Tropes.[11]
Fandom
Hollow Knight sports a dedicated Wiki.[7] On Tumblr, there is a dedicated fan blog devoted to the game, "hallownest-bug-fest."[10] On Twitch, the game has over 31,000 followers.[12]
Fan Art
The game has inspired fan art of its characters, mostly prominent on Tumblr [8] and DeviantArt. [9]



Related Memes
Primal Aspid

Primal Aspid is an enemy in Hollow Knight prominently featured in the areas of "Kingdom's Edge" and "Colosseum of Fools." The enemy's behavior and attack patterns, combined with the former area's difficulty of traversing the level have led this enemy to be widely despised by the Hollow Knight community. During Team Cherry's AMA on r/gaming, game developer, William Pellen, teased at the idea of a Primal Aspid boss, much to the community's dismay.[13]
Various Examples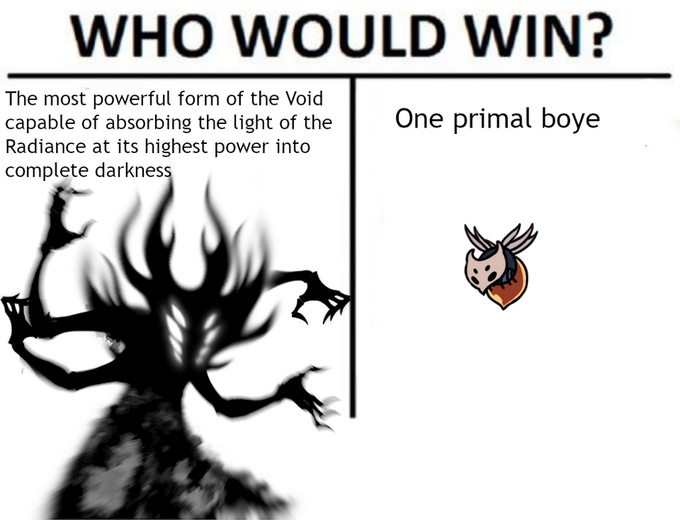 "No Cost Too Great"

"No Cost Too Great" is a quote uttered by The Pale King when his corpse is struck by the Dream Nail, an item that allows the user to read the thoughts of an enemy or NPC. The quote is often associated with The Pale King's urgency to go to any lengths to accomplish his goals, humorously, for example, his addition of buzzsaws and spikes that are littered throughout the White Palace, a level with the most difficult platforming segments in the game.

Hornet is Void

"Hornet is Void" is an online debate determining whether the character Hornet is of void origin, similar to the player character. Despite the overwhelming evidence suggesting the contrary, the question has often been brought up in a memetic context to suggest debate about Hornet's origins. The debate gained wide enough attraction in the Hollow Knight community that mossbag, a YouTuber who focuses primarily on Hollow Knight lore and theory crafting, weighed in on the debate by posting a video suggesting evidence that Hornet is not actually void, which has garnered over 400k views as of November 2019.
Search Interest
External References