This submission is currently being researched & evaluated!
You can help confirm this entry by contributing facts, media, and other evidence of notability and mutation.
About
Spotify Wrapped Parodies refers to a series of photoshopped images featuring humorous mock-ups of the music streaming service Spotify's year-end user statistics called Spotify Wrapped.
Origin
On December 5th, 2017, Spotify began offering their users year-end statistics, allowing users to see what genres and artists they listened to most in the past year, as well as how much time they spent listening to music on the service.[1]

The earliest known example was posted by Twitter [5] user @papsby on December 5th. That day, @papsy posted a photoshopped version of the service featuring a copy of "Smash Mouth's All Star and the genre "Meme Rock." The post (shown below) received more than 20 retweets and 100 likes in two days.

Spread
On December 6th, Redditor [3] an anonymous Redditor in the /r/meirl subreddit posted a variation with the song Africa by Toto. The post (shown below, left) received more than 200 points (96% upvoted) in two days.
The following day, FunnyJunk user kassdesu posted[4] a variation with the song "Crazy Frog". The post (shown below, right) received more than 9,000 views in six hours.


2019 Parodies
On December 5th, 2019, Spotify unveiled the 2019 version of their Spotify Wrapped feature.[6] Particularly noteworthy aspects of the Wrapped was a feature showing how users were "genre fluid," giving a visual representation of the numerous genres a user listened to, and another showing the number of minutes users have spent listening to Spotify through the 2010s (example shown below).

After the feature was released to users, several types of tweets emerged commenting on and parodying it, each of which led to a Twitter Event. These include Twitter users joking about how sharing their Spotify account with their family skewed their personal data,[6] Apple Music users feeling left out they did not receive the feature,[8] and people joking about the prevalence of "pop rap" in people's "most listened to genre" portion.[7] Some popular tweets include user @TwitchDiego[9] complaining his sister had made his top Spotify artist Billie Eilish (shown below, left) and user @Gjallarhorny[10] tweeting their displeasure at receiving "pop rap" as a top genre (shown below, right).


On Reddit, user Kounna[11] made a Patrick's Wallet edit that gained over 40,000 points on /r/bikinibottomtwitter (shown below, left). User AndrewLovesYa poked fun at the "genre-fluid" feature when it showed him his top genres were variations on hip hop in /r/hiphopcirclejerk[12] (shown below, right).


Spotify Wrapped 2022
On November 30th, 2022, Spotify users were given their personalized 2022 Wrapped in the Spotify app. On the day of, multiple Twitter users and meme creators across social media platforms started photoshopping their Spotify Wrapped results, inserting different songs, artists, concepts, settings and scenarios into the text of their infographics.
For instance, on November 30th, Twitter[26] user airbagged exploited the new "Your morning started with" section by replacing the text with masturbation signifiers, gaining roughly 77,700 likes in one day (shown below, left). Also on November 30th, Twitter[27] user casseroleboy exploited the text to make fun of the January 6th, 2021, Storming of the U.S. Capitol Building, earning roughly 243,400 likes in one day (shown below, right).


Unlike previous years, multiple Spotify Wrapped video memes were posted to Twitter that exploited the stylized video graphics. For instance, on November 30th, 2022, Twitter[28] user grumpy_twink showed a screen-recording of their "Top Song" result, revealing that the song was "Mice Repel" by Ultrasonic Pest Repeller, earning roughly 2.2 million views and 167,300 likes in one day (shown below). It is also likely that Twitter user grumpy_twink's "Top Song" was in fact "Mice Repel" by Ultrasonic Pest Repeller due to an inferred mice infestation problem.
Spotify Wrapped is out! pic.twitter.com/fSgxvuA8bP

— euan (@grumpy_twink) November 30, 2022
Spotify Wrapped 2022 Meme Templates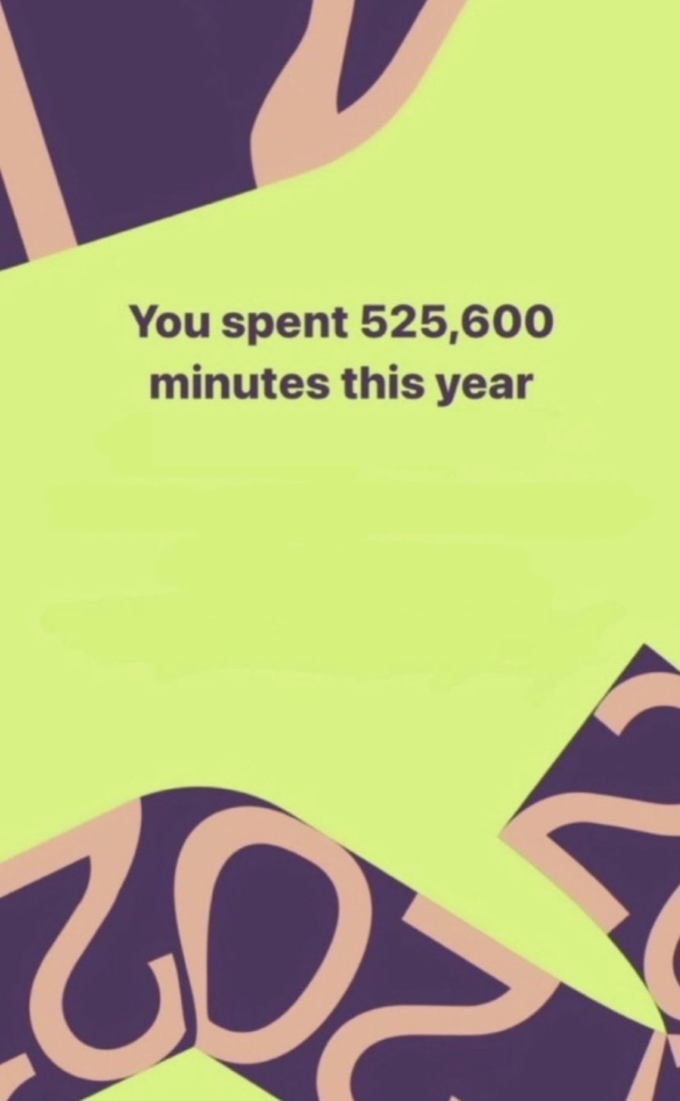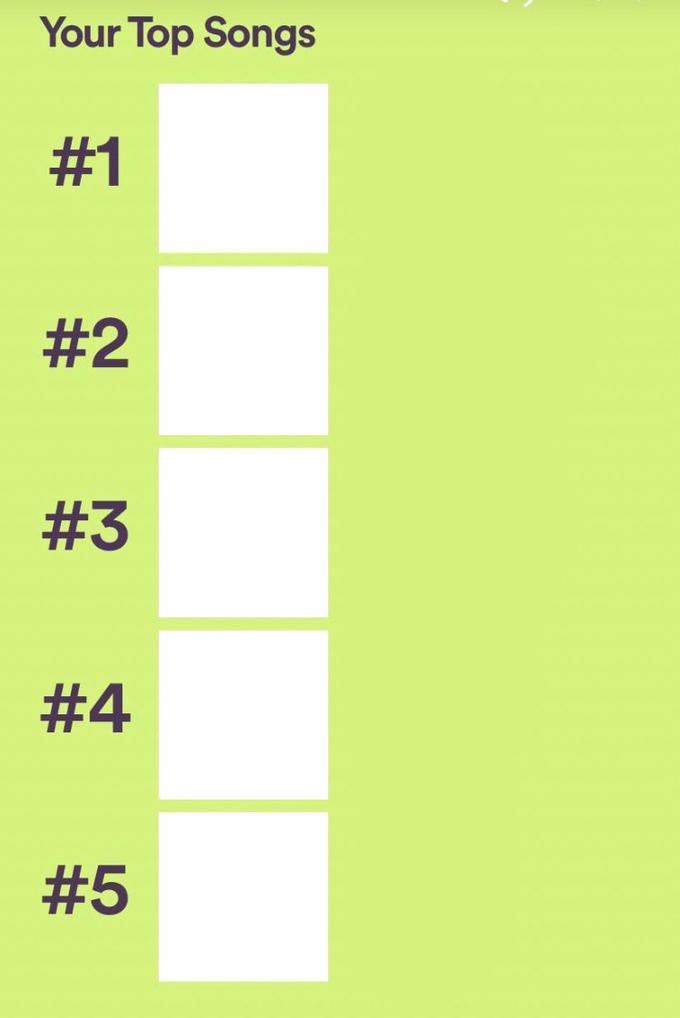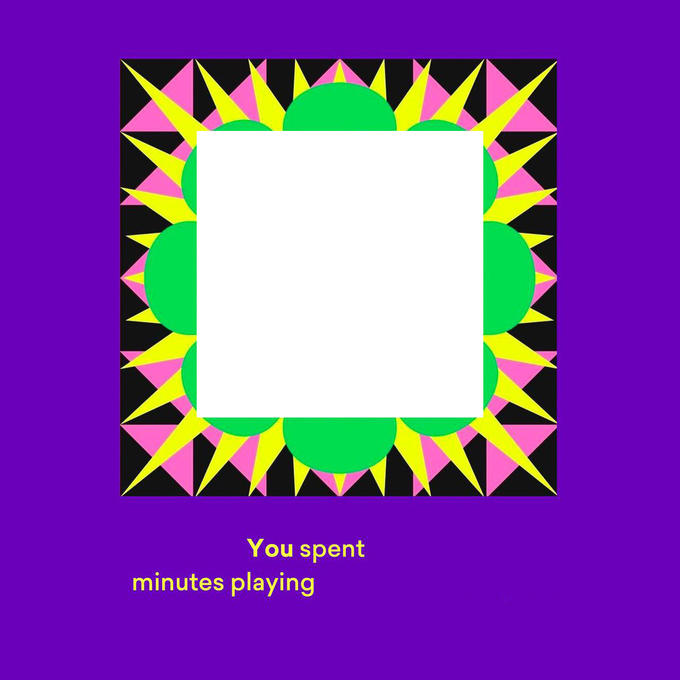 Various Examples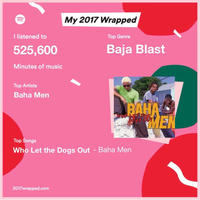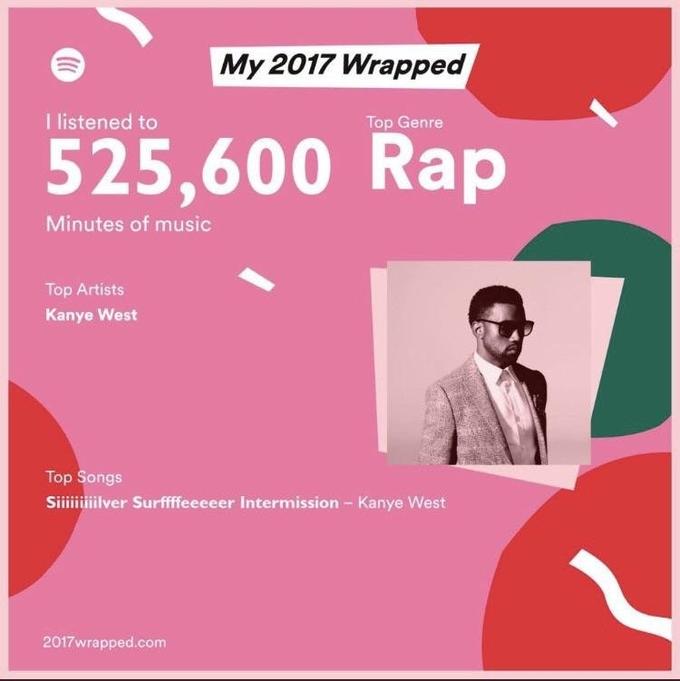 Search Interest
External References