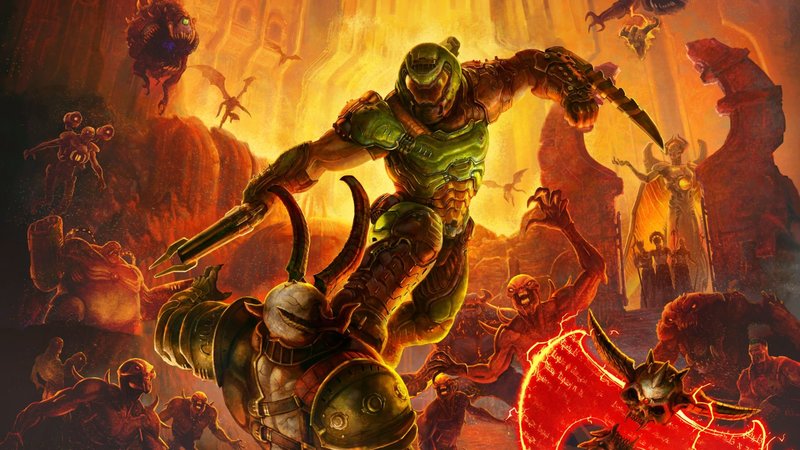 This submission is currently being researched & evaluated!
You can help confirm this entry by contributing facts, media, and other evidence of notability and mutation.

About
Doom Eternal is the fifth installment in the Doom first-person shooter video game series. The game was released for Windows, Xbox, PlayStation 4 and Stadia on March 20th, 2020, with a planned later release for Nintendo Switch.
History
On June 10th, 2018,[4] the video game developer id Software announced Doom Eternal at Electronic Entertainment Expo 2018 (shown below). Within two months, the reveal trailer received more than 12.6 million views and 11,800 comments on YouTube.
On August 10th, 2018, a gameplay reveal for Doom Eternal was presented at the 2018 QuakeCon convention (shown below).
On August 11th, Redditor[1] Zmoc posted a GIF from the gameplay reveal titled "My body is ready for DOOM Eternal," which gathered more than 34,700 points (90% upvoted) and 960 comments within 48 hours on /r/gaming. On August 13th, Redditor[3] onyXkeyblad submitted an image macro comparing the BFG 9000 to the BFG 10000 in Doom Eternal. Within 24 hours, the post received more than 11,500 points (94% upvoted) and 370 comments on /r/gaming.
On March 20th, 2020, the game was released[5] for Windows, Xbox, PlayStation 4 and Stadia; however, video game store chain GameStop[6] started selling copies of the game on March 19th to reduce crowds on March 20th, when video game Animal Crossing: New Horizons released.
Reception
Following the release, the game received very positive reviews from both critics and users. As of March 25th, 2020, the PC version game maintained a 90 critic score on Metacritic[7] with 40 reviews, and a 7.5 user score with over 430 ratings. The PlayStation 4[8] and Xbox One[9] versions of the game had 87/8.0 and 89/8.0 critic and user scores, respectively. On Steam, [10] the game had a 91% approval rating with about 25,000 reviews as of March 25th.
James Davenport of PC Gamer[11] wrote:
Doom Eternal is a ceaseless, panicked nightmare that pushes you to point and click with more skill and style than ever before.
Richard Scott Jones of PCGamesN[12] wrote:
Id stumbles very occasionally in its ambition to expand on 2016, but you won't care when you're enjoying the best combat in shooters. Pure, animalistic catharsis.
Related Memes and Controversies
Doomguy and Isabelle
Doomguy and Isabelle is a fan art trend that started in October of 2019. Pieces tend to feature both characters paired in cute and/or gory situations or changing costumes and jobs. The trend came about as a result of Doom Eternal's delayed-release to March 20th, 2020, the same day as Animal Crossing: New Horizons.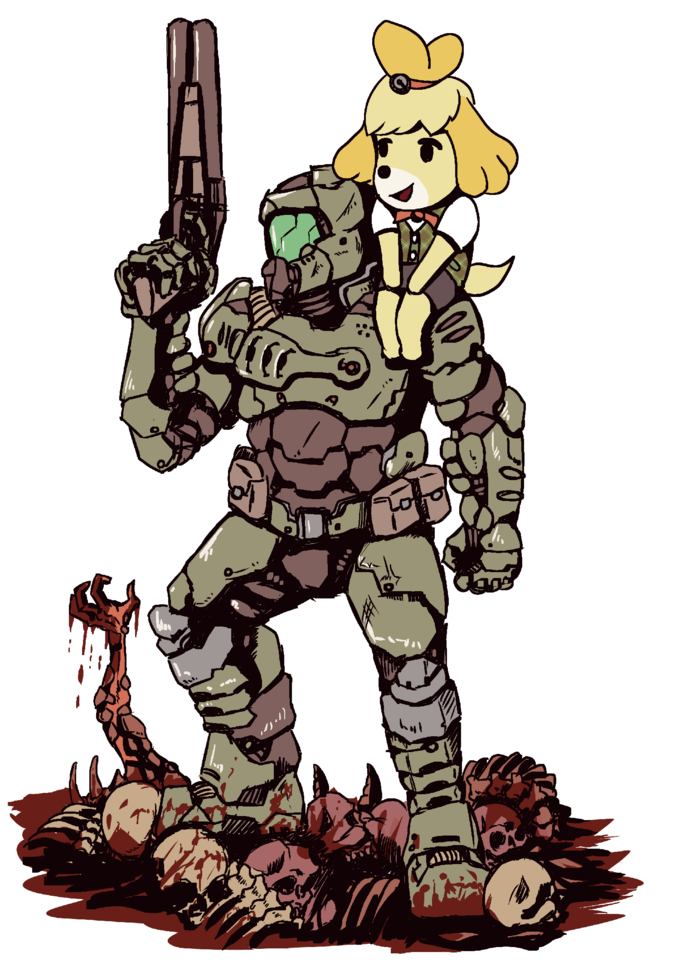 The trend later spawned a derivative meme One Copy of Doom Eternal / Animal Crossing: New Horizons, Please
Low Ammo and Marauder
Following the release of the game, users on Twitter, Reddit and Instagram posted complaints about running out of ammo in the game too often, with the topic becoming a popular subject of memes. For example, on March 20th, 2020, YouTuber Civvie11 wrote about having problems with the ammo control, with the tweet[13] gaining over 1,200 likes in five days (shown below, top left). A same-day Am I A Joke to You meme by Redditor[14] Umber0010 received over 10,400 upvotes in the same period (shown below, top right).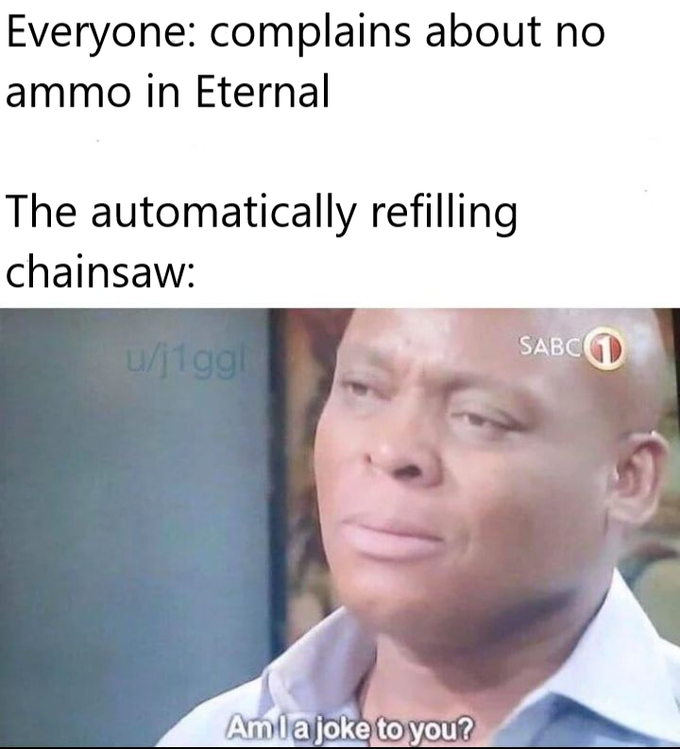 In addition to low ammo, many players made memes about having difficulties in fights against shield-wielding monsters Marauders. For example, a March 21st, 2020, Printer Go Brrr meme by Redditor[15] Some_MelonCat received over 5,300 upvotes in three days (shown below, top left). A March 22nd Dick Flattening meme by Twitter[16] artist @ArtistNcs received over 680 retweets and 4,400 likes (shown below, top right).





"Mortally Challenged" Controversy
Following the gameplay reveal, some Twitter users took issue with a line from the trailer referring to demons as "mortally challenged." That day, Twitter user @mombot tweeted screenshots of those offended by the joke (shown below). Within 72 hours, the tweet received more than 7,800 likes and 2,500 retweets.
Id Software made a joke at the expense of easily offended people.

Guess what happened next. pic.twitter.com/8boTUUj7ps

— Best Mom Eva (@mombot) August 12, 2018
On August 13th, 2018, YouTuber Sargon of Akkad posted a video about the controversy titled "SJWs Triggered by Doom Eternal" on his channel The Thinkery (shown below). Within 24 hours, the video garnered more than 241,000 views and 5,500 comments.
Denuvo Anti-Cheat Controversy
In May 2020, an update was released for the PC version of the game, adding Denuvo Anti-Cheat software security. The implementation of the DAC, unanounced prior to the update, caused several players to raise concerns over security and confidentiality issues, as the program would alledgedly have full access to the player's computer and also ruin any Linux compatibility.[17]
The implementation of DAC quickly caused players to protest against the update, leading to a review bombing of the game through Steam reviews.[18]


Search Interest
External References